Freelance Video Editor online: In the last few years, the creative industry has understood the importance of video editors, and there has not been a better time to step into this industry. Mainly because of the increased demand for video content in marketing strategies and technology making the remote collaborative effort more popular, several professional editors are setting out independently.
If you want to work your hours, or do a full-time job, or want to work remotely, these are all reasons you should start building your own cliental base.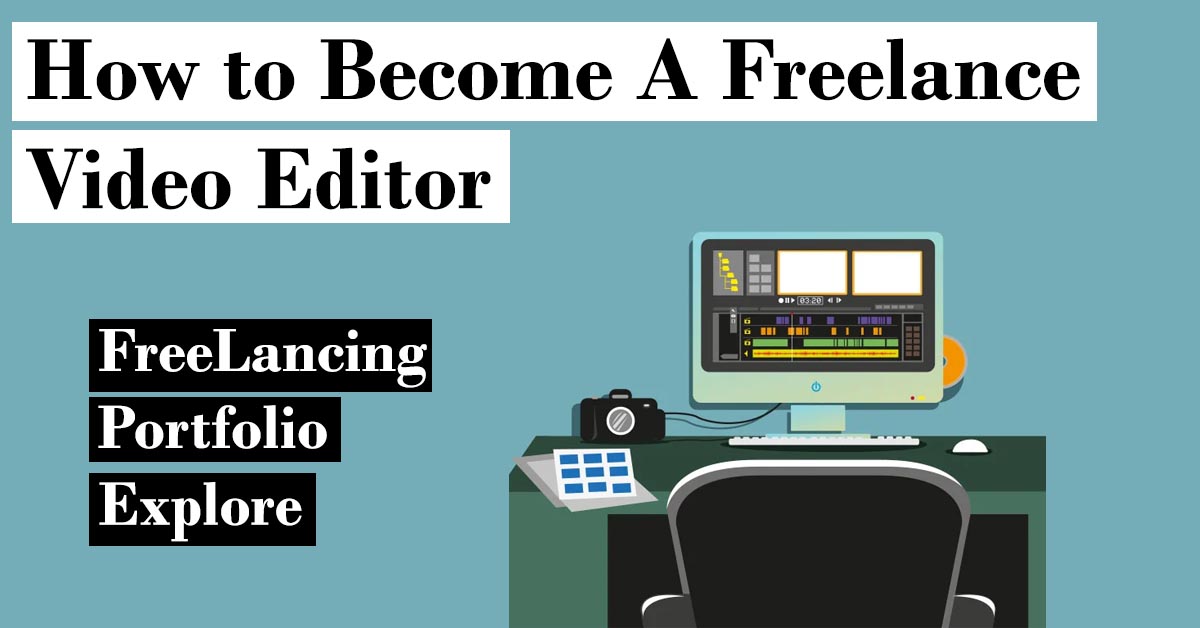 That said, leaving a secure job to start from ground zero can be quite overwhelming for several professionals. It takes a lot of effort and also is a significant investment as well. The best free online video editor can help lessen the financial burden, there are a number of other considerations you need to keep in mind before making this decision. If you, too, are contemplating starting your own practice, this article is the perfect read for you.
Apart from that, there are other AI video editing tools which can fasten up the process of video editing.
After a lot of research, this article has listed a few pointers that can help you start your freelance career in this cutthroat industry. Reading further will help you learn how to attract new clients, balance the transition from a well-paying to being a freelance editor, and incorporate systems that can help you grow your business.
Transition Phase:
This is one of the biggest challenges you will face, even before starting your freelancing career. Instead of leaving your salary job all of a sudden without anything to fall back on, it is best to slowly transition from that to freelancing. There is no point in leaving your job just for one client since eventually, that client is going to run out of work as well, and then you will be left with nothing. This is a slow and steady process, where you slowly cut off your paying job as you start growing your reputation in the freelance industry.
These are a few tips that can help you successfully transition from a full-time job to a freelance career:
The first thing you need to ensure is that you are financially safe. It is best if you save up at least 2-3 months of expenses before you make the leap to help you through the transition phase.
If you have a seasonal job, that is the best-case scenario. Instead of leaving the job, you can work on your freelance career during a lean period, and once you have gathered enough clients to manage your expenses, you can start your freelance practice full-time.
You can also ask your current company if you can part-time there. This way, you can manage both your paying job as well as your freelance career without missing out on either. This will further help your transition go a lot more smoothly.
Finding Freelance Work:
With the recent digitization of the world, it is more connected than ever. Now there are a number of ways you can increase your cliental base. Further mentioned are some easy ways to do so.
1. Explore Your Community
Finding local networks is one of the best possible ways to grow your freelance career. These connections can reward both professionally and personally. While some can gain you new leads and find your clients, others will help you bounce creative ideas off of. Irrespective of how small your town is, you will surely find other creative professionals who are ready to help you through your freelance career.
You can also find help from collective individuals relevant to your creative space, apart from the local community. For instance, if you are pursuing a career as a freelance music video editor, try looking for places similar-minded people hang out and introduce yourself and your projects to them.
In addition to that, there are also several blogs set up by online video editor forums. Checking cold emails or the comments section can help you find leads and encourage a consistent workflow.
2. Try Asking Your Existing Clients
This is another very effective way of growing your cliental base. Since your existing clients have already worked with you and know your capabilities, they are more likely to refer you to other relevant clients, especially when you are planning on leaving your day job.
It can always be that they do not know if you want more work. This is mainly why you should always try and be clear with them about what your plans are about continuing your career and what kind of work you are looking for.
3. Increase Your Versatility:
Irrespective of whether you want to flourish in that field or feel like the work is beneath your current skill level, it is always best to have an overall knowledge of the subject. One of the main things you should remember about going freelance is to understand that you will be asked to do work that is out of your comfort zone, especially in the preliminary years.
For instance, many videographers will take up wedding projects because they are easily available and pay well. While this might not be the kind of project you want to work on as an editor, you should not give up on such projects. This will further help you cultivate a consistent relationship with your clients and eventually find many new more.
To put it in other words, as a freelancer, you have to expand your work horizon. While not every job is ideal for you, you have to make people know about your presence. Once you have built a respectable reputation for yourself, then you can start choosing the kind of work you want to do.
FAQ (Freelance Video Editor)
How to become a video editor online
Having proper skills is the first and foremost thing that is required to become a video editor. After that, create a profile and show your work online on the freelancing website and if you have your professional website, then it will create a positive impact.
How do I start working as a video editor?
To start working as a video editor, you need to first acquire video editing skills. After acquiring skills, you need to create a profile on freelancing websites such as upworks, fiverr, Servicescape and many more and show your work. Here the people then will contact you and hire you.
Do video editors make good money?
Video editing is a skill and to earn from that skill is totally depends on the individual. If you are having the proper skills that a person who is hiring you is in need of, you can make a good amount of money. You can show your profile and your work in a portfolio and can decide the amount that you want to charge.
How do online video editors make money?
Video editors who work online have a profile on a freelancing website where people hire them for video editing work. The complete the task and the person who hires will pay you. In this whole process, the freelancing platform works as a medium.
Wrapping Up
These were some tips on how to become a Freelance Video Editor online and earn money. Going from a full-time paying job to a freelancing career can be quite a leap of faith. While there is no guarantee of how your career might turn out, it is always good to give it a try. Rest assured, with the steps mentioned here, you will surely be able to grow your career desirably.