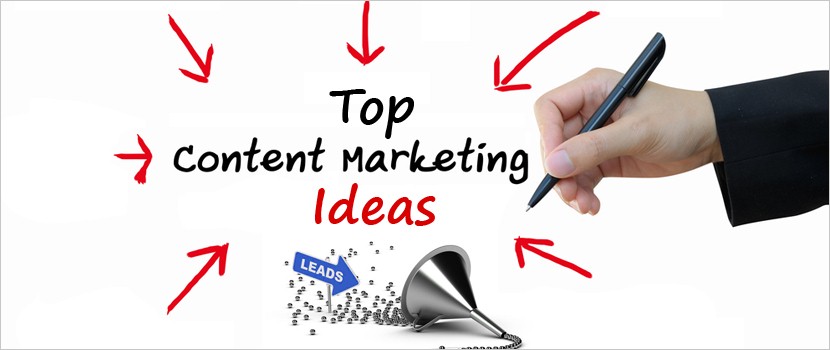 content marketing ideas – Do you have a difficult time in attracting clients and visitors through your content? Are you having problem in marketing your content?
Then you are not alone in this race. Most of the bloggers don't know how to make their content more engaging with content marketing ideas.
Content marketing is a strategy which involves creating and distributing content with value, relevant and in an effective way which attracts audience leading to drive profit.
Explore these 7 stolen content marketing ideas which can be used today to make our blog speak and increase our online business.
1. A List of Benefits
Even if you are running a gym or any beauty parlor or whatever it is, the best idea is to make a list of articles which explains or motivates a person to join your business.
Keep the central point of your content directly and mention the positive benefits of using your services or joining your business.
Don't write only about your products as it looks promotional, rather concentrate on what change it brings in their life or write what you know about your business. It leads to better content in short span of time.
2. Write Advanced Guides
The majority of the bloggers follow this method to get their content go viral. Write a detailed advanced guide and no one will dare to copy it.
When you write a guide about a topic, it generates a lot of links and shares which in turn creates an amount of money in your pocket.
To do this job perfectly, it is better to hire a professional writer who has an experience in SEO writing and Digital Marketing.
I prefer platforms like Contentmart.com for hiring a freelance writer as they provide endless benefits.
A number of writers, editors and proofreaders deliver you high-quality content within your budget and even for last minute projects. So it is worth creating advanced guides.
Also check out – Download Facebook videos without any softwares
3. Use Skyscraper Technique
Another idea is to come up with a skyscraper technique which means you have to find a post which is in the no.1 rank.
For example, if your keyword is "Apple iTunes", then analyze the top post and find out why it is there.
Then write something which is better than that and it will land you among  the toppers in Google search.
4. Post a Tip of the Day
Why don't you try to write a Tip every day? It is one of the best-stolen content marketing ideas everyone follows now-a-days.
Make a long list of tips which attracts the users and your followers, then schedule them to post each day in advance throughout a week or a month.
It can be implemented on social media platforms.
5. Create the "Top" Lists
I love this format of creative content writing as it brings the customer in one click.
Remember the top 10 doesn't mean it should have exactly ten; you can even add more or even less related to your business. Another method is to share a list of things they shouldn't do.
Some of the top content writers use the following terms to improve their content marketing: To-do, Top 10, Trends, Must See, To visit and much more.
This creates anticipation and also presents the content in a well-defined format.
6. Give a trailer of New Products
When you tell them what you are going to bring soon in your business, it makes them excited.
If they are loyal to your brand, they like what you post and wait eagerly for your new product. Another idea in content marketing is to display your products and ask visitors to provide their feedback.
You can also ask your readers to tell suggestions to improve your blog or business.
This will create some anticipation among the clients and page views will get increased. Also, you can implement the valuable input given by the visitors.
7. Target Long-Tail Search Terms
Long tail keywords are hot in the market. Everyone is running towards them as Google is indexing them quickly.
They are lengthy keyword phrases people enter in Google for search and you can utilize it to generate potential customers to your site. Another method is to ask customers to ask their doubts and questions.
Then start writing on the ones related to your business or products. May be you have FAQ section in your website, and then there is a good chance to expand it into several web pages or blog posts.
Wrapping UpConclusion
All these 7 stolen content marketing ideas have the potential to increase audience and engagement. Don't stop yourself from trying out a new technique. As these are already tested and proved to be effective, so start implementing the above methods.