It is a very common approach for any customer to get reviews and details of the particular thing prior to purchase it. You personally had the experience to collect as much as possible information about the service or product you wish to purchase. Today, in this post, we are going to learn how live chat support in app increases sales and conversions.
In that instance, if you get a contact us page or email to ask your query, it becomes convenient for you to contact that app or website about the product or service. The contact us page not only helps customers to get doubt clear but also creates a sense of trust in the business. Contacting to email takes time and in the world of WhatsApp business, nobody likes to wait for 2-3 days to get an answer in email.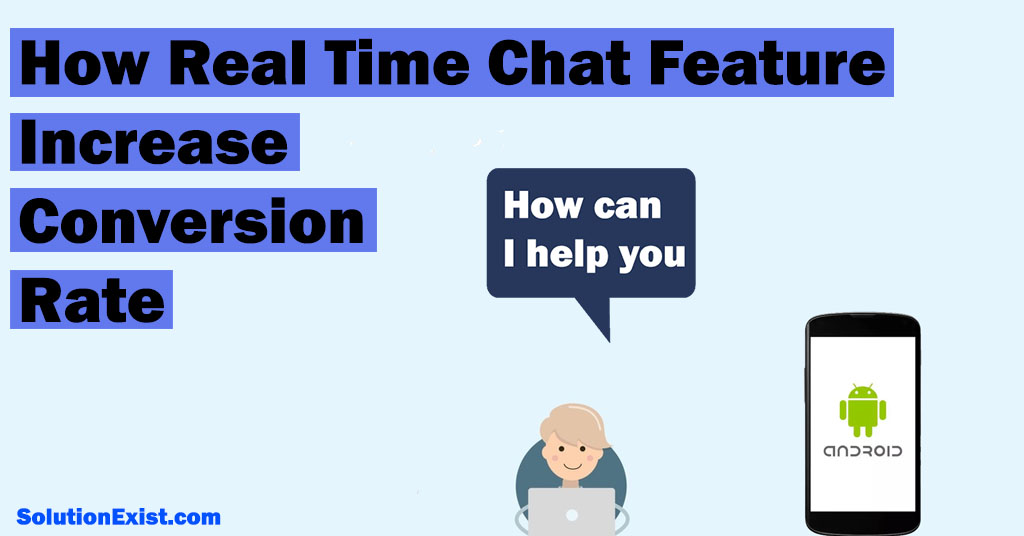 Your business app is a crucial part of your company, but are you making the most of having an app? If you don't have a real-time chat feature on your app, then you're missing out. With that said, here is how a real-time chat feature can enhance your business app.
Prior to get into the feature of real-time live chat support and why to use it, let us have a quick refresh about what is real-time chat support. Without wasting more time, let's dive into the article.
What is real time chat support?
Real time chat is a feature which allows apps user or visitors to get connected with the support team. When a visitor visits a website, real time chat feature can help them to make them connect with the support team. Visitors can directly chat with the support tema and get their queries answered. they may have lots of quires about the product a
Ways live chat support in app increase sales
There are several benefits in which, real-time chat feature can helps to increase sales and revenue of any business. All the benefits are explained in details and this will make you understand why this is more important for business apps and website to include this feature.
Customer Service
One of the key ways a real-time chat feature can enhance your business app is you'll be able to provide better customer service and support. You'll be able to answer questions and speak with current and potential customers in real time. All someone needs to do is access your business app, and then they can contact you via the live chatbox. This eliminates the need for them having to call you, email you or visit your physical place of business.
Having a live chat feature means you can handle inquires immediately. Many people want their issues solved as quickly as possible, or they want their questions answered promptly. This is exactly why you need a live chat feature for your business app. You'll be surprised at how much easier it is to deal with customer service issues via a chat feature vs. handling customer service issues the traditional way.
Let's not forget to mention you can provide customer service around the clock. It doesn't matter what type of business app you have. The ability to provide fast and efficient customer service is important. By providing it 24/7 via a live chat feature, you'll find it much easier to do that.
More Sales
Live chat features can help you increase your sales. As previously mentioned, you can offer customer support around the clock. This is the same case when it comes to taking orders. With a real-time chat feature, people can access your app and then speak with you to place their orders. Some people may have questions that are not answered on your app, and you can answer their questions via the chat feature, which will increase the chances of them buying something from you.
An example of this is a restaurant. Potential customers may want to speak with someone at your restaurant before they reserve a table. Once their answers or concerns are handled, they may book a table via your app. Although you didn't make money right there and then, you know that they will be coming to your restaurant.
Another example is if you sell products. A real-time chat feature can potentially increase your sales by a lot. People tend to want to learn more about products and pricing. A real-time chat feature allows you to quickly and easily answer questions about your products, which may lead to making more sales.
Engagement
Considering the benefits of realtime chat, overall engagement may increase, which is important regardless of the kind of business you run. The more people who flock to your app, the more exposure your business gets. As word spreads about your business app and how easy it is to speak with someone from your company, the more overall engagement your business's app will have.
Sure, you might have social media accounts for your business. However, using your business's app live chat feature means people will prefer using your app vs. engaging with your social media accounts, at least when it comes to certain things like customer service, inquires, and wanting to buy products. The bottom line is if you're going to improve engagement with both your app and your business, then you should install a real-time chat feature.
Also, when your business app has more engagement, then the impression of your business will improve. You might be surprised at how many people will develop a very positive impression of your business if you have a live chat option on your app. People don't want to seem like just another number to a company, and a real-time chat feature does just that.
Productivity
Another way a live chat feature enhances your app is that it improves productivity for those using the feature to speak with customers and potential customers. You can speak with customers on a one-on-one basis, or you can talk to several people simultaneously, which will be more productive. The traditional ways of dealing with customers and prospective customers include phone and email. Still, those ways are not that productive for businesses because it can take a while before whatever the issue is to be resolved.
Instead of spending hours answering emails and taking phone calls, it's better to have a chat feature on your business app. You will notice just how much more productive you are when you start using the feature after a few weeks. Best of all, you will become even more productive when you get fully used to using the chat feature.
Reviews
The chances are your business app has a section where people can leave you a rating and a short review. If not, you should include one because the more reviews you have about your business app, the more people will likely want to do business with you or learn about your business. Even if you receive a few negative reviews, these days, people are more willing to want to do additional research on a business before they decide to do business with them.
A live chat feature will encourage your app's users to leave a review. As you garner more positive reviews, your business's reputation may start to improve. Even if you already have a stellar reputation, having many positive reviews written about your app and business won't do any harm. The bottom line is more reviews about your app will likely come in if you have a live chat feature.
That is how a real-time chat feature can enhance your business app. There are many other ways it can, but those are the top. All you have to do now is install a real-time chat feature. The sooner you do this, the sooner you can reap all of the potential benefits of having a real-time chat feature.
FAQ (live chat support in app)
What is live chat support?
A support team is established to solve queries of the visitors or customers. Initially, persons have called on the customer care number and the support team used to help them over the phone. Now website and apps owners had integrated live chat support where app visitor can chat with the support team and get their questions answered.
Does live chat increase sales?
Apps and website visitors can have various queries before they place an order. If the support team satisfied the visitor by providing them the required answer, live chats can increase sales.
How do i add a live chat to my website
There are websites and services available on the internet which are plugins. All you need to do is just install the plugin and you are good to go.
What does live chat support do?
Live chat support in business app helps the customer to get connect seamlessly and get their queries solved.
Wrappinng Up
This is why real-time chat is important for a business app and in these 5 ways how live chat support in app increase sales and revenue. If you have any suggestions then feel free to use the comment section, we will help you to deal with them. We welcome any suggestion on the best live chat support service that you are using, do let us know and share your experience with other as well