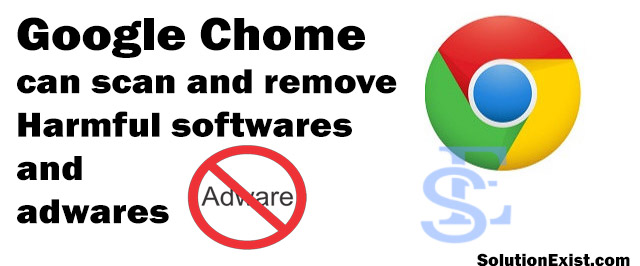 Everyday new virus and new malware are affecting computers and laptops. Various antivirus are available in market which will cost you some bucks and claim to protect you from harmful virus and malware's. but if those are not updated they may fail to protect you from adware and malware. The common affected area are internet browsers. I personally face many problems because of adware installed in my computer. The problem I was facing is unwanted sites open automatically in google chrome. Ths is due to adware installed in computer. When every you open internet browser to surf internet, some unwanter website get open automatically. Hence to deal with this Solution exist will explain you how to remove adware and malware from computer using Google Chrome. Previously we had posted Remove Adware From Chrome Browser – Chrome Cleanup Tool  which was also a effective tool to remove adware from google chrome browser using google chrome cleanup tools but the only limitation of the Google chrome cleanup tool is it will only remove adware from google chrome browser only. Before we jump to the procedure on how to remove harmful software using Google chrome firstly check the symptoms that your computer is affected by adwares and harmful softwares. If you computer is affected by virus then learn how to remove virus from computer
Symptoms that your computer is affected with adware and malware
If you're seeing some of these problems with Chrome, you might have unwanted software or malware installed on your computer:
Pop-up ads and new tabs that won't go away
Your Chrome homepage or search engine keeps changing without your permission
Unwanted Chrome extensions or toolbars keep coming back
Your browsing is hijacked, and redirects to unfamiliar pages or ads
Alerts about a virus or an infected device
Steps to remove  adware and pop-up ads from computer using Google Chrome – Remove adware using google chrome
Firstly click on three doted buttons placed on the top right corned.and go to settings

Scroll down to the bottom and click on Advance
Again scroll to the end and under  Reset and clean up click on Clean up computer

Note:- Remember although Google chrome will help you to uninstall harmful software and malware it can't replace your antivirus software but if you are having antivirus installed in computer and still you are facing issues of pop-up ads and many more than this additional feature of Google Chrome will help you to deal it with.
Wrapping Up
This was the simplest way to remove adware using google chrome. Hope you like out tutorial on how to remove adware and harmful software from computer. In mean time you can also check Remove Adware From Computer and PC.  If you are still facing pop-up ads or you are not able to remove adware from computer then blow the comment section. Solution Exist will help you to deal with it. Join our Facebook Group Android And Windows Errors Solution and Follow or Facebook Page Solution Exist to be updated with Solution Exist awesome articles.