Android users and are facing the problem of Wifi disconnecting and reconnecting problems? If you are one of those then on Android WiFi keeps dis­con­nect­ing and recon­nect­ing problem solution, wifi troubleshooting guide will help you to fix the internet keeps disconnecting problem in android.
If you are an android user and own an android phone or tablet and problem i.e. why my internet keeps disconnecting every few minutes? Then not to worry anymore. This is a common issue that an android user face i.e. wifi keeps dropping and android won't stay connected to wifi. Previously we had posted a tutorial on Know how Many People Using your WiFi Network with Android which helped users to know any unknown person using your wifi connection.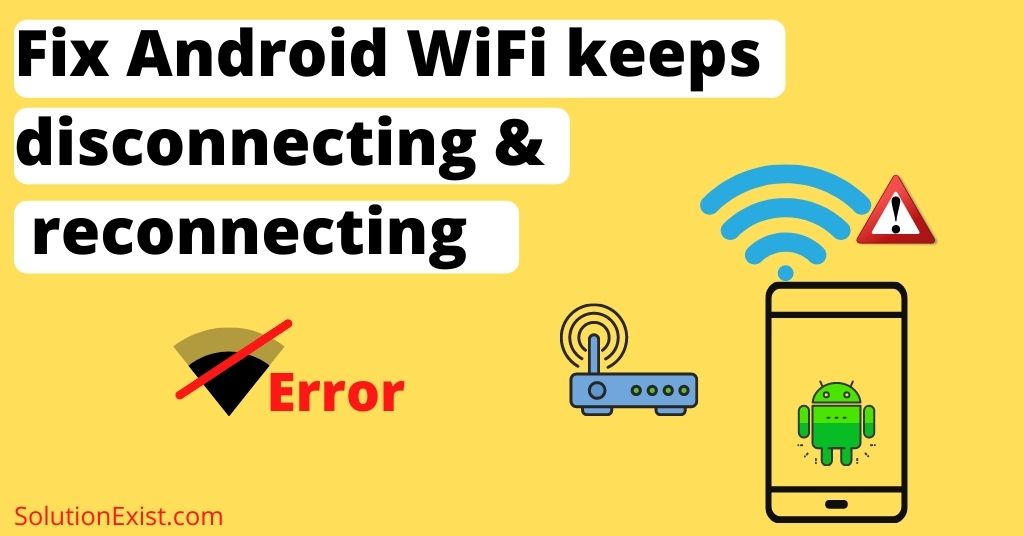 Today in this post, we are going to discuss all the possible problems that can cause wifi connecting issues in android phones and will learn the ways to fix them. So without wasting more time, let's start with the troubleshooting guide.
Why does my phone keep disconnecting from wifi?
Many android users have reported wifi keeps dropping in an android phone while using wifi. This issue is not only with android phones, but tablet users also have reported the same. This might be your phone issue or with a router. Solution Exist in this post will help you to fix android wifi keeps disconnecting and reconnecting.
Fix Android WiFi keeps dis­con­nect­ing and recon­nect­ing issue
There are several factors that can be responsible for the wifi problem and hence there are several methods as well. So we are going to walk you through the different solutions and make sure you follow them in sequence.
1. Restart your android phone
This is the basic solution to a majority of the android problem yet effective. Frequent changes from wifi to mobile data and vice-versa cause this problem. Most of the time, your Android Wi-Fi that keeps disconnecting and reconnecting problem will be fixed by just restarting your android phone. Here are the steps to follow
Unlock your android phone.
Press and hold power button for a few seconds.
Now tap on restart.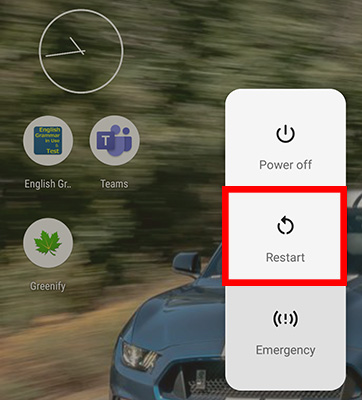 In this way, you can restart your android smartphone. After getting your phone restart, turn on your phone wifi and connect it and check if your problem is fixed or not.
2. Enable then disable airplane mode
This is another way to fix the android wife disconnecting problem just by activating airplane mode and then deactivating them. Activating and deactivating airplane mode in the android phone will reset the network setting and this might want your android phone was in need.
Unlock your android phone
Now drag the notification bar down and tap on the airplane button to turn on
After a few seconds again tap on it to deactivate airplane mode
Now try to connect to the wifi and check if your problem of Android WiFi keeps dis­con­nect­ing and recon­nect­ing is fixed or not.
3. Forgot and reconnect WIFI network
If you had recently changed your wifi password and after that, you are facing wifi issues in android phone then this might be the reason why you are facing a wifi connecting issue. In this case you need to remove that connected wifi connection and reconnect it. Here are the detailed steps that you need to follow
Step 1 – Unlock your android smartphone and open the network & Internet option.
Step 2 – Now tap on WIFI, you will see a list of available and saved Wi-Fi connections.
Step 3 – Tap on the wifi connection to which you want to connect and click on Forget.
Step 4 – Now turn off the wifi for few seconds and again turn on.
Step 5 – Now search and connect to the wifi.
Check if your wifi disconnecting error is fixed or not. In case it is not, then keep following the other methods posted here.
4. Remove all other wifi networks
If you are the person who connects to various wifi networks that we all usually do such as wifi at home, wifi at work, and many more, then this may also cause unstable wifi connection android issues. To fix this, we can remove all the saved wifi connections from android phones or tablets. This is another method that android users reposted as a working method.
Unlock your android phone or tablet and go to settings.
Now open network & Internet option and then tap on Wifi.
Here you will see all the saved wifi to which you have been connected in past.
Tap on each saved wifi and remove it by tapping on Forget button.
This is the method to remove all saved wifi networks from your device. Now scan the Wi-Fi and connect to your wifi network and check if your problem is fixed or not.
5. Reset Network setting
Like android phone has the option to reset and backup phone which is also known as factory reset, android phone do have the option of resetting network. This option is really helpful when your network option i.e. wifi and mobile data is not working properly. This option, the user found it useful in fixing the wifi problem in the android phone. Here are the steps to reset network settings in android phones.
Step 1 – Unlock you android phone and tap on settings.
Step 2 –Now scroll down, locate and open about phone.
Step 3 – Now tap on reset option and the tap on reset network setting.
Step 4 – Tap on Restart button to restart settings.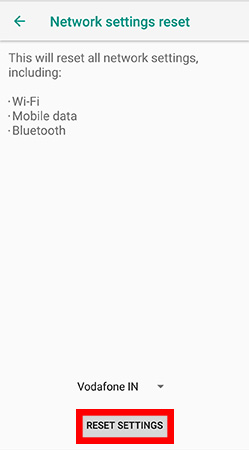 In this way, you can reset your network setting in android phone. Now reboot your phone and check if your problem is fixed or not.
6. Restart WiFi router
If you had tried all the above solutions to fix wifi issues in android phones. Now it's not always your android phone's fault. This might be the issue of your wifi to which you are connected also. To check this, you need to try to get access to some other wifi network and try to get connected. You can even use any other android phone and turn on Hotspot and connect to that network. If you are not facing wifi connecting and disconnecting issues then this it the problem of the wifi connection and not of your phone.
Now as you had concluded that this is the fault of the wifi connection, the basic troubleshooting can be started as restarting wifi router. You can power off and then power on in few seconds and check by connecting to that wifi.
7. Reset the WIFI router
This solution considers that there is some issue with the router and not mobile. If you haven't read the above solution then we recommend you to read it to get confirmation. There is an option in your wifi router to reset it.
Take your wifi and check it on the back, there is a button that is meant to reset the wifi router. Press and hold reset button and reset it. After resetting it, check if your Android WiFi keeps dis­con­nect­ing and recon­nect­ing issue is fixed or not.
8. Disable Mac filtering
The wifi router comes with a security feature i.e. MAC filter (Multimedia Access Control). In this protection layer, you need to create the list of mac addresses of the device that you want to allows access to the internet. internet. MAC filtration protection will prevent unauthorized connection even when they have the wifi password.
This might be causing the wifi issue in your android phone, so to fix this issue, you need to disable mac filter option.
Step 1 – Launch Google google chrome or any web browser and open the router's configuration page.
Step 2 – Now click on the Wireless option, you will see multiple options.
Step 3 –Click on Wireless MAC Filtering.
Step 4 – Now click on disable and save it.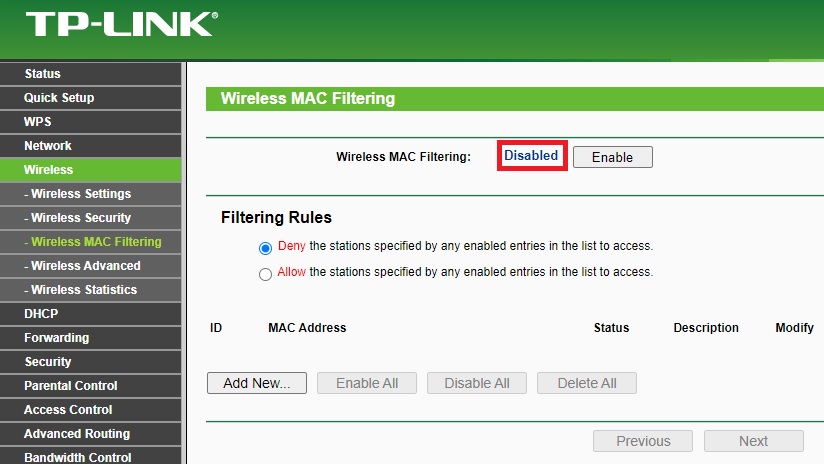 Now restart your wifi and connect your mobile to this wifi network and check if your problem is fixed or not.
9. Factory reset phone
If none of the solutions posted above helped you to fix the issues then this can be an operating system issue. You can factory reset your android phone and check if your problem is fixed or not. Here are the steps to factory reset an android phone.
Step 1 – Unlock your phone and open the settings.
Step 2 – Now go to About phone and then tap on the Reset option.
Step 3 – Now tap on Factory data reset and enter the phone password.
Step 4 – Now wait for the process to complete.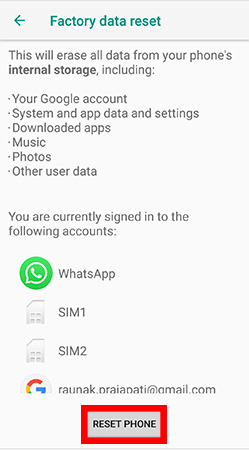 In this way, you can factory format your android phone. but one thing to remember, you need to backup all your phone data as factory formate will delete all t
10. Visit the service center
If you had tried all the methods described and still your android dropping wifi connection is not fixed then this is the last option as this can be a hardware issue. You need to visit the manufacturer's service center to get it fixed. Every mobile has a service center in your or another city. Do google it and search for the nearest service center and get your android phone fixed.
FAQ (Fix Android WiFi problem)
1. How do I fix my Android WiFi problem?
There can be several methods why your android phone wifi disconnects frequently. To fix it, simply restart your android phone, remove the saved wifi network and again try to reconnect.
2. Why is my android not connecting to WiFi?
There can be two possibilities that are not allowing your android phone to get connected to the wifi. Either it's your android phone fault or it is a wifi router issue.
3. How do I reset my wifi router?
Behind the router, there is a reset button that is used to reset the wifi router. To reset the wifi router, the user has to press the reset button for few seconds.
4. Why does my tablet keep disconnecting from wifi?
If you own an android table and facing wifi keeps dropping issue then there can be various reasons. You can try rebooting an android tablet, toggle on-off airplane more, forget wifi network and again on it, etc.
Wrapping up
This was the detailed tutorial on how to fix Android WiFi keeps dis­con­nect­ing and recon­nect­ing. If you have any problem-related tutorials on wifi disconnecting problems then feel free to use the comment section. Comment down which solution worked for you and share with others as well or in case, you know some other methods then share with us. You can follow the Solution Exist facebook page Solution Exist to stay updated with the latest updates.