In today's world, everything is moving online, where we consider shopping, talking, meeting, and even banking. Over the time, banking sector also becomes online and banks had started offering services online like, Apply New SBI ATM/Debit Card Online, online money transfer, online, passbooks, and many more.
Now people prefer everything online as they feels coinvent to complete work without their physical presence. Indian Banking system is now improved and with that SBI banking apps and website started to provide various features and option to use which was previously not possible without visiting bank branch.
I had surfed many websites for finding the How to Apply New SBI ATM/Debit Card Online through Internet Banking, But found lots of wrong information and many short method answers. So here I inspire you to provide you the Stepwise procedure to how to Apply for a new SBI Debit or ATM Card ONLINE through Net Banking.
You can apply for the new SBI Debit ATM card Apply Online without visiting any SBI Branches. By this method, you can also Apply for Second Debit Card.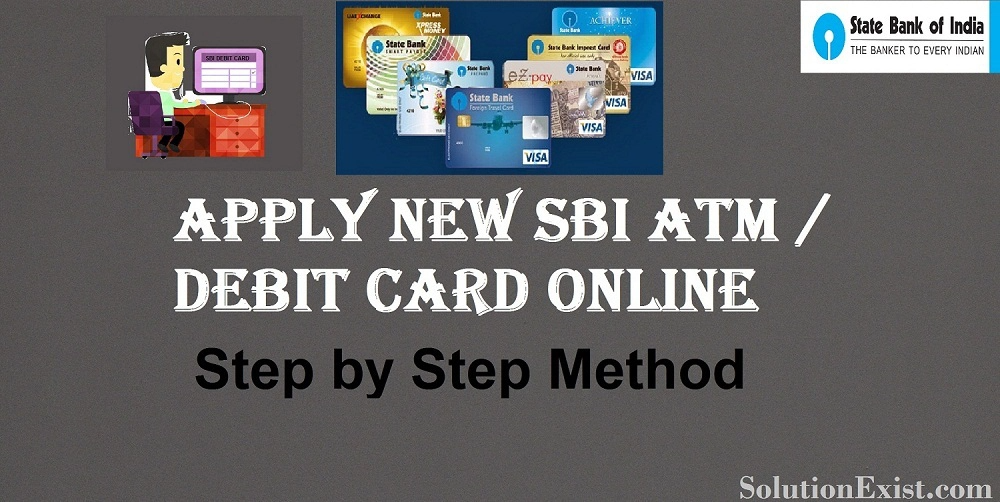 Can i apply for sbi atm card online?
Yes not it is possible to apply sbi atm card apply online within 10 Min and you don't need to visit sbi bank branch office once. All you need to have some basic requirements for sbi atm debit card apply online which are listed below. So without wasting more time, read the basic requirements and then read detailed stepwise procedure on how to apply sbi atm card online.
Basic Requirements for application for SBI atm card
Internet Banking Activated Account
OTP Working or Profile Password of Internet Banking Account
And Must Have Good and Secure Internet Connection
Now just follow the below simplest step to Gain new debit card, Here i am giving you to fully step by step description. So lets eye on it –
Stepwise Procedure to Apply New SBI ATM/Debit Card Online
Step 1 -> Open Any Trusted Browser in your computer and Open OnlineSBI.com
Now you see the screen like this (Screen Shot Below), Then Fill Username & Password and Login into your Account.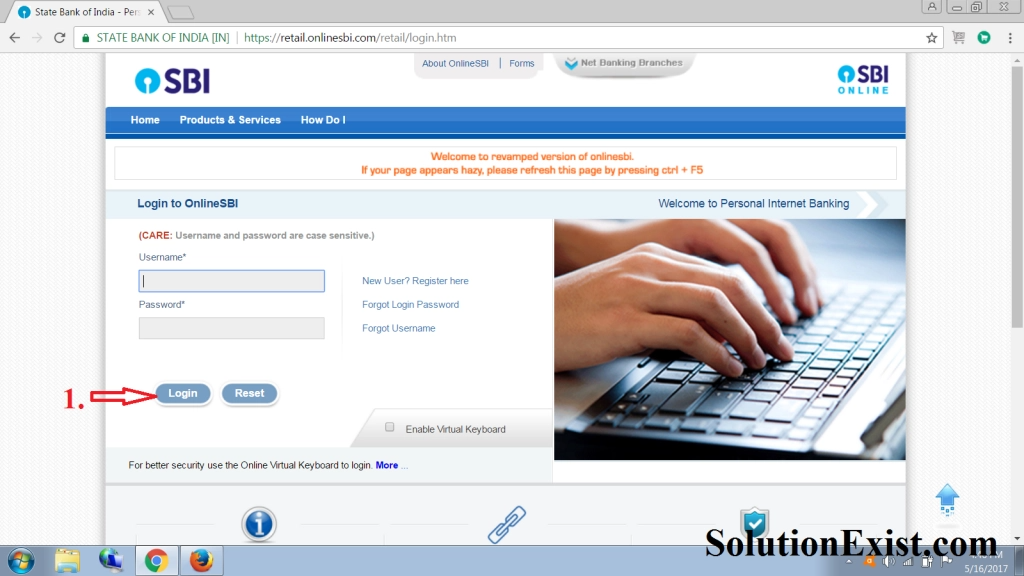 Step 2 -> After Login into your Account, Go to 'e-Services' on the top Menu and Then click on 'ATM Card Services. (Follow the below screenshot)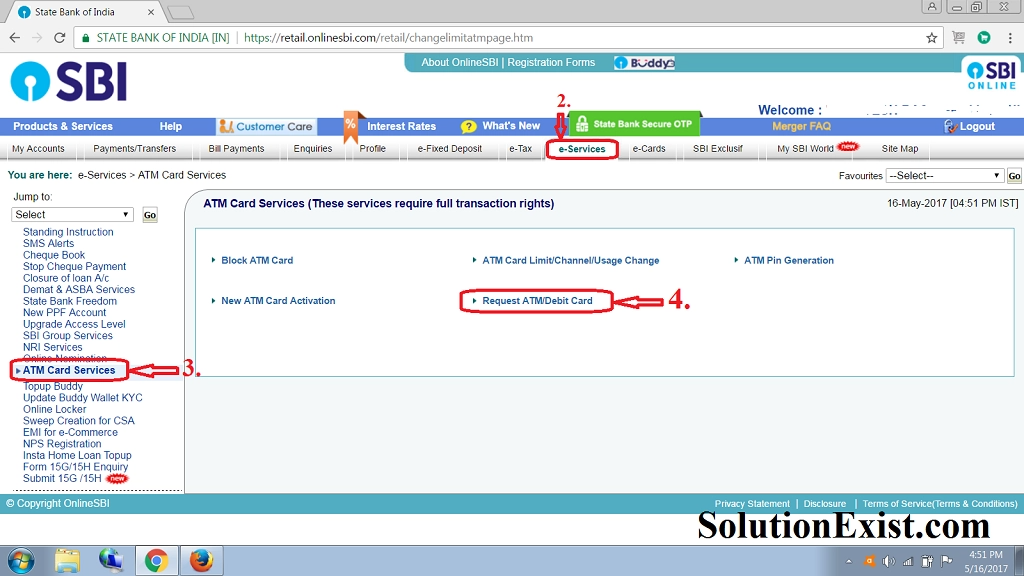 There you can see the different ATM Card Services options like below
Block ATM Card
ATM Card Limit/Channel/Usage Change
ATM PIN Generation
New ATM Card Activation
Request ATM/Debit Card
Step 3 -> Now Click on 'Request ATM/Debit Card'
Step 4 -> In the Next screen you need to validate the account, Select One Time Password (OTP) OR Profile password (Select Any in your comfort).
If you select Profile Password, Then enter your profile password and If you select OTP then enter the OTP received on your registered mobile number and Proceed.
Step 5 -> Now you redirect to Request ATM card page, Then select Primary SBI Account Number and Secondary Account Number also.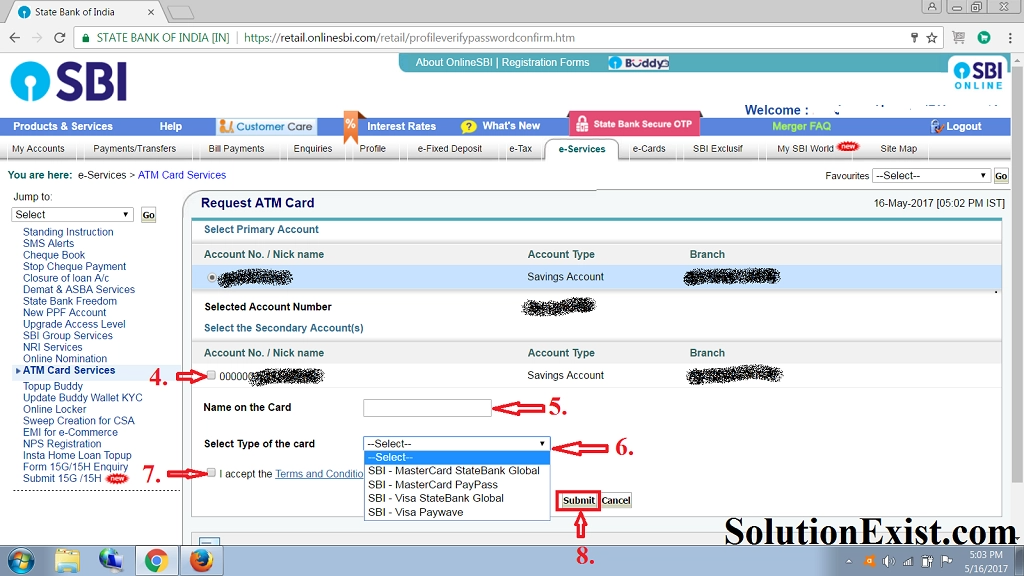 Then now you have to enter the 'Name on the Card' (SBI ATM Card). Remember this name will print on your card so enter name as you wish.
Now select the 'Select Type of the card' from the drop-down selection. I recommend to select VISA debit card. You can apply 'SBI – Visa StateBank Global' or 'SBI – VISA Paywave' debit card.
There you can see the Four Types of Debit Cards –
SBI – MasterCard StateBank Global
SBI – MasterCard Paypass
SBI – Visa StateBank Global
SBI – VISA Paywave
Step 6 -> Now last step is Check the Terms and Conditions and then Select the 'I Accept Terms & Conditions' box and Then click on 'Submit' button.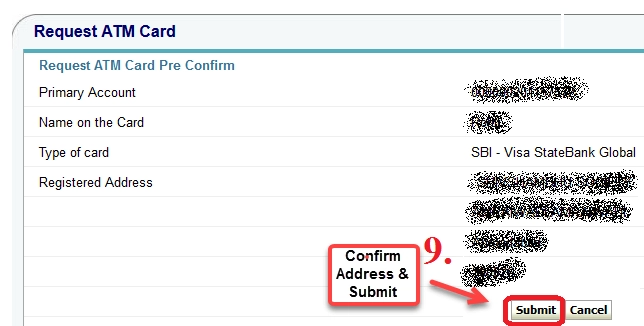 Now in the Next step, You need to confirm your address that you will receive your card on this address via post. Then Confirm the details and Click on the 'Submit' button.
Now you can see a Success message like "Congratulations ! your card request has been recorded. You will receive your debit card within 7-8 working days at your registered address"
Note: – You will receive your card within 7 working days after submitting the application, directly by Speed post at your delivered address at your doorstep. It depends on your location so keep patience. After receiving your new Debit/ATM card you need to activate the ATM card and generate pin. You can do all this procedure online through Internet Banking in ATM card services option.
FAQ (application for sbi atm card)
1. Can we do apply for new ATM card request sbi online?
Ans – Yes, internet banking is proving you the option to apply for atm card online and that too you will receive at your home.
2. Is online banking is safe?
Ans – Yes online banking is safe but you have to make it safe and be aware about cyber security. Is you are using online banking website on computer, make sure you had antivirus software installed on your computer.
3. How to activate new sbi ATM card through ATM?
Ans – To activate the new SBI ATM card, you need to visit ATM branch, any nearest branch will work and then insert your Debit Card. You will get an option to generate the PIN. Now Enter Bank Account Number and Mobile Number. You will get the temporary pin on the registered mobile number. At last, use that to change your SBI ATM pin to the new one.
4. Application for new ATM pin number sbi?
Ans – You don't need to apply for a new atm pin number online. If you had issued new atm card SBI online then you need to visit any nearest atm branch and can generate a new atm pin.
Wrapping Up
This Tutorial about to Apply New SBI ATM/Debit Card Online through Internet Banking. You can also use this how to apply sbi atm card online tutorial for Applying for Second Debit cum ATM card. Also, check how to Remove Adware From Chrome Browser. In case if you have any problem regarding sbi atm card apply online then feel free to use the comment section. We will help you. You can join us on Facebook Solution Exist and also join our Facebook Group Android And Windows Errors Solution where we discuss your problem and provide you solution related to windows or android.