Solution Exist had covered various errors that a user faces while using chrome on PC or in android and among those, Aw snap is one of them. This troubleshooting guide will explore different methods on How to Fix Aw Snap error on Google Chrome.
Chrome is buggy and user faces plenty of chrome errors but as Chrome is the most used web browser and widely accepted by the user, shifting from chrome is not a viable suggestion. It is very annoying to see encounter google chrome aw snap on every page.
As discussed, there are several of Google chrome errors that one can find but the problem with the google chrome error is, they are very generic and don't provide the reason for the occurrence of the error, and that's why we have to try different methods to fix it.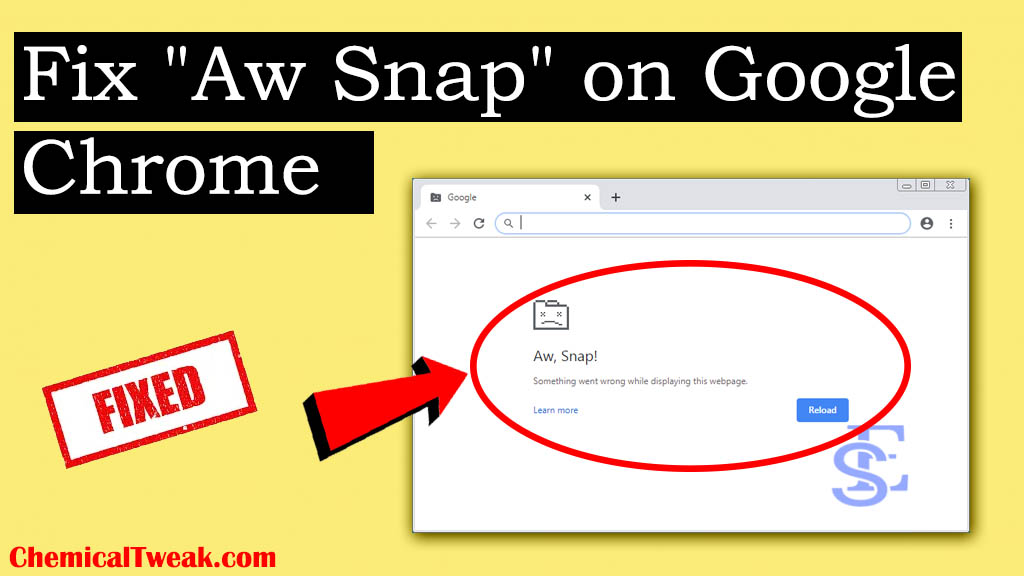 Aw Snap chrome error is a similar error that googles chrome shows when chrome is not able to load webpage properly or encounters an error while opening a page but the error doesn't show the possible reason for this error. so today, in this article, we are going to discuss different causes of Aw snap error and how to fix them.
Prior to get into the steps on how to fix Aw snap chrome error, let us learn the reson why the chrome user encounter this chrome error. Microsoft edge users also experience similar errors while loading webpages as Microsoft edge is based on Chromium.
What is aw snap error?
Chrome users encounter aw snap error while It is observed that when certain users tried to access a webpage, they encounter something went wrong while displaying this webpage which you are trying to load. One of the similar chrome error codes is NET ERR_EMPTY_RESPONSE Error Problem Issue which is a similar kind of error related to loading of the page on chrome.
Methods to fix aw snap error on Google chrome?
This error is assoiciated with the software which is not able to load webpage in the webbrower and there can be serveral reasons behind this error. Solution exist has complied all the possible reason that is causing this error and provide the solution to fix those.
Check your Internet connection
You might feel this is a dummest solution but trust me, sometimes change in network or it happed that you don't noticed that your internet is not working you you kept getting aw snap error google chrome because or that.
If your system lost internet connection, you will get there is no internet connection but in some cases, if you encounter "Aw, Snap!" error. You can check your system connectivity by opening another website on a new tab and can also perform Internet speed test using
Reload page on google chrome
Sometimes, the simple solution to fix the webpage is not loading, or aw snap error is just to hit reload button. Many users had reported that simply reloading the page had fixed their issue. Webpages contain various JavaScript's, CSS and other files and in some case, it fails to load due to technical error and it results in "Aw, Snap!" error on Google Chrome.
Shortcut keys to reload page
To reload the webpage user can press Reload button.
Other alternative way to refresh page on chome is to press F5 button or Cntrl + R in windows.
Mac users can use shortcut key press the Command + R keys
Open webpage in Incognito mode – Private browsing
Incognito mode is a feature avaliable in google chrome and on various other webbrowser software as well which enables users to browser websties where Chrome won't save Your browsing history, cookies and site data, Information you entered in forms and Permissions you give websites.'
Sometimes, the website which is not opening in normal browsing tab, opens in chome incognito mode. If the webpage gets loads in incognito mode than it is recommended to clear cache of chrome.
Steps to open website in chrome incognito mode
Open google chrome on your system and click on the three vertical dots button located at top right corner
Now click on New incognito window.
New window will be launched with black background which is chrome incognito mode.
User can press Cntrl + Shift + N to open new incognito mode in chrome.
Now, paste the url of the website in which you got aw snap error and check if the webpage is properly loads or not. In not the proceed with the following solutions.
Scan system for malware or virus
If you are not on a secure network or you have no antivirus software installed in your system then change are that your system is affected by viruses, especially your google chrome. These days, viruses and malware target google chrome to extracts your browsing history, your saved passwords and sometimes, even install keylogged malware in your system which logs all your keyboard activities.
We had posted a detailed article on how to remove adware from chrome browser which will help you to remove harmful software from google chrome. If still, the error persists then you can read our Remove Adware From Computer guide.
Disable all chrome extensions
Google chrome extensions are good and provides better functionality to the users where user have the privilege to add additional features and tweak to the chrome to work more efficiently. Apart from providing the feature, if infected chrome extension gets instlled in your chrome, it can track your data and control loading of webpages.
Google chrome extension are the easily pathway for Malware and adwares to take control of the chrome and users internet activities. These malicious software shows spammy ads and force user to install malicious software and sometime restrict chrome to load web pages.
Hence users are recommeded to open extensions section and if found any extenstion which are not installed then disable it
Clear browsing data in chrome
When we surf or open any website, chrome save browsing data which later help browser to loads that particular website fast. Sometimes these stored data are responsible for various errors in chrome. So in that case, we need to clear data, cache, and cookies of the website which can fix this "Aw, Snap!" error. Solution Exist had posted a detailed step to clear cache and cookies of chrome in the post how to fix slow chome on windows in solution no. 3. as this also helps to make chrome fast.
Read and follow the instruction and clear browsing data from chrome. Now restart chrome and check if your problem is fixed or not.
Make new profile on Chrome
Every activity of the user is saved in the user profile on chrome. If none of the above solution worked for you then you can delete the present user profile and create a new one. Users had reported that but changing or by creating new profile in chrome,
Steps to create a new profile on chrome
Step 1 – Firstly close chrome if open and open my computer.
Step 2 – Now in address bar, paste the below path and press enter.
%LOCALAPPDATA%\Google\Chrome\User Data\
Step 3 – Now find the folder by name Default, right click on it and select rename.
Step 4 – Rename it with any name example – Old default.
Step 5 – Now Launch google chrome again, You had successfully create new profile on chrome
Now try to open the webpage and check if your problem aw snap error is fixed or not. If not, you can move to the next solution.
Reinstall Google chrome | Fix Aw snap in chrome
If none of the above solutions worked for you then this is the last option that one can follow i.e. uninstall installed Google chrome and again download it. Complete uninstall is recommended which can be performed by any third-party software to uninstall the program and also remove the registry file. I personally use Revo-uninstaller to uninstall any installed software from my system.
Steps to uninstall Google chrome
Close google chrome if it is opened.
Now click on start and search for Add or remove the program.
A list of installed software and program will be shown in the opened window.
Search for Google Chrome and click on Uninstall button.
In this way, you can uninstall google chrome from your computer and laptop.
Now open any we browser and download fresh Google chrome and install it. This will surely fix Google chrome Aw snap error.
FAQ (how to fix aw snap error in chrome permanently)
What causes Aw snap error?
Several reasons can cause this error in google chrome and not a specific one. Hence solution are also multiple which user has to do trial and error.
How do I fix Google Chrome crashing?
There can be number of reasons why your google chrome is crashing like low memory, outdated version of chrome, chrome infected with virus and many more.
Aw Snap error Chrome Windows 10 solution
To fix this error, one had to try multiple solution such as firstly try to reload webpage, then clear browser cache and change chrome profile.
Wrapping up
This was the detailed troubleshooting guide on How to Fix Aw Snap on Google Chrome. If you have any other problem related to chrome for pc or android then feel free to use the comment section. In case you have any suggestions or you want us to cover any particular topic then you can let us know in our comment section or on our Facebook page Solution Exist. Join our Facebook page where we discuss android and pc related problems and provide ways to fix it.