Do you like to play old classic games? If yes then this list of Best bubble shooter games for android is for you. We bring you the old bubble shoot games aka magnetic balls bubble shooter for android phones.
Mobile games are exclusive digital entertainment platforms where users can play, face challenges, and have fun anytime, anywhere. These interactive games can be downloaded from the app stores of the respective operating systems and installed easily.
Previously we had covered articles on android games such as a detailed guide on how to Download Paid Android & Games For Free which can help you to have awesome games to download and that is for free. Similarly, if you like bubble shooter games for android then this is available for free.
There are different types of genres of mobile games players prefer downloading and playing solo or with peers. One of the best solo games to play is Bubble Shooter. Yes! The name sounds familiar.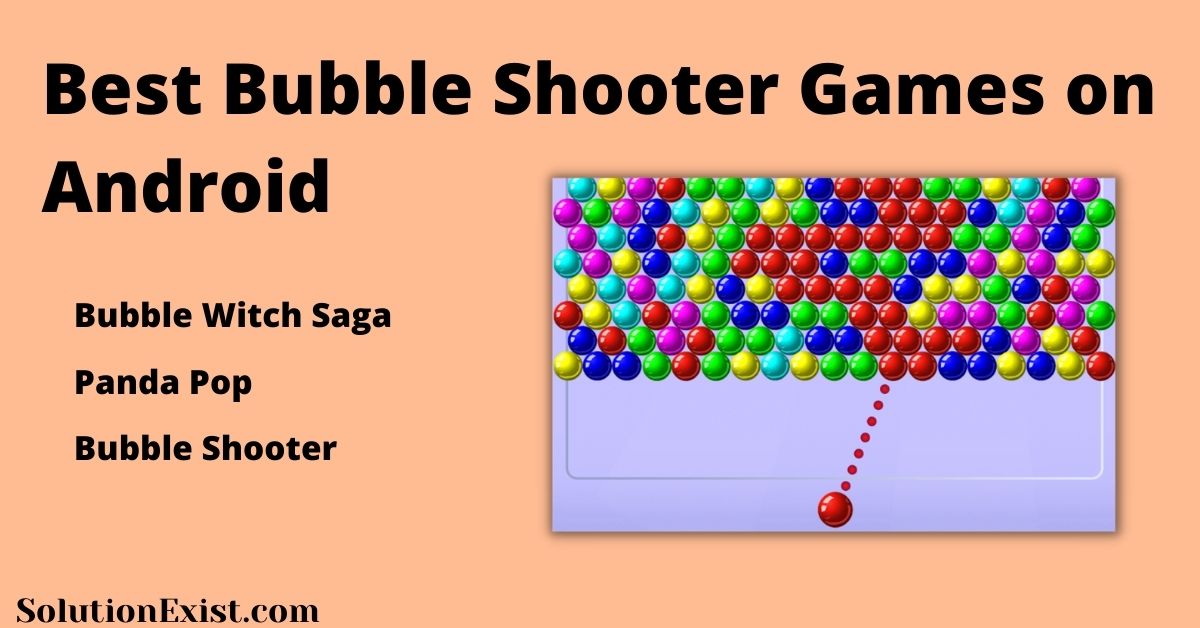 Remember when we used to play certain arcade games where the game interface provided a gun or shooter to shoot down aliens, meteors, spaceships, enemies, etc. This game is based on the same concept, but we have to use a shooter to pop bubbles in clusters. So let us quench our growing interest in the best bubble shooting mobiles games for android first.
Best Bubble Shooter games for android
There are a number of bubble shooter mobile games available over the internet, hence not to be confused, we bring you a hand-picked list of old bubble shoot games we use to play in old days such as magnetic balls bubble shooter. So without wasting more time, lets start with the list of bubble shooter game free download for android.
Bubble Witch Saga
Bubble Witch Saga, a top-rated bubble-shooting game, offers a brilliant interface with quality graphics. This game has different versions to download and play. It has committed to all Android smartphone specifications so that all enthusiasts can download and enjoy a lag-free enjoyment of shooting down bubbles.
Stella, Violet, and Nero will guide you to use charms and power-ups to burst the bubbles with a shooter. This mobile game has beautifully designed levels providing challenges to the players. These challenges increase when you proceed from one level to the other.
Bubble Shooter
Another recognized Indian game developer, Bubble Shooter, is famous for busting stress and enjoying an interesting bursting bubble session. A cluster of bubbles appears from the top of the screen. Your prime aim is to use the shooter to send bubbles of matching colors to pop same-colored bubbles and break the cluster.
Power-up bubbles will help you cross challenging levels by destroying the cluster. The shooter is easy to control for setting an angle and shoot bubbles towards the cluster. This is a single-touch simple yet interactive bubble shooting game you can download and play. Click here to know more and start relieving stress today!
Panda Pop
Who does not love the lovely pandas? Their overloaded cuteness makes this game's interface quite lovable and interactive for the gamers.
This game has over 2000 levels offering different kinds of challenges. Your prime aim will be to rescue the baby pandas. They are relying on your skills of shooting bubbles and breaking the captivity.
The variation in the difficulty levels will keep you on your toes. Find out how to cross the levels and use the super moves to make it easier. Then, point the shooter, aim properly, match the bubble color, and boom!
Bubble Blaze
Bubble Blaze, a unique bubble shooting game of its own, offers puzzling bubble stacks to pop. In addition, it offers three gameplay modes you can choose to challenge yourself. The modes are based on challenges such as completing a level within the stipulated time, popping the top cluster, and rescuing dragon eggs by hitting them with your shooter.
This mobile game has over 200 mind-twisting levels to enjoy with a beautiful interface. The baby dragons will also help you proceed with the game levels with magical boosts and special moves.
Bubble Mania
Bubble Mania raises the bar of challenges at every level and has over 1000 of them to complete. It has an exciting storyline where you will hop from one island to the other, completing levels. Complete these levels and win exciting rewards to use them for crossing challenging levels.
You can also participate in weekly events and discover new tricks to overcome challenges. Use special rainbow bubbles and other power-ups for popping critical clusters and winning. A bubble wizard places all these obstacles. This wizard is stopping you from going to the following islands. Defeat him by completing these levels and enjoy the thrill.
Smurfs Bubble Story
Remember the cute Smurfs in the cartoons we watched when we were kids. Well, they will accompany you this time to burst bubbles with your shooter. They are building a new village for their people, and the evil Gargamel stops them from doing so. Collect the Smurf characters while completing the levels, get rewards and smurfberries to build a village faster.
This is also a puzzle-based arcade game with the same rules of popping three same-colored bubbles. Discover power-up bubbles and utilize the power of the Smurfs to destroy the approaching cluster to foil Gargamel's plan. Finally, restore the village and be a hero among them.
Witch Cat Pop
This time, the beautiful feline characters Smokey, Ziggy, Belle, Rita, and Berry will accompany you to pop bubbles and let them eat the cookies hidden. These cookies will be revealed at the end of every level. Enjoy the kittens singing and eating cookies.
The levels are set at variable difficulties offering a challenge to complete and proceed to the next one. You can also pose a challenge to your friends after completing a level with excellent scores.
Bubble Fruit
This mobile game is a little different from that of the rest. It has fruits in place of colorful bubbles. Match fruits and shoot them own with your shooter. It has three different gaming modes posing challenges at every level.
You can also act as a savior of kitties, ladybugs, and other animals trapped within the bubbles and enjoy rewards. This game offers over 800 fascinating levels to play and complete the puzzles.
Wrapping up
Time and again, bubble shooter games for android have been a trendy puzzle-arcade genre game for admirers. These games are not heavy in graphics and do not demand high space on your smartphone. Download these games and get your daily dose of enjoyment. There is no learning curve. Players as young as 4-years old can play these games, making it a family pastime. Choose your favorite one and download it to release stress and unwind after a hectic day.