This article is about what is cloud computing, the types of cloud computing and what is the difference between iaas paas saas.
Cloud computing has gained significant popularity, especially in the business sector. A majority of businesses have shifted from on-premise services that they heavily relied on. They prefer cloud-based services because they reshape the work environment.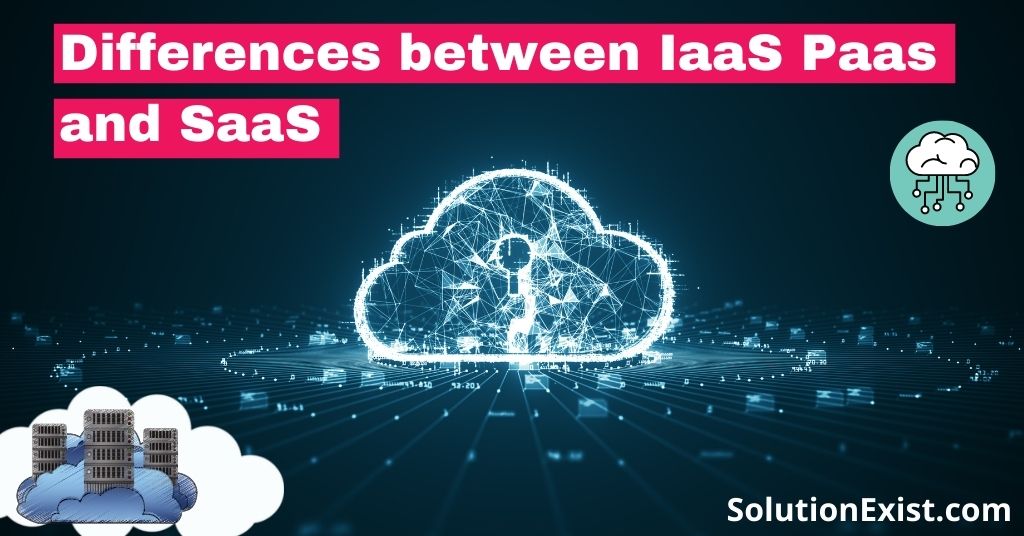 Cloud computing enables businesses to utilize IT infrastructures and platf orms, and applications and software through the web and online hotspots. If you've been considering sifting towards cloud computing, then you have to adopt a cloud service model.
Before we get into the difference between iaas paas saas, let us understand what is cloud computing as its type and then we will get into their difference.
What is cloud computing?
Cloud computing in simple words can be defined as the delivery of computing services and hosted services over the internet. Cloud computing are of different types as they are divided on the basis of Deployment Models and on the base of service as they offers.
Types of cloud computing
Cloud computing is of different types divided based on the services they offer, all the types are described below.
Platform as a Service (PaaS)
Software as a Service (SaaS)
Infrastructure as a Service (IaaS)
This post will assess the Paas Saas Iaas difference, benefits, and examples. So stay tuned to have a detailed knowledge on cloud computing.
What is SaaS and its Benefits | cloud computing services iaas paas saas
Software as a Service (SaaS), is also referred to as cloud application services. It is the most popularly used option for organizations in cloud-based services. Ideally, SaaS relies on the internet to deliver applications to users. The applications are usually managed by a third-party vendor like Yalantis.
Most SaaS applications are run directly through your browser. Therefore, you don't have to install or download them.
SaaS characteristics and delivery
SaaS is delivered via the web as a fully-functional service. Without the need for IT experts, businesses can access it through any web browser. The model has vendors who manage the servers, data, and storage.
The service is hosted by a third-party provider on a remote server. Therefore, it is a suitable model for businesses that can't develop their applications. Nonetheless, SaaS is scalable because it has several tiers for small, medium, and large businesses. The service also includes security, maintenance, and compliance.
SaaS benefits
SaaS products are easy to set up and use
Scalability
Users can integrate most SaaS solutions with other SaaS offerings
The cost is lower than traditional models
Users get software upgrades and new releases
What is Platform as a Service (PaaS) and its Advantages
Platform as a Service (PaaS) is a service that's mostly used by developers building apps or software. The cloud-based service can be accessed through the internet, and it offers developers tools and a framework to create software or applications. The apps or software are usually tailored to a business's specific needs.
With PaaS, developers don't have to start from scratch because the platform allows them to create unique and customizable apps. The developers only need to maintain the management of the apps, while the networking, servers, and network get managed by a third-party provider or the enterprise.
PaaS characteristics and delivery
PaaS's delivery model is similar to that of SaaS. But unlike SaaS, it offers a platform for app and software creation instead of over the web. All the same, PaaS is delivered through the internet, allowing developers to concentrate on building the apps and software. They don't have to worry about software updates, infrastructure, operating systems, or storage
The cloud-based service enables organizations to design and create apps, which are built into the Platform as a Service with special software elements. Notably, the applications are not only scalable but also highly available because they have specific cloud qualities.
PaaS benefits
The tools are pretty easy to sign-up for and use
PaaS allows developers to collaborate with other developers on one application
The platform provides excellent scalability and flexibility, especially when there's an increase in app use.
Developers can seamlessly customize and update applications. They don't need to code from scratch.
What is Infrastructure as a Service? (Iaas meaning)
Infrastructure as a Service (IaaS), is also referred to as cloud infrastructure services. IaaS comprises automated and highly scalable computing resources. The platform is entirely self-service for monitoring and accessing networking, computers, and storage, among other services.
The service provides an alternative to on-premise infrastructure. It enables businesses to buy resources as required instead of purchasing hardware directly.
IaaS characteristics and delivery
Technically, IaaS delivers cloud-based infrastructure, such as network, servers, operating systems, and storage. It accomplishes this via virtualization technology. The servers get provided to businesses over the web through a dashboard or an API.
That way, it provides users with total control over the infrastructure. That notwithstanding, IaaS gives clients similar capabilities and technologies to traditional data centers without the need to physically manage and maintain them. Usually, users access servers via a virtual data center.
IaaS benefits
Hardware purchased depends on consumption
It is the most flexible model
Pretty easy to automate the deployment of cloud computing infrastructure
Users have full control of their infrastructure
Highly scalable
Users can buy resources as needed
What is the difference between IaaS PaaS SaaS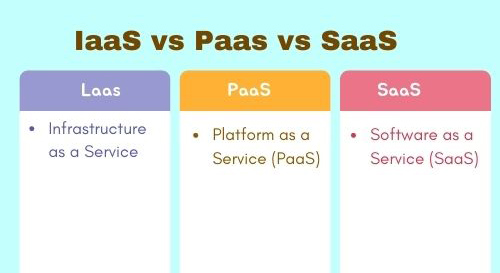 Cloud computing SaaS IaaS PaaS models have significant differences. SaaS depends on the internet to provide apps to clients, whereby the apps are managed by a third-party vendor.
On the other hand, PaaS provides developers with hardware and software development tools over the internet. While IaaS offers users cloud-based infrastructure, including networking, storage, and virtualization.
Unlike SaaS and PaaS, IaaS users have to manage aspects like runtime, applications, data, middleware, and OSes.
SaaS vs PaaS vs IaaS Example
With businesses shifting to cloud-based services, most of them depend on SaaS, PaaS, and IaaS. The models provide alternatives to on-premise infrastructure to make operations more seamless. Here are some examples of each model.
SaaS company examples
Dropbox
Hubspot
Salesforce
Slack
Google Apps
Microsoft Office 365
GoToMeeting
Platform as a Service examples
Google App Engine
Heroku
Windows Azure
AWS Elastic Beanstalk
Force.com
OpenShift
Apache Stratos
Iaas examples
IBM Cloud
Linode
Rackspace
Vultr
Microsoft Azure
Oracle Cloud
These are the example of cloud computing types and their examples.
FAQ (difference between iaas paas saas)
1. is facebook saas or paas?
Facebook is a of PaaS. Here developers can create applications, games and provide them as service to the Facebook audience and users.
2. What is PaaS?
Paas stands for the platform as a service.
3. What are the benefits of cloud computing
There are number of benefits of cloud computing, here are some listed.
1.Speed
2.Cost
3.Scalability
4.Accessibility
5.Better Securitydifference between iaas paas saas.
4. Are Facebook & LinkedIn Considered SaaS?
No, Facebook and LinkedIn are not considered as SaaS. Saas means they can be download and use buy the customer. They are Paas where developers can host their application.
Wrapping Up
Hope this article had cleared your thoughts on cloud computing and on the difference between iaas paas saas. Here we had also includes the examples of iaas, paas and saas. If you have any problem feel free to use comment section and in case you have more information then also do share with the other people using the comment section. Do connect us on Facebook – Solution Exist.