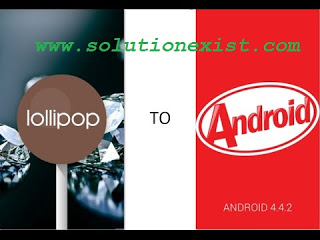 Lollipop update rolls in ASUS Zenfone 5 and people had tasted the taste of lollipop in zenfone 5 also. Zenfone 5 users are not looking happy with this update Lollipop update. Many issues are being reported in this android updates by the users. I personally own Zenfone 5 and i also feels the battery backup becomes worst with this update. Not only me, lots of people are facing batter drain issue or they are not happy with the new update then you must be are in search how to switch back to old kitkat android version. Don't worry solutionexist will help you with the most simplest method to switch back to kiktkat. We in this post All you need to downgrade ZenFone 5 from Lollipop to Kitkat is download the required files and follow the instruction
Note: –  Solutionexist is not responsible for any harm casused to your device. In this method you are using the original and genuine firmware files by Asus mobiles so your warranty will not be void
How to downgrade ZenFone 5 from Lollipop to Kitkat v2.21.40.44
Step-1: Download Android 4.4 KitKat firmware versions 5.3.3.3 and 5.2.2.2 for your ZenFone 5
Download links:

UL-ASUS_T00F-WW-5.3.3.3-user.zipUL-ASUS_T00F-WW-5.2.2.2-user.zip

Note: Do not extract the downloaded links.
 

Step-2: Connect the ZenFone to the PC and copy the version 5.3.3.3 only to the phone's internal storage. Do not copy the v5.2.2.2
Step-3: Disable the USB cable. Your phone will show a notification, 'System Update File Detected. Touch to start the system update'
Step-4: Touch the notification to get a pop-up, which will show the file name of the KitKat firmware v5.3.3.3. Select it and tap OK
Step-5: The phone will now enter recovery mode and install the aforementioned KitKat firmware. After the installation, the phone will restart automatically
Step-6: Now flash KitKat firmware v5.2.2.2 on your phone
Step-7: Connect the phone with the PC and move the KitKat file to the internal storage
Step-8: Like the previous KitKat firmware, you should get a notification about the update. Simply touch it to get a pop-up and tap OK to install 5.2.2.2. This should downgrade your software version KitKat completely
Step-9: A reboot is required after the process
After the process go to Settings>> About>> Software information>> Build number, and it should show 2.21.40.44.
Wrapping Up
This was the detailed method to downgrade ZenFone 5 from Lollipop to Kitkat
by solution exist. I personally own Zenfone 5 and I had use this process to get back kitkat verion in my phone hence this is personally tested solution for downgrade. If you faced and issue in downgrading process feel free to comment we will help you.