If you are facing Chat error, Please try again in Character AI then this troubleshoot guide is for you. In this article, we are going to learn how to fix Character AI chat error and what are the causes of Chat Error Please Try Again on Character.ai
AI is evolving and we can witness rapid growth in it and this resulted in the launching of lots of online AI websites. These websites are so useful and the best part of these is they are free which helps them to get lots of traffic. As the server is not that capable to handle the traffic request it shows error. On Solution Exist, we talked a lot about AI tools such as ChatGPT and problems that users faced while accessing ChatGPT such as Fix ChatGPT access denied error code 1020.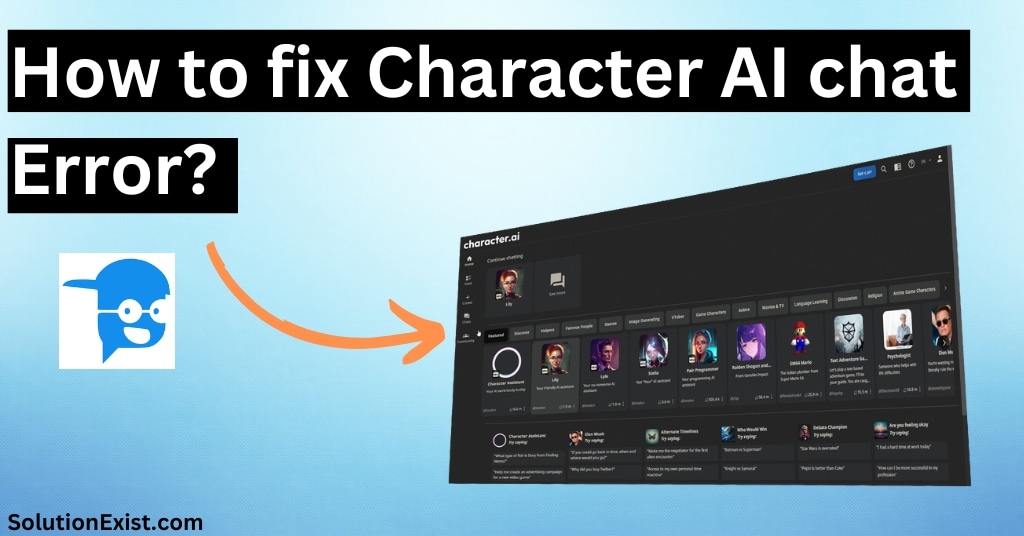 If you are a regular user of Character AI then you had faced different types of errors apart from this such as Character AI 500 Internal Server Error or Character.Ai Not Working" or Not Responding. We had also faced the same problem and had tried different methods to fix it. In this tutorial, we will help you with the solution that we had tried and fix ti.
Before we get into the tutorial on how to fix chat Error Please Try Again On Character.ai, lets have a quick introduction to what is character AI and then we will talk about the solution to fix it.
What is Character AI?
A character AI website is a type of website that uses artificial intelligence (AI) to create and manage characters or avatars that can interact with users. These characters can be designed to have unique personalities, speech patterns, and behaviors, allowing them to engage in conversations with users in a more personalized and human-like manner.
Now that you had a quick into to what is character AI, lets proceed with how to fix 500 internal server error character ai.
What are the causes of the Charcter AI chat error?
Below we have mentioned a few possible reasons that might be causing the Character AI chat error.
Poor or unstable internet connection.
Old browsers cache.
Using an outdated browser.
Server down or website under maintenance.
Now that we had learned what are the causes of Character AI chat error, Now lets proceed with the solution to fix character AI error.
Methods to fix Character AI chat error?
There are multiple factors responsible for error you encounter on Character AI, so do the method to fix it. So without wasting more time, start reading the solution and try one by one and check which step helped you to fix it.
1. Check Internet Connectivity
The first step that you can try to troubleshoot the Character AI chat error is to check your internet connection. It often happens that wifi stops working and we are unaware of that and we are getting frustrated by the error and try to fix it by reading tutorials and solutions.

Check if other websites are getting open or not. You can even try switching to another network such as using mobile as a hotspot can try other networks or wifi.
After ensuring that you have an active internet connection or switching to a different wifi, your problem is fixed or not. In not then the problem is not weak internet connectivity. We had discussed other solutions as well, you can try those described in the article.
2. Wait for a moment and try afterward
As this website gains popularity very fast among users, there is a possibility of a server crash. If you encounter a character AI chat error, sometimes waiting for a moment before trying again can be the simple action that you can take. There are several reasons why this might help.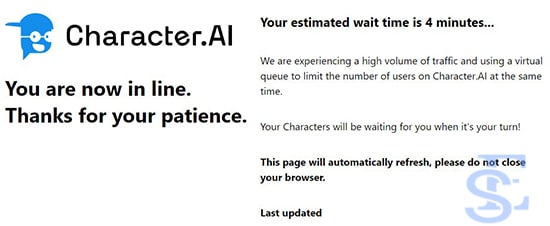 In most cases, if you are using a website for a longer duration of time, you are sending too many requests from your system. Waiting for a moment allows the system to verify that you are a human and not a bot attack.
So wait for some time or a couple of minutes and check again. In most cases, problem get fixed by trying again after some time.
3. Update the internet browser
Keeping your internet browser updated can help you to avoid any cyber attack which can be possible due to browser vulnerability and also avoid any error which can cause a website If your internet browser is not update, the first step you should do is to update your internet browser.
We had talked about the steps to update internet browser in the different posts were several problems are fixed by updating the Internet browser. So update your software and check if your problem is fixed or not. In case you are still getting errors in accessing Character AI, keep following the article.
4. Remove chrome extension
Google Chrome allows you to install an extension that gives additional functionalities to the user which can make user more productive and can complete work in less time.
Although they are useful but it is observed that some poorly coded extensions cause conflict with other websites and result in errors and beta character ai chat errors may be one of them. You can check if it is due to any installed plugins by deactivating them.
5. Try another browser
It may happen that your browser is not compatible with the website that you are opening or it may be due to misconfiguration. In that case, you can try to access Character AI chat using another web browser. There are a number of internet browsers such as Google Chrome, Mozilla Firefox and Microsoft Edge etc.
Try to access Character AI in another browser and check if you are still facing problems in accessing Character Ai. If yes, then continue reading the steps and follow the solution.
6. Clear browser cache
Clearing your browser cache can be an effective solution to fix various errors including Character AI chat error. Your web browser stores temporary files such as images, scripts, and cookies to improve the loading speed of websites you visit frequently.
However, sometimes these cached files can cause conflicts with the website's code resulting in errors like Character AI chat error. Clearing your browser cache will remove all those stored files forcing your browser to download fresh ones from the website.
7. Check if Character AI is down
If all the above steps had not fixed your character AI chat error, then the problem is not because of you, instead its the server. Due to heavy traffic on the website that the server on which the website is hosted not able to handle the request, it goes down. Not only due to heavy traffic, website owner, make the server down for webstie maintenance also. So in these cases, you can check if the website server is down or not and to do so, you can use a website downtime monitor.
Here are the steps that you can follow to check if the is Character.AI down?
Step 1: First open any web browser and search for down for everyone or just me or you can open downforeveryoneorjustme.
Step 2: Now enter beta.character.ai in the enter website field.
Step 3: Now wait till the website shows you the result whether Character AI is down or not.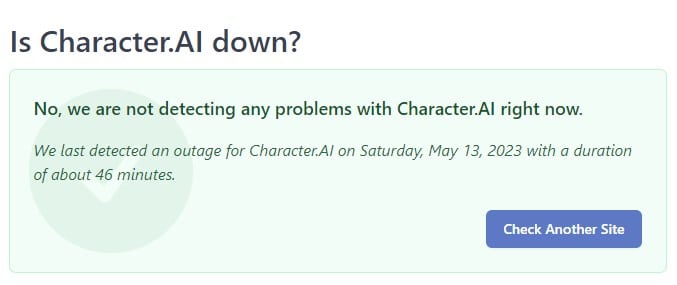 8. Contact The Character.ai Support Team
If you have followed all the above steps and still facing problems then it must be due to error in your account. In this case, you can seek help from the Character AI support department. You can mail them your problem at [email protected].
FAQ (fix Character AI chat error)
1. Why can't I open character AI?
If you are facing a problem in opening character AI, then there is a possibility that the website server is down or you need to wait till then Cloudflare needs to verify you as a human and not a bot.
2. Is character AI under maintenance?
If you are facing a problem in accessing character AI then there is possibility that website is under maintenance. You can use You can check downforeveryoneorjustme.com if the website server is down or not.
3. Is Character.AI free?
Currently Is Character.AI free but in future it can be paid. Apart from that, there is a Is Character.AI plus option available for 9.99$ per month.
Wrapping Up
Hope you like the tutorial on how to fix Character AI chat error while accessing the website. If you have any problem in following the steps then feel free to use the comment section. Apart from that, do let us know which of the solutions helped you to fix your character AI error. You can connect with us at Facebook Solution Exist and ask your query or stay updated with our articles.