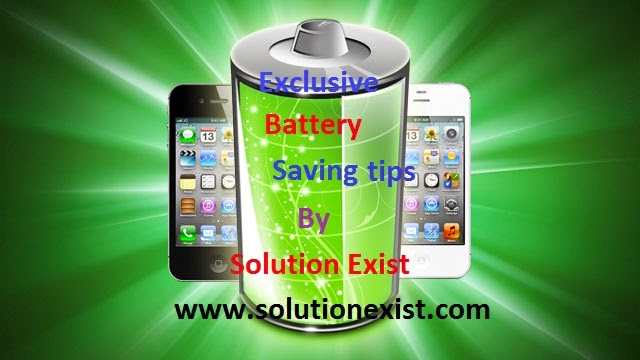 Today, Solutionexist is here with an important post All of you are using mobile phones. Lots of development can be seen in mobile technology that we are constantly getting addicted to mobile phone. This is an Android Era. Android is now become a common platform in mobile technology. The problem with mobile phone and mostly with android is that it supports many apps and hence it reduce the battery life. Android users are mostly suffering from low battery problem.
This battery draining problem of android user. Battery problem is almost in every mobile. You are also facing same problem while traveling or at almost every time. Therefore On Readers demand Solution Exist is here with some battery saving tips and without any App.
Low battery is a problem which is not only by mobile phone or the battery size. We the users are also on the same side for low battery.
The way we use the mobile and less knowledge of optimizing the battery is also the responsible reason for this problem. Below are the tips Exclusively by Solution Exist  that you must follow to have a better battery life
Exclusive Tips for Better Battery Life
Charge your phone from 15% to 100%. Do not charge your phone till you battery not becomes 15% or less.
Do not overcharge your phone.
Use Network Mode wisely. Use 2G network during standby.
Do not interrupt your phone will charging. You can skip using the phone while charging and use it after it fully charge.
Use the charger came with the phone only and avoid using other phone charger. In case you charger is not working then use the charger having capacity matching you original mobile chargers i.e 5v or 3v.
Don't make you phone's battery dead i.e 0% or make your phone power shut down.
You can switch to Airplane mode at No network coverage place.
Don't use auto brightness in smartphone
Regularly note apps usage and try to identify Battery Eating App and try to optimize it.
Details
Don't overcharge you phone because it can damage your battery. Most of the mobile phone comes with automatic power cut off system but still don't take chance.
Do not interrupt you phone while charge allow you phone to complete full battery cycle. Stopping the complete battery cycle can also result in low battery backup and Battery Malfunction.
Don't make you phone battery dead because making a complete drain can result in low efficiency of battery.
Have a complete knowledge of Apps ram usage and try to optimize.
Don't use other phones charger because it can damage your phone battery because charging is a process totally base on the Voltage of the charger. If we use high voltage charger then it will charge the phone in less time but it will give less backup and regular use of high voltage charge will make your battery damage.
Use you phone Wisely and  don't use Data/Internet access when charging port in not available or during traveling.
Switch Network mode wisely i.e 2G/3G. Don't use 3G network during standby. 3G network consume more battery than 2G.
Wrapping Up
These are some simple tips to get better battery life in android phone. These tweaks can be helpful for longer battery backup and will increase mobile phone battery life. Follow these tips and you will be able to see surprising result and will solve low battery issue. Keep visiting will will soon publish an article on Batter Saving Application which can show a surprising result. These tips are not ended yet. If you have any other tips then please post in Comments. It will be Helpful for All.