Trick To Run Multiple Whatsapp Accounts In One SmartPhone [100% Working]
Use Two Whatsapp Account is very simple now. Because there are so many mods are available on the internet to Run Two, Three or More Whatsapp Accounts in One Android Smartphone. If you want to run Multiple Whatsapp accounts in single android smartphone without Installing Any Whatsapp Mods, Then in this tutorial SolutionExist is giving you How to safely Install and Run Multiple Whatsapp Accounts/ Three Whatsapp Accounts in One Phone
Many users are afraid of using Whatsapp Mods like GbWhatsapp App, Whatsapp Plus, etc. Because some users think that Whatsapp Mods are not safe and it may cause data leak, But trust me I am personally using it for 3 years and I had no facing any issue related to Whatsapp or Ban using Whatsapp Plus. Let's For those who never want to install Whatsapp Mods in their phones and use Dual Whatsapp. Here SolutionExist describing how to Use Multiple Whatsapp in the Same Phone.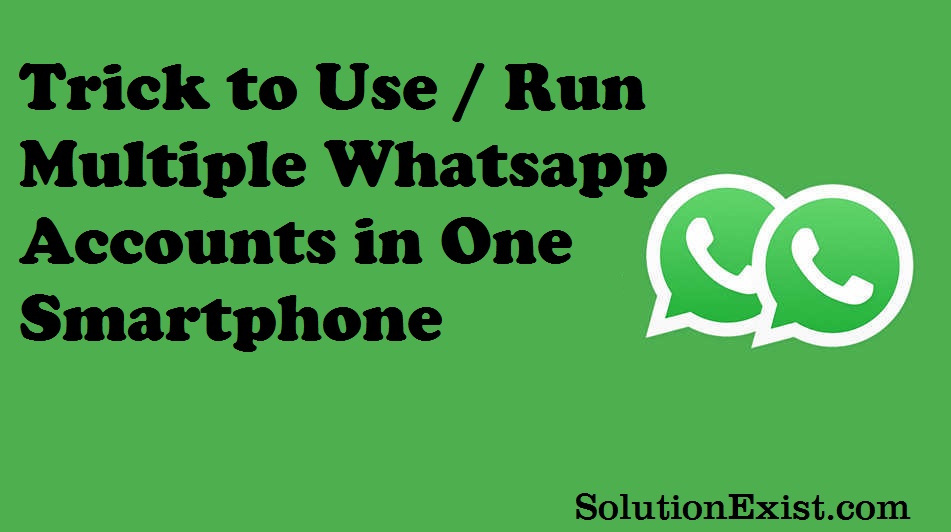 If you have a Xiaomi device running MIUI 8 or above (or if you have a rooted device running on MIUI8 or above), Then you can use Dual Apps option in settings to clone Whatsapp Application. That way you would be able to use two WhatsApp with different numbers on the same Android device.
However, If you don't have an MIUI 8 running device, You can use Parallel Space – Multiple accounts & Two face – Android Apps on Google Play, to create multiple instances of the same app. It works the same as dual apps.
If your device is rooted then SwitchMe Multiple Accounts application is the best option. For Using 2, 3 or more Whatsapp, You Do Not Need to Root Your Device nor you have to go up with any difficulties to Run Dual or Multiple WhatsApp Accounts on your Android Smartphone. Today, SolutionExist Introducing you to not one, But Multiple Solutions to your problem that will help you to Run Two WhatsApp Accounts in One Phone. So, let's Scroll down –
How to Run Dual, Three or Multiple WhatsApp Accounts Safely on Your One Smartphone?
There are two several method that can help you to use multiple Whatsapp account in your android phone and all in this tutorial we had share the official methods for this task.
Run Two Whatsapp Accounts on One Phone
Step by Step Method to Use Two Whatsapp By using Parallel Space – Multiple accounts & Two face Application
Step – 1: First make sure that Official Playstore Whatsapp is Pre-Installed in your mobile. If not then Download Whatsapp Application from PlayStore and Install it.
Step – 2: Then Download and Install Parallel Space – Multiple accounts & Two face App from Play Store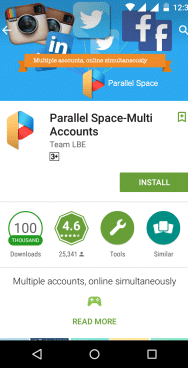 Step – 3: Once, it gets installed successfully. Open the Parallel space app and Click the "+" icon. Then Right Check on WhatsApp and Click on "Add to Parallel Space"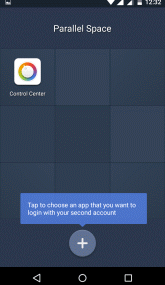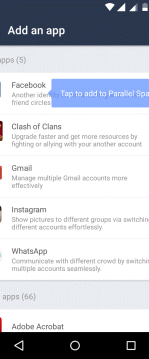 Step – 4: Installing Procedure is complete now. Now you have to Click on Whatsapp Icon and Open the WhatsApp in Parallel space.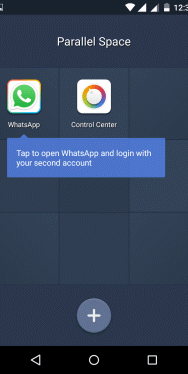 Step – 5: Now you have to enter any other number (New Mobile Number) of your choice on your Parallel space WhatsApp and Verify it to create New Whatsapp Account. And you can enjoy 2 WhatsApp accounts in your single phone. This Procedure is Same as you can make new Account on Whatsapp on Official Whatsapp.
Apart from WhatsApp, Parallel Space can also clone apps like PayTM, Flipkart, Amazon, Facebook, Messenger, Uber and much more.
Features of Parallel Space – Multiple accounts
Clone and run multiple accounts of the same app simultaneously, and use themes to style your unique space.
As one of the top-ranked tools on Android, Parallel Space helps more than 90 million users log on multiple accounts at the same time on one device and highlight their own style.
Login to multiple accounts of social networking apps or game apps at the same time on one device
• Double users' online gaming experience and have more fun.
• Almost all apps are supported for a second account in Parallel Space. Data from both accounts won't interfere with each other.
Switch fast between accounts with just one-tap
• Run two accounts simultaneously and switch between them fast with one-tap to effectively manage different accounts.
Highlights
• Powerful, stable & easy-to-use.
• Unique: Parallel Space is based on Multi Droid, the first application virtualization engine on Android.
NOTE: If your device internal storage is running low then you can Use Parallel Space Lite-Dual App Download from PlayStore, It has the same features as Parallel Space – Multiple accounts App.
Run Three Whatsapp Accounts in One Phone
Use Three Whatsapp By using "AppClone – Multi Account" Application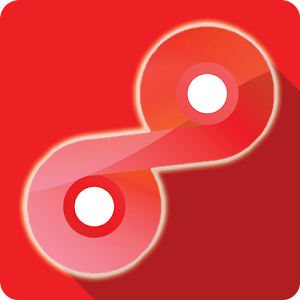 AppClone to create the copy of apps and games so you have two choices one for secure use and another for the public.
Step 1: Download and install Whatsapp from Google play store on your phone and enter your 1st mobile phone number and verify it, now you are able to use your one mobile phone account on this app.
Step 2: First of all download this AppClone app file on your mobile or tablet or any android device.
Step 3: Now install this downloaded AppClone app file on your device.
Step 4: Now you will able to see the AppClone icon in your android menu, just open it and add Whatsapp or Some other app that you want to install.
Features of AppClone – Multi Account
Create two accounts of social media apps and access parallel by easily swiping from original and cloned app.
Some apps required notification permission to allow the notification permission for the cloned app.
Supports almost every app so you can create a clone of any app and access parallelly both.
Tap on Add button and create a clone of the app. then for access to the cloned app you find the list of apps in cloned apps tab.
AppClone creates parallel apps by one tap in just seconds and you are able to access that app in just seconds sp very easy to create and access the clone of apps.
By granting the permission for cover page setting when you open the original app at that time you have a choice to open the original app or cloned app.
So, two & Three Whatsapp Accounts in One Phone apk, So its simple way to use multiple Whatsapp in the Same phone without root.
=> Run Four Whatsapp Accounts on One Phone / Multiple Whatsapp in the Same Phone
Use 4 Whatsapp In one phone By using "GO Multiple – parallel account" Application
Download and Install GO Multiple – parallel account App from Play Store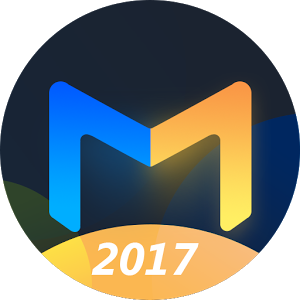 Features of GO Multiple – parallel account
"GO Multiple" is designed for users who log in more than Two Accounts of One App with only One Phone, while data of your main account and second account are in parallel and separate storage.
We support most Instant Messaging. Multiple accounts can work simultaneously on one device, connect different friends and share parallel information.
You can open two game accounts for Google Play and get experience for both accounts at the same time! We now support 99% of top games!
Fast Switch between Interface
Wrapping Up
Hope you like this post and now you all successfully installed more than Two or Three Whatsapp Accounts on your Single Android Smartphone. Also, Know How to use Multiple WhatsApp accounts on Computer And If you are an iPhone user then Must Check: 2 Whatsapp Accounts in 1 iOS Device. If you have any doubt related to this topic feel free to put a comment on the below section.