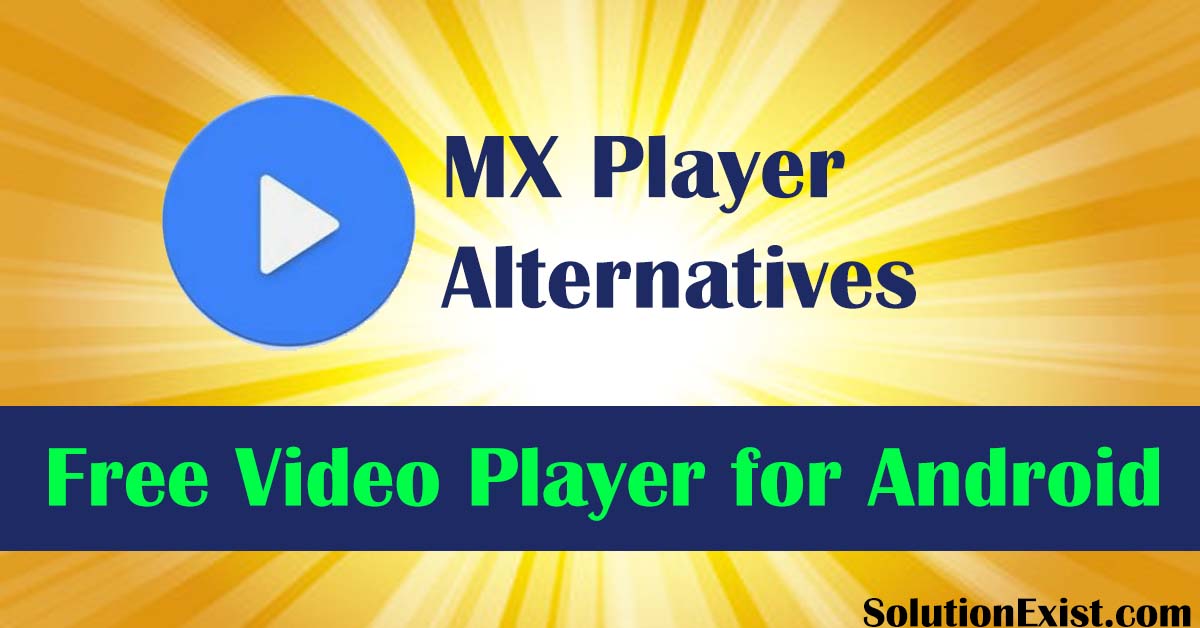 MX player alternatives: – MX Player is very popular among Android users. MX Player provides a premium video experience but some features of MX Player are in the MX Player Pro version. You may face Ac3 audio are not supported error in MX Player. If you are also facing the same then check out ac3 audio supported video player. We are providing AC3 Audio Format not supported error in MX Player Solution.
The list of MX player alternatives is free to download and you can easily download video player from the player for free. you would like to read – How to Set Blank WhatsApp Status. So you don't need to pay for MX Player pro for AA3 audio all you need to do is follow this post.
List Of MX Player Alternative that you must try..!!
1. VLC Player (Recommneded)
VLC media player is a free and open-source cross-platform multimedia player that plays most multimedia files as well as discs, devices, and network streaming protocols. If you are using windows then there is no doubt that you haven't heard about the VLC players. For desktop to play videos, vlc player is the best player and it offers lots of features. One can directly stream videos from the internet also. We had also share a tutorial on how to download youtube video using VLC player. VLC player is not only the best video player for pc, but also the best video player for android. This is the port of VLC media player to the Android™ platform. VLC for Android can play any video and audio files, as well as network streams and DVD ISOs, like the desktop version of VLC.
2. KM Player
KMPlayer is a video player that allows you to watch almost any movie or clip on your Android device, no matter what format the file has. This is also a recommended player for not only android phone, but also for computers. Back in 2017, I was using KM player desktop version to play videos in my computer.KM player is equipped with all the feature that a good video player should have to prove great video experience like You can raise or lower the volume with a simple gesture, and, of course, stop or play a movie.
Feature of KM player
High definition video playback: HD, 4K, 8K, UHD, Full HD playback.
Color adjustment: change brightness, contrast, hue, saturation, gamma information
Zoom in video: Zoom in and move the video you're watching
Section repeat: Repeat after section designation
Play URL: Play any video on web by entering a URL (Streaming)
and many more..!!
3. BS Player
BSPlayer FREE is top hardware accelerated video player for Android smartphones and tablet PCs. BSPlayer FREE version is ad-supported video player. BSPlayer full version without advertisements with added functionality is available on Google Play.
Here are some feature os BS player
multi-core (dual and quad-core) HW decoding support – significantly improves playback speed
background playback in popup window
hardware accelerated video playback – increases speed and reduces battery consumption
Multiple audio streams and subtitles.
Playlist support and various playback modes.
External and embedded subtitles ssa/ass, srt, sub. txt…
Playback files directly from uncompressed RAR files
4. Video Player Ultimate
The most powerful video player in android market i.e. Video Player Ultimate perfectly supports all popular video formats. It uses hardware decoding, which makes video play smoother. Its smart core technology auto detects video and audio formats and makes it much easier for you to enjoy smoother better quality videos. it is definitely your best partner when enjoying the movie and music!
5. HD Video Player
HD video player is the easiest phone video player, has a powerful video decoding capabilities to easily support you play almost all video files stored on your phone. This android app allows you to play 4K videos on android phone and one can experience full ultra hd videos on android phone seamlessly. We had listed some features of HD video player.
some key features of HD video player.
4K/Ultra HD video playback
Support ALL popular video formats: AVI, MP4, WMV, RMVB, MKV, 3GP, M4V, MOV, TS, MPG, FLV
Built-in equalizer & bass booster
Keep your private videos safe
Play videos in pop-up window
Minimalistic interface design
FAQ (MX Player Alternatives For Android )
Is MX Player safe?
The short and simple answer to the question is it safe to use MX player is yes, it is 100% safe to use MX player if you had installed from google play store. There are third-party android app download or apk websites posting the modded versions of mx player which is a premium feature unlocked version. It is not safe to download modded mx player and install in an android phone.
Is MX Player available on Android?
Yes, MX player is available on android and that is also for free. You can download MX player for free.
Is MX Player free of cost?
Yes, MX player is free of cost to download. There are pro vesion of mx player is available which is paid which will provide you extra premium features and provides you ads-free experience.
Why is MX Player so popular?
MX player is popular among android apps as it provides a variety of video format support and also provides the best video playing experience.
Wrapping Up
This was our article on MX Player alternatives. one must try these handpicked top 5 best MX Player alternative which provides premium features for free. This will fix AC3 Audio Format not supported error in MX Player. I personally use VLC Player on my android phone. If you had any suggestion then must comment and share your experience and join our Facebook Group community – Android And Windows Errors Solution where we discuss android and windows problems and provide the solution.