If you are here then you might have forgotten the Windows XP administrator password. If it is so or in case you are curious to learn how to recover Windows XP administrator password then you are right place.
In this tutorial, we are gonna learn to Reset the Administrator Password in Windows XP. If you want to learn the difference between Firewall vs antivirus then you can check the detailed tutorial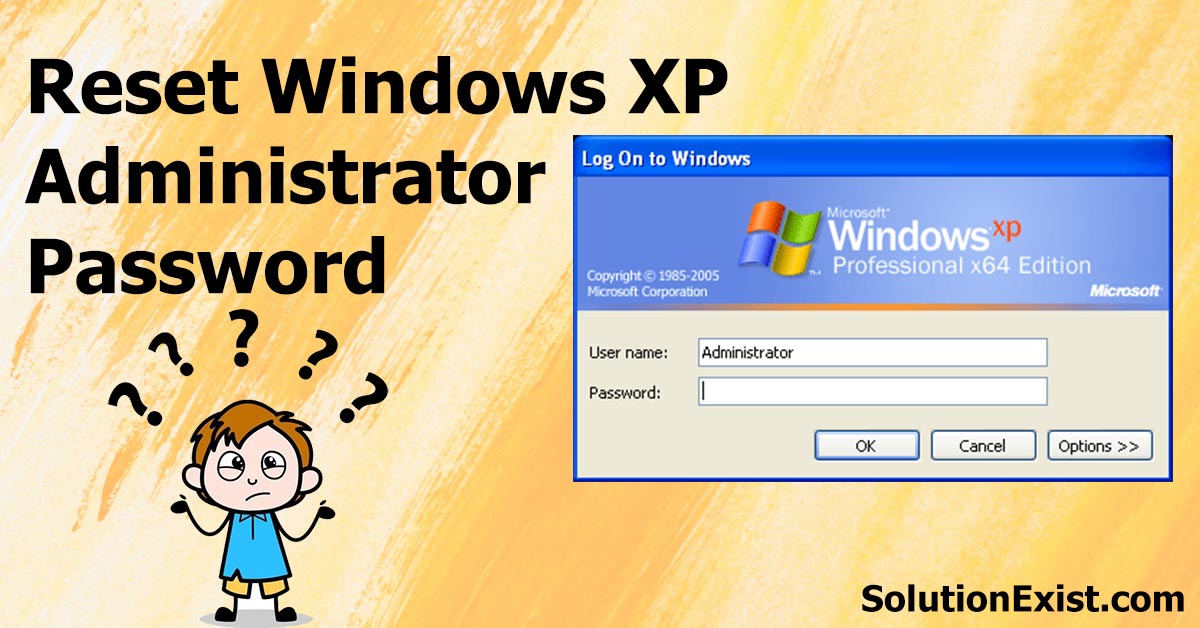 Have you forgotten Windows xp Administrator login password or do you want to change the Administrator password of the windows system at your School, College or office, then this Trick is just for you. SolutionExist provides you a tutorial on Recover Windows XP Administrator Password.
Step To Reset Windows XP Administrator Password – reset administrator password using command prompt
Restart your computer as we need to boot it in safe mode
Press F8 key continuously until you get a black screen where you have many options to start you operating system
From the options "Select the Safe mode with Command Prompt"
When your computer starts in DOS mode, type the following commands net user
This command displays the list of users on this OS in ROWS
Now type the following commands to reset the windows Administrator password
net user username password
Note: Suppose we want to change my account which is Solution to password solution123, I would type in net user solution solution123 and press Enter.
Then it asks the new password without the last password. Type your new password followed by retyping your new password
Note: When you type the password, it will not be display
In this way, you can reset Windows XP password without knowing it or reset administrator password using the cmd.
2. Reset Windows XP Password Using Safe Mode and Command Prompt
In this method to reset administrator password in windows XP you need to boot using Safe mode and then use command prompt. So let's start the steps to recover lost administrator password.
Turn on computer and press F8 continuously while Windows XP is booting.
Now three option will be available on the screen
Safe Mode
Safe mode with networking
Safe mode with command prompt.
Select safe mode and windows XP will load and make you login.
Navigate to Control Panel > User Account > Select the account of whom you want to remove the password.
Select remove the password and restart the computer.
Now you can see that Windows XP will allow you to login to a user account without a password.
In this way, you can reset Windows XP password using safe mode.
Reset Windows XP Password using Another Account
In this method to reset administrator password windows XP, you need to login with another account. This method is also helpful as you can login with the guest account/ secondary account and can reset windows XP password without knowing the password. So without wasting more time, let's jump into the tutorial.
From the desktop, right-clicking My Computer and selecting Manage.
Now, navigate to System Tools > Local Users and Groups > Users. Find your user account, right-click, and select Set Password.
Enter the password that you want to set for the Administrator account.
This is the easiest was to Reset Windows XP Password using Another Account.
Wrapping Up
This was the tutorial on how to reset admin password windows XP using different methods. If you face any problem in the process to Reset Windows XP Password then feel free to use comment section, we will help you to deal with it. In mean time you can read other windows guide and also learn to enable God mode in windows 10.