If you are a Microsoft Edge user and facing a Microsoft Edge laggy problem then this tutorial on how to speed up Microsoft Edge in Windows 11/10 will help you.
Microsoft Edge is a great competitor to Chrome and after discontinuing Internet Explorer, Microsoft is working continuously on the edge browser to make it popular among the users.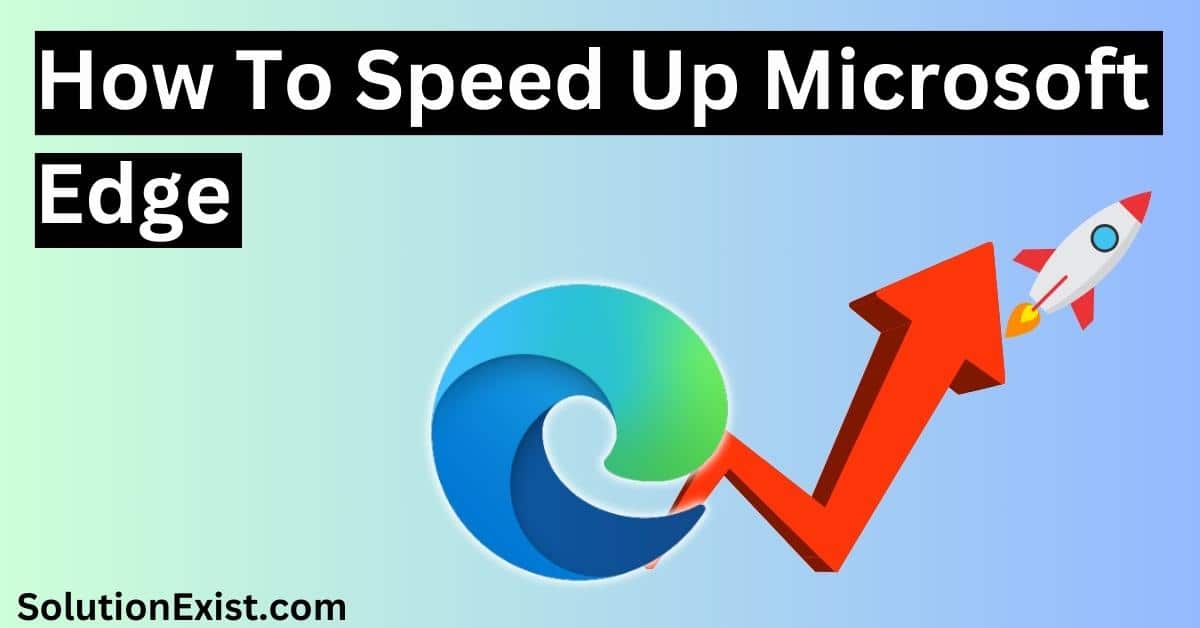 After investing in Open AI, Microsoft incorporated various AI functions in the Edge browser to make user experience good. This is attracting user and make them shift from Chrome to Edge. There is always debate on the internet going on Microsoft Edge vs Chrome. Today, we are not discussing whether is edge better than Chrome or not but on how to fix the slow edge in Windows problem.
Users had reposted that they are facing Microsoft Edge lag in Windows, so in this tutorial, we are addressing some solutions to make Edge faster. Before we get into the tutorial on how to speed up Microsoft Edge fast on Windows, let's have some reasons that can cause slow Edge in Windows.
Reasons behind Microsoft Edge lag
there are multiple factors that can affect your Microsoft Edge performance and make edge slow. All the possible reason which makes microsoft edge laggy are listed below.
Slow internet connection
Old and outdated version of Microsoft Edge
Old and corrupt Cache and history
Limited RAM in the system
Multiple tabs open
How to speed up Microsoft Edge in Windows
Now that we have learned what can be the reasons behind Microsoft Edge laggy, let's proceed with the solution to How to Fix a Slow Microsoft Edge on Windows 11/10.
1. Check for stable internet connectivity
We use Microsoft Edge to surf the internet and in case your system is not connected to a stable internet connection then the first step is to have a stable internet connection and a high-speed internet connection. To check internet speed, there are tools such as Google Internet Speed Test which will show your internet speed. You can even try by switching to another Wi-Fi connection and checking if your edge is slow or not on other networks.
Now that you have confirmed that you have stable and high-speed internet, let's proceed with the tutorial
2. Update Edge to the latest version
Microsoft is continuously working on the edge web browser and apart from adding security and AI features, also works on edge performance. Hence by updating Edge browser, you can have the optimized software which can improve the user experience. If you are using an old version of Edge, there are chances that old version is not optimized and results in Edge slow to load problem.By keeping your browser up-to-date, you ensure that you are benefiting from all the improvements that Microsoft has made in the software.
Here ar the steps that you need to follow to keep your Microsoft edge updated to the latest version.
Step 1 : Firstly open Edge on you computer and click on the three-dot button located at top right corner.
Step 2 : Now click on the settings option and after that click on the About Microsoft Edge option under the settings menu on the left side.
Step 3 : Now on the right side, under About section, an automatic update of the Edge browser will be start.
Step 4 : After completion of the software, you will be notified and the Restart button will appear.

In this way, you can have an updated version of Microsoft Edge. Check if you are still facing Microsoft Edge running very slow on Windows 10 or not. If problem is still not fixed, continue reading the steps.
3. Enable Startup Boost in Microsoft Edge
One way to speed up Microsoft Edge is by enabling the Startup Boost feature. This feature works in the background, ensuring that Edge opens quickly whenever you launch it. By reducing the time it takes for Edge to start up, you can dive into your web browsing without any delays. We had posted a tutorial on How to stop Microsoft Edge running in background so in case you had restricted edge from running in background, you need to enable it.
Startup Boost essentially preloads and initializes Microsoft Edge processes as soon as you turn on your computer or sign in to your account. This means that when you click on the Edge icon or open a link, the browser will already be up and running, resulting in a seamless and faster user experience. Here are the steps to To enable startup boost in Microsoft Edge:
Step 1 : Open the browser and click on the three horizontal dots at the top-right corner of your window.
Step 2 : From there, select Settings and open the settings menu.
Step 3 : Now from the left side menu, click on System and performance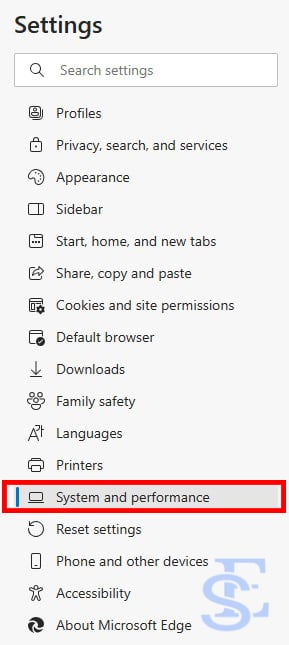 Step 4 : Now on the right side, you can find Under System settings startup boost, toggle on Startup boost if it isn't already enabled.

This can have a significant effect in improving Microsoft Edge performance and fixing slow Microsoft Edge.
4. Disable unnecessary extensions
Extensions on Edge are good as they provide additional functionality which improves users productivity. Sometimes poorly coded extension apart from providing additional feature, makes edge lag and slow. If you have multiple edge extensions installed in your system then try disabling them. Not all Chrome extensions cause microsoft edge lagging problems but you need to identify which extension is causing the problem.
In that case, you need to follow the below steps to identify if the edge running slow is due to installed extensions or not.
Step 1 : The first step is to open Microsoft Edge in your system and click on the Horizontal three-dot button to open the menu.
Step 2 : From the menu, click on the extension option, a dialogue box will pop up showing all the installed extensions. Click on the manage extensions. ( You can open edge://extensions/ from address bar to open extensions directly)
Step 3 : Under Installed Extension, you will get the list of installed extensions on Edge. Toggle the button beside the extension to disable it.

After disabling all the extensions, restart the Microsoft Edge and check if your problem is fixed or not.
5. Use Suspender Extensions
Normal internet users tend to use multiple tabs and at least 4 tabs while browsing. Students and working professionals sometimes use more than 10 tabs which makes the Microsoft edge lag. As you open a new tab, they consume CPU power and the more the number of tab, the more power will be consume and can make Microsoft Edge slow.
One of the most effective ways to speed up Microsoft Edge in Windows is by using suspender extensions. These extensions work by suspending or unloading tabs that are not actively being used, thus freeing up valuable system resources. By suspending inactive tabs, you can reduce memory usage and increase the overall performance of your browser.
Suspender extensions also offer additional features such as auto-suspend, which automatically suspends tabs after a certain period of inactivity. This can be particularly useful if you tend to keep multiple tabs open at once but only actively use one or two at a time.
Here is the link for Tab suspender extension for Edge
6. Delete browsing history and cache in Edge
Deleting your browsing history and clearing the cache in Microsoft Edge can greatly improve the speed and performance of your browsing experience. We had seen in Chrome also, if we don't clear cache and cookies regularly, we face slow Chrome of windows problems.
When we visit any websites, various data is stored in your browser's cache in form of temporary files. Over time, this cache can become bloated and slow down your browser. By regularly deleting your browsing history and clearing the cache, you are essentially giving Edge a fresh start.
Clearing the cache also helps to free up disk space on your device. By periodically clearing the cache, you not only remove unnecessary files but also potentially boost the performance of Edge by reducing lag in Edge. Here are the steps for clearing the cache in Edge browser.
Step 1 : First, open the Edge browser in your system and click on the three-dot button on the right side corner.
Step 2 : Now click on settings and then from the left side menu pane, click on Cookies and Data Stored.
Step 3 : Now click on Manage and delete cookies and site data, under the Cookies and data stored option then on See all cookies and site data


Step 4 : You will get a list of all the websites that you browsed and cookies stored of the website. Click on the Remove all button and you are done.

In this way, you can clear cache in Edge browser. Now restart your computer and check if this method had helped to speed up edge or not.
FAQ (speed up Microsoft Edge in Windows)
1. Why is Microsoft Edge so slow?
There can be multiple reasons for slow Edge such as the outdated version of Edge, old cache, and cookies, poorly coded extension installed and many more.
2. How do I make Microsoft Edge run faster?
To make Microsoft edge faster, here are the things that you can do.
Update Edge to the latest version
Delete old cache and cookies
Delete useless extensions installed in Edge
Use the tab suspender plugin
Increase RAM in the system if it is 8 GB or below
Wrapping up
these are some simple methods to speed up Microsoft Edge in Windows and fix Microsoft Edge is slow and freezes problem. if you have any doubts about following the tutorial, feel free to use the comment section. If you have any other suggestions that can fix Edge running slow on Windows or you want us to cover any other topic, then do share with us. Show us some social love at the Facebook page – Solution Exist