In this tutorial, we are going to learn how to speed up opera mini browser and increase download speed in opera mini.
Hey readers, Opera Mini is very popular among smartphones. I still remember I used to use opera mini in my Nokia N70 mobile which was a Symbian mobile back in 2009. Trying different browsers on the mobile phone, I can say that no other browser can beat opera mini whether it is a JAVA phone, Symbian phone or it is android.
I had even used the Opera browser in computer but I won't recommend you are opera Web needs improvement some optimization to beat its biggest competitor which is Google Chrome. I use Google Chrome on pc and I think for computers, Google Chrome is the best web browser.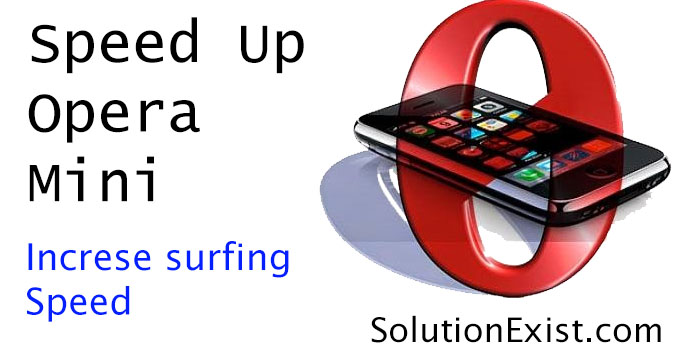 If you are facing "Slow Internet Speed" i.e the Problem most people are facing. So today I am here with a new trick to increase the browsing speed of opera mini. These settings will Optimize tour Opera Mini and will make you raid off from Speed Capping (Slow Speed)
Steps To Speed Up Opera Mini In Your Android Smartphone
Open Your Opera Mini Browser and Go To Search Address And Enter

About:config

Press Go , Now You Need To make Changes That I Given Below
Large Place Holder For Images :- Select

No

, Set Loading Time Out To

20

, Site Patching and User
Agent Masking :- Select

No

Show Feed Index :- Select

No

Font :- linklists :- Select

No

Minimum Phone Number Length :-

10

Now Enjoy The High Speed Internet
In case you are the fan of opera, then don't forget to try Opera Free VPN which will provide you Free, unlimited, and with no subscription online privacy vpn for android phone. In one of the post, we had actully used this opera free vpn to view region lock youtube videos in android phone.
FAQ (Opera Mini In android phone)
1. Why Opera Mini is slow?
Opera mini is pretty fast for android as well as java phone but it need some settings to tweak. So if your opera mini is slow, you can tweak some settings to make opera mini fast.
2. What is Speed Dial in Opera Mini?
Speed dial in opera mini is a feature that allows you to open a frequently visited website fast without typing whole url. Its like speed dial in your phone dial which you can config to directly call the added person.
Wrapping Up
This is a simple way to surf fast in opera mini. By using this trick by Solution Exist you can only increase suffering speed, however, your download speed will remain the same. Do these recommended settings and enjoy high-speed internet surfing with opera mini. We will be happy to have your comments on these tricks. If you have some better setting then comment below and help others.