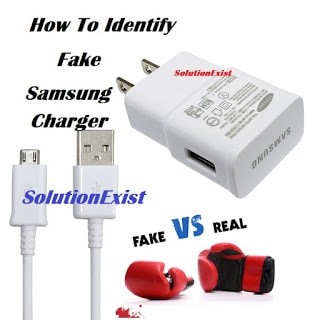 Samsung is a the biggest manufacturing brand and thereforelocal brand are making copies of Samsung products. If you just go out in the electroinic market, unlike clothes, you will find various fake Samsung mobile accessories and they look so genuine that its become very diffucult to spot difference between real and fake. The difference between original and fake is very small and cannot be detected in one sight. In this tutorial, we will teach you How To Spot Fake Samsung Charger. Firstly To detect Fake Samsung charge you need this post, In this post we had include the photos which will be helpful for you.
Before you buy and Samsung charger from a local store you must check out if it is genuine or not. Fake chargers not only cost you the money for that charge but also can affect your mobile phone.
Effect of Fake chargers
Firstly you will be charged more for that charger because you are purchasing a fake charge at Original charger price
The charge is of low quality hence will not give the proper amount of charge to your mobile.
Supply of Low or High voltage to your mobile can affect your mobile phone battery.
Your mobile phone battery can swollen because of that fake charger.
These are the effect of Fake charger which can cost thousands of money. So my recommendation is to read this post and see the photos attached here which can make easy for you to identify the difference between fake and original charger.
Check to Spot Fake Samsung Charger
1. Charging PIN
You can see some initial part id more in diameter in original charger. You can see the step on the charger, if it present then the charger is original. Fake charge don't have step wise structure it is simply plain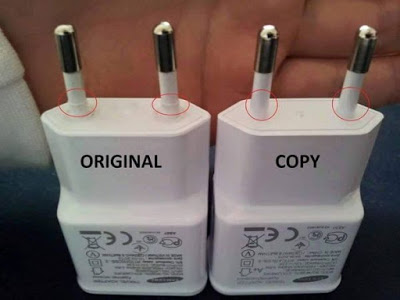 2. USB PIN
USB pin in original charger is small in length compare to the fake ones. Even the symbol over the USB pin is different. This can also a best way to identify if the charge is original or fake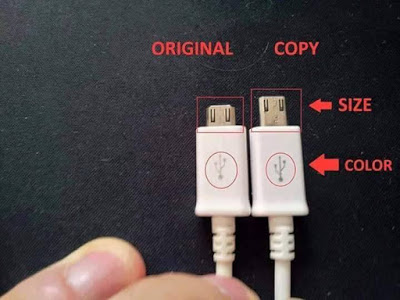 3. Difference in description over charger
Print over the charger specification and description is hazy and of low quality which can easily remove if you scratch. Look at the below picture ever the symbol over the charger is different.
4. Samsung logo
There is a difference in A alphabet in Samsung logo.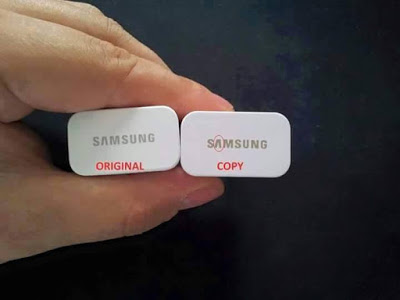 5. Ports in Samsung charger
Port present in the charge is a little bit different in design. If we remove the USB cable from the charge we can know the difference between fake and original one. Even the top of the charger is different in design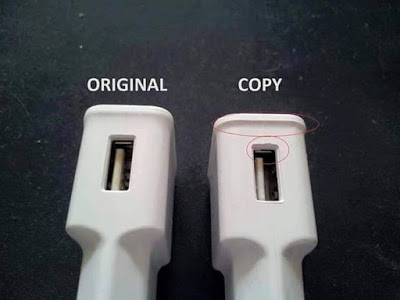 If you had lost your Samsung phone charger and you are in search of geneiun samsung charger then I suggest you instead of going into you local market which is already full of Fake samsung chargers, shop online from Samsung official website.
Wrapping Up
These are some points that will help you to Spot Fake Samsung Charger. These are the section on which you can look and identify the charger which you are going to purchase is original or not. Sometimes all the defects are not present on the fake chargers so my suggestion is to look on all the parts and as you spot even 1 defect the don't buy that charger.
Hope you enjoy this article share this post with your friends and help others also by making them aware of the fake Samsung charger. Sharing this post will be appreciated.