You have seen x by Snapchat name and you might have wondered What Does the Grey X Next to A Snapchat Name Mean? This tutorial will clear your doubt about why there is x beside someone's name on Snapchat and what does the x mean on snapchat.
Snapchat is also improving its application and adding more and more features and due to this, sometimes knowing all the features and options of the apps becomes had and we are sometimes remains unaware of the feature.
Previously we had posted a Snapchat tutorial i.e. How to clear cache on Snapchat so in case your Snapchat is not opening or you are getting errors, you can follow the tutorial.
We posted various tutorials related to social media apps such as Facebook and Instagram like How to share Instagram reel to the Facebook stories.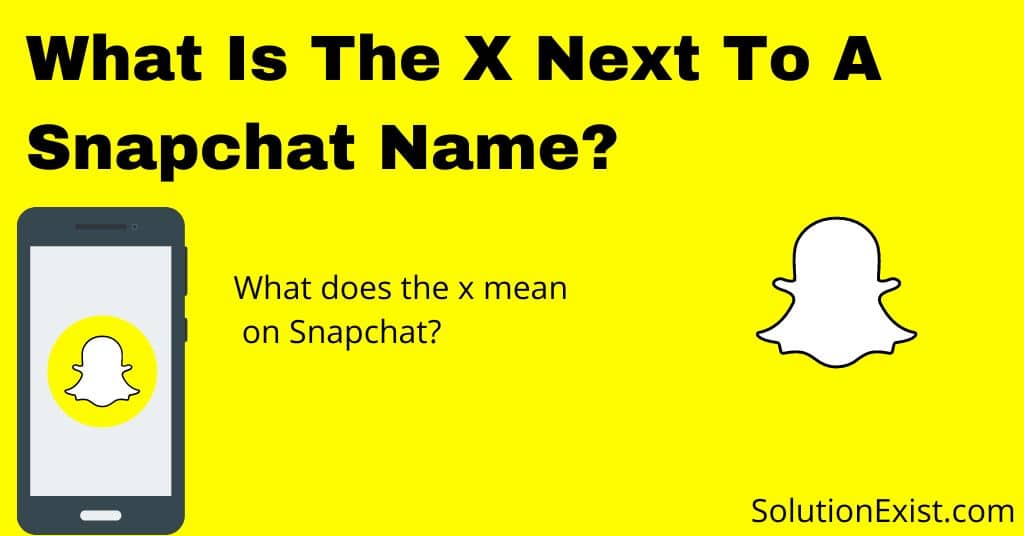 Such a feature of snapchat is Grey X next to chat on snapchat. So if you are one who want to know what is X beside username then continue with the article.
What is Snapchat? and What is Snapchat actually used for?
Snapchat is a free social media app that is designed to send messages, photos and video clips under Snapchat story names which disappear after 24 hrs.
Now as we have a short introduction of What is snapchat, let us dive into the tutorial of and learn about x next to Snapchat conversation.
What Is The X Next To A Snapchat Name?
You might have noticed that the grey X button in not with all the names of the Snapchat contact. It is only with some of them. Today, we are going to learn about why does the X on Snapchat mean and what is the purpose of it.
Snapchat takes permission from the user to access all the contacts from the mobile
You have an X symbol near the snapchat name in the app and this is because that person sent you a friend request that you haven't accepted. You can Tap the snapchat username the name shows two buttons: An 'Okay' button that accepts the friend request, and a 'Report or Block' button that lets you report or block the person.
What does X Next to Snapchat Conversation
The answer to this question is not as simple as the person had not added you as a friend. It might also be the case that the person had blocked you or even removed you from their friend list.
Now as we had learn what is Grey X means on Snapchat, let us learn how to remove X from Snapchat.

How To Remove Grey X On Snapchat?
To remove the X Next To A Snapchat Name firstly check if you had added that person as a friend on snapchat. If not, then add that person.
Basically, to remove the Grey X button, you both need to add each other as a friend. So add the person beside whom you see Grey X and wait for the person to add you back.
These are the ways you can remove Grey X on snapchat.
FAQ (what does the x mean on Snapchat)
1. What does new contact mean on Snapchat?
New contact on Snapchat means you have a new contact on phone who is on Snapchat and they have their number connected to Snapchat.
2. How do I add new contacts on Snapchat?
To add new contacts on Snapchat, you need to tap on Tap the Profile icon at the top to go to your Profile and then Tap 'Add Friends' followed by 'All Contacts' and at last, you need to Tap '+ Add' to add them as a friend on Snapchat.
3. Can you add someone on Snapchat without their number?
Yes, you can add someone on Snapchat using their username on snapchat and even use QR code.
4. Does x on Snapchat mean blocked you?
No, x on Snapchat means they had unfriended you or you haven't accepted friend request yet. and not blocked you on Snapchat.
Wrapping Up
This was the tutorial on what does the x mean on Snapchat 2022. If you have any doubt regarding grey x next to Snapchat name then feel free to use the comment section and we will be happy to reply to you. Till then you can join our facebook group Android And Windows Errors Solution and also like our Facebook page Solution Exist.