Whatsapp is a widely used messaging app popular among both Android and ioS users. In this era of socialization, everyone who is using social media apps is curious to know their reach on the social media platforms. Back in the day, people use to check to Know Facebook Profile Visitor Without and App but at those time, WhatsApp was not common.
Nowadays, people prefer to use social media websites in mobile, and among social media, they prefer to use WhatsApp. Whatsapp is now very common and also it provides ease in communicating with people. Although the people had switched from Facebook to Whatsapp, the curiosity to know profile visitors had remained the same.
I am also among those who would like to know my profile visitor/ who had checked my profile. So today in this article I will share with you my efforts to know someone viewed my profile on WhatsApp. So without wasting more time, let us get into it.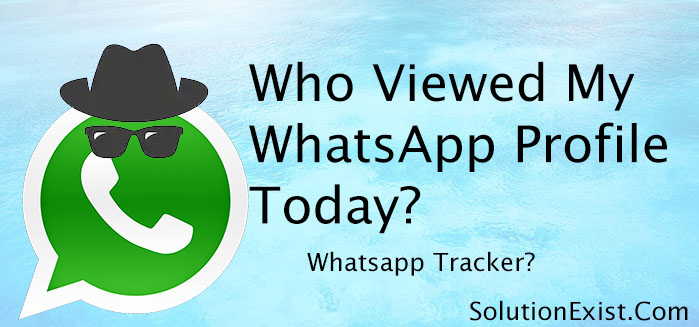 who viewed my whatsapp profile Today on android
This is the bitter truth that there is no possible way to know who viewed my whatsapp profile Today using any apps. There are various apps available over the internet and google play store which claim that they can show you who viewed my Whatsapp profile Today. These apps claim to show your result as Who Visit My Profile? or WhatsApp tracker but if you think technically, you will come to know that no apps can read your WhatsApp profile the whole day to check Who Visit My Profile today.
This is impossible for any third-party apps to show you who viewed my Whatsapp profile Today unless and until this feature is being released by WhatsApp itself. As you can see that whatsapp doesn't offers you such features which ultimately shows that these apps are fake. Whatsapp do not keep log of profile visitors mainly due to privacy reasons. So there is no way to have the name of the person who had viewed Whatsapp profile.
App result? – who viewed my whatsapp profile Today
We had explained you the technicalities behind why these apps are fake as it is not possible. When you use these apps, these apps will show you the result which will be pretty convincing. The reason behind the convincing result is these apps shows you the random person to whom you chat frequently and if app doesn't find sufficient data that it will shows you and random whatsapp contact. So all these app result are fake.
How to Know If Someone Checked Your WhatsApp Profile on iPhone
Same as android, there are lots of apps are available over the Internet which has the same Fake promised to show who viewed my Whatsapp profile Today,
The disgusting part in the case of iPhone apps is these apps are Cydia tweak for iOS 8, 9 + devices which means it needs you to jailbreak your device. In addition to its requirement to jailbreak, some of these apps are paid.
Now you must be convinced why I am hating these apps. Coming to the conclusion, these apps for ios devices which shows who viewed my Whatsapp profile Today are also fake and show the contact to whom you chat frequently.
There is an alternative way to know who had viewed your WhatsApp profile. Technically, not profile but Whatsapp status. As you all know WhatsApp had released WhatsApp status in which you can post WhatsApp stories (Instagram stories) i.e. Images or videos of 30 sec long which will last for 24 hrs. Whatsapp offers you an option to  WhatsApp status. Whatsapp had the option to know WHO VIEWED MY WHATSAPP STORY AND STATUS and by this, you can know the person who checked your Whatsapp profile.
CAN I SEE WHO VIEWED MY WHATSAPP STORY AND STATUS?
Step 1 – Firstly Open Whatsapp in android / iphone
Step 2 – Tap on 'Status' tab. Besides your status, you will see the number of people who viewed your WhatsApp story and status.
Step 3 – Tap on 'Eye' icon and you can see the number of persons who had viewed WhatsApp Status. (Use snapshot for reference)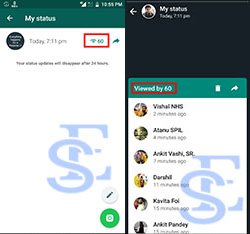 FAQ (Whatsapp profile viewers)
Who visited my WhatsApp profile app? -WREVEALER
One can find several apps available on the Google play store that claims to show you the name of the person who viewed your Whatsapp profile, but in reality, all those are fake. There are no methods that can show you who visited my Whatsapp profile.
Can I see who viewed my WhatsApp profile?
Whatsapp doesn't have any feature that shows WhatsApp profile visitor and the apps available on Google play store and websites who market to show profile visitors are also fake and shows you either fake results or ask you to complete multiple surveys or download apps but lastly shows you fake results.
Who viewed my WhatsApp profile on iPhone?
Similar to the android platform, there is no apps or the website for iPhone users to solve how to know who viewed my Whatsapp profile on iPhone query.
Can I see who viewed my WhatsApp profile picture?
No, this is the straightforward answer to this question as WhatsApp doesn't track profile visitors.
Wrapping Up
Hope you like the tutorial on who viewed my Whatsapp profile Today and you will be aware of the reality that technically, there is no way to check who had viewed your WhatsApp profile today and all the apps that claimed to show you the result are the fake result. If you have any questions regarding then feel free to use the comment section and for the quick answer to your queries, follow us Solution Exist Facebook page and join Android And Windows Errors Solution