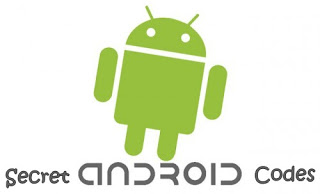 Android is proving to be a user friendly mobile Os and so it is spreading widely in the market. Last year, mobile market was totally turned over by Android phones. Android has empowered us to use free apps. Mobile computing is another very important aspect of Android OS. With Android 3.0 Honeycomb more updates will be coming. Some of my friends asked me is there any secret codes for Android phone like on Nokia phones. I searched internet and found many secret codes and I tried some that worked. This tip or information will help many Android users
Note- Some android codes described here can change system settings, so use it at your own risk as solutionist does not take responsibility if any damage caused to your android phone.
How to to enter secret codes on android?
In your android phone, open phone dialer and type the android secret code as you dial mobile phone number. After entering codes press dial button. some codes will be executed without pressing dial button.
android secret codes and hacks List
*#*#1234#*#* : PDA and Phone
*#*#1111#*#* : FTA SW version
*#*#2222#*#* : FTA HW version
*#*#7780#*#* : factory reset (memory card data will not be reset)
*2767*3855# : Factory Reset (Memory card data will be reset)
*#*#197328640#*#* : Launch service mode to test and change certain settings
*#*#232339#*#* or *#*#526#*#* or *#*#528#*#* : Test Wi-Fi
*#*#232338#*#* : Display Wi-Fi MAC address
*#*#44336#*#* : PDA, Phone, build time and other details
*#*#0283#*#* : Packet Loopback
*#*#0*#*#* : LCD test
*#*#0673#*#* or *#*#0289#*#* : Melody test
*#*#0283#*#* :Packet loopback test
*#*#4636#*#* : Display cell phone, battery, usage statistics and Wi-Fi information
*#*#1472365#*#* : GPS test
*#*#1575#*#* : Other GPS test
*#*#232331#*#* : Bluetooth test
*#*#232337#*# : Display Bluetooth physic address
*#*#8255#*#* : Start Gtalk monitoring
*#*#4986*2650468#*#* : PDA, Phone, H/W, RFCallDate
*#*#0842#*#* : Device test such as vibration and lightness
*#*#2663#*#* : Display touchscreen version
*#*#2664#*#* : Touchscreen test
*#*#0588#*#* : Distance sensor test
*#*#3264#*#* : Display memory version
Note – These codes will not work in every phone. So if you encounter any code that is not working for you then comment you phone company and model number, we will share you the working code for that.
Wrapping Up
This was the list of android secret codes. If you know some additional android secret codes and hacks the share with us and other in the comment section. If you are interested in android phone the do check out out Android section as well as solutionexist exclusive section.