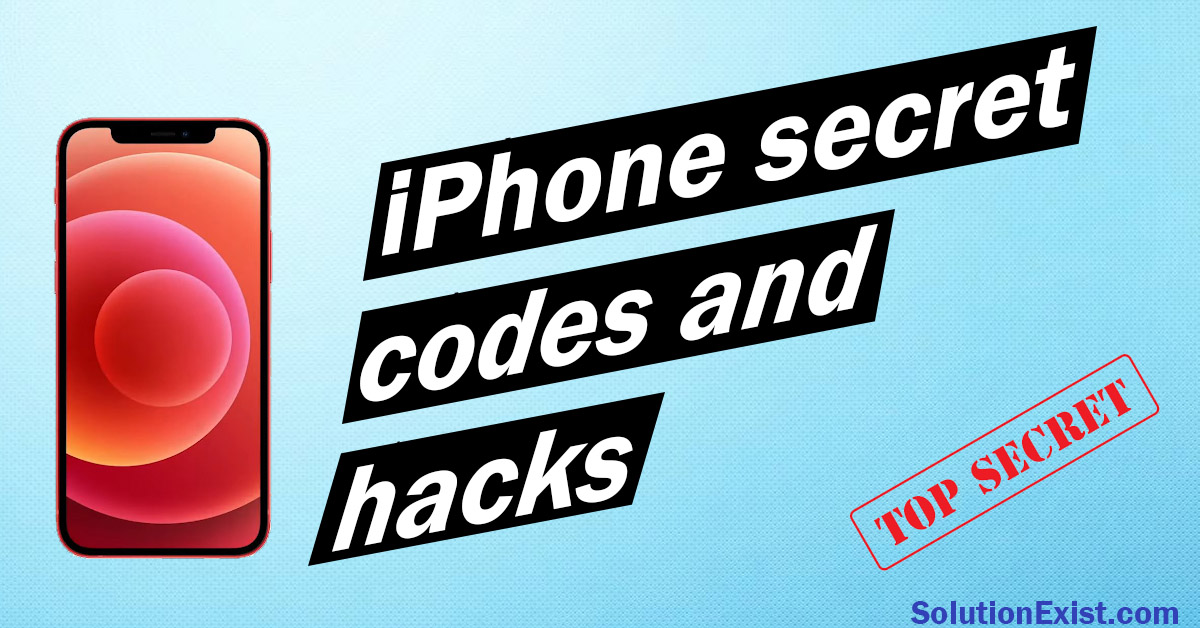 In this article, we are going to learn some Important iPhone secret codes and hacks which will benefit iPhone users to unlock hidden menu in iPhone and iOS devices. Android user also uses the USSD codes to perform a certain task which can't be accessed by the options in android phone. Previously we had posted Android secret codes which are for android users and those benefits a lot to explore other features.
USSD codes and you must know if you are an android user. Secret code comes into existence because of the Samsung phone. Samsung secret codes were extremely useful in the Samsung phone as they help you to test various options and most of the time, it required resetting the phone password.
These secret codes vary from mobile to mobile as these are designed by the manufacturing company so you can't use the same code in another phone of a different company. Now you had understood what are the secret code but a question must be raised in your mind about why to use this code and the function of them. The simple answer to this is to access the hidden menu on iPhone.
Today in this post, we are going to learn different iPhone secret codes and hacks which iPhone users must know and what are the hidden menu in iPhone, and how to access them. Prior to getting into the list of iPhone hidden menu codes, let us learn what are iPhone hidden menus.
What are iphone hidden menus
iPhone hidden menu is the list of iPhone programs that are not visible in any setting option. iPhone user must know the code to access those hidden menus in iPhone which helps you to access various hidden features using these special dialer codes.
How to use dialer codes in iPhone
Secret code is nothing but a combination of several number codes whose start and end mostly consists of Star (*) or hash (#). To use them you need to open a call dialer in your iPhone and then type the codes there and it will automatically execute. As we need to enter these codes in dialer, these hidden codes are also referred as dialer codes. With all being said, let us move forward with the iPhone codes list.
List of iPhone secret codes and hacks
Function
iPhone codes
Hide Caller ID in iPhone
*31#mobile number
Display iPhone IMEI code
*#06#
This will turn on filed mode,which includes all iPhone personal settings, cell information, and the newest network.
*3001#12345#*
Checking sar value
*#07#
Disable the test alert system after checking.
*5005*25370#
Check whether the alert system is working correctly or not.
*5005*25371#
Check the Account balance in iPhone 
*777#
It will display your available minutes.
*646# (Postpaid only)
To check the Bill Balance.
*225# (Postpaid only)
You can check the number in order to call forwarding when the iPhone is busy. And again, but for when the iPhone is busy.
*#67#
Check iPhone the SMS center.
*#5005*7672#
Code to Show Your Number on Caller ID in iPhone
*82 (then by the number you are calling)
iPhone Call Waiting Status.
*#43#
 iPhone Activate awaiting.
*43#
Code to Deactivate waiting in iPhone.
#43#
Code allows you to hide your number on iPhone.
*#31#
EFR mode Enhanced Full Rate improves your iPhone voice quality, but it will slightly reduce battery life.
*3370#
It allows you to hide your number.
#31#Phone-number + call button
You can verify the number for forwarding calls if no service is available.
*#62#
check the numbers of missed calls.
*#61#
Get Local Traffic Information
511 + Call button
View data usage in iPhone
AT&T: *3282#
T-Mobile: #932#
Verizon: #3282
iPhone tricks and tips- What cool things can my iPhone do?
iPhone dark mode schedule
iPhone had a dark mode and in both mode, automatics and manual. If you want to schedule iPhone dark mode then you need to config automatic mode. Steps to activate dark mode in iPhone automatic are described below.
Firstly Click on Settings and tap on Display.
Now tap on the dark mode option at the top.
Tap and Toggle the 'Automatic' option to turn it ON and then navigate to the 'Options' tab.
On the next screen, select 'Custom Schedule' and set time for light and dark.
In thsi way, you can schedule dark and light mode in iphone which will be activate as per your schedule time.
iPhone call forwarding att, T-Mobile, or another GSM carrier
Open the Settings app and tap on the "Phone." option to open it
Now open "Call Forwarding" by tap on it.
Now turn the feature on by swiping the button to the right.
Tap "Forward To" and enter the phone number that you want to forward to.
Tap the arrow to go back to the previous screen.
FAQ (iPhone tips and tricks)
What is the secret iPhone menu for?
Person who want to explore hidden menu, want to experiment with hidden feature of iPhone then these secret iPhone menu are for those persons.
How do I find my iPhone code?
We had posted various iPhone secret codes in the list along with iOS tricks and tips. Interested persons can try those.
Wrapping up
Hope you like this list of unique hidden secret codes of iPhone and how to use them to access the hidden menu on the iPhone. If you know any more iPhone secret codes and hacks to access iPhone hidden features then do share with us in the comment section. If you have any suggestion or for you want us to cover and specific topic then suggest us in the comment section. You can join us of Facebook Page Solution Exist and also join our facebook group Android And Windows Errors Solution to ask any question regarding android or windows error solution.