In this tutorial, we are going to learn what is Backwards 3 or reverse 3 sign and their use to write some awesome text i.e to create heart in text. We had also provided copy paste character for direct copy-paste purpose.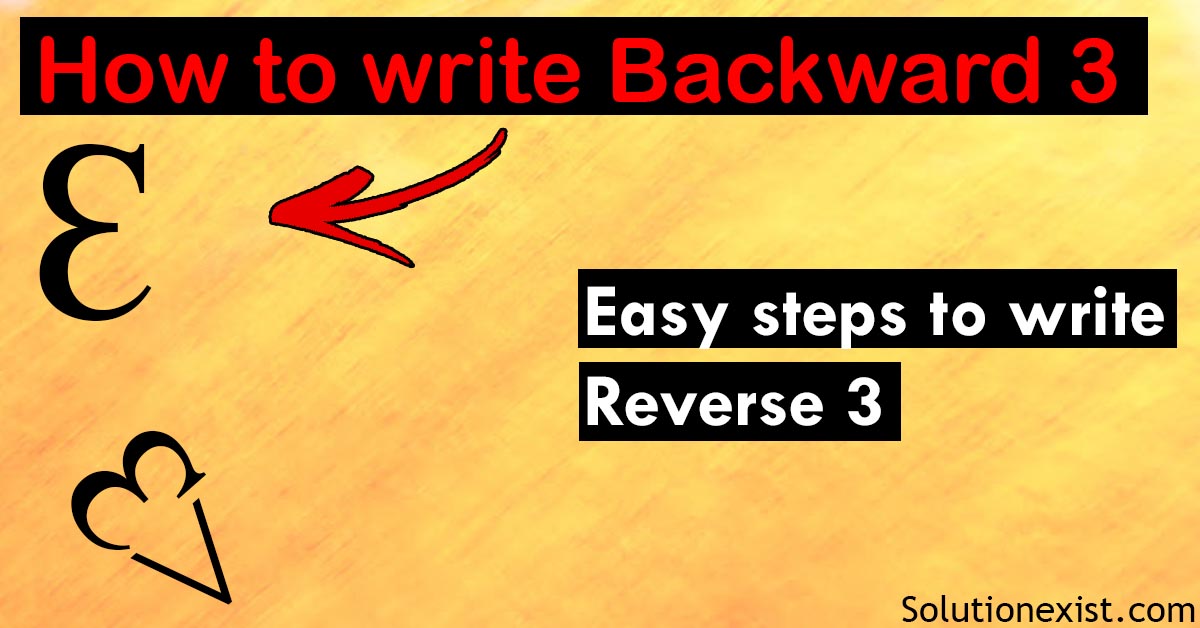 Symbols and character use on social media is increasing and it is purely based on the person's creativity. There are numbers of special characters which are meant for different use but we are using in some other context. Among those characters, one is Backwards 3. It is also known as backwards e.
On Solution Exist, we had discussed how to use character symbols in past also invisible letters copy to send blank messages on WhatsApp. Not only blank WhatsApp message, we had also discussed symbols status of WhatsApp to post set WhatsApp no status.
Today in this tutorial, we are going to learn how to write reverse E and not only that we will see How to easily write text backwards. So without wasting time let us jump into the tutorial and use of text backwards.
Use of Backwards 3
In the world of texting, Backwards 3 is used as a character to type heart as the combination of backwards 3 and '">" represent heart symbol.
Methods to type Backwards 3 – Reverse 3
Method 1 – backwards 3 alt code
If you want to use reverse 3 symbol in you microsoft word then you can use alt code to write it. Steps to write Reverse 3 are describe below
Firslty open microsoft word in you comptere
Now using number pad type 0190 and then press "ALT-X"
As you press Alt+X, alt code will be converted to backward 3.
In this way you can use these code to write 3 backwards in word or google Docs. The only drawback of this method is you can't use if want to type in whatsapp or any other apps in mobile. For this, we have a solution i.e. method 2 and methods 3. Follow the post to read other methods
Method 2 – Copy the code reverse 3 sign | backwards 3 copy paste
This is the simples way where you can use is copy the reverse 3 sign and paste where you want. You can use these in whatsapp group, whatsapp messages, instagram dm, instagram stories, whatsapp stories, whatsapp status etc.
Reverse 3 Code
Ɛ
This was the simplest methods where you just need to copy and paste the sign. The drawback of this method is you need to open the site every time you want to use the code. In case you don't want to do this then methods 3 is for you.
Method 3 – Reverse Text website | upside down text
In this method, we will use a mirror text online website in which we can put the text and it will be reverse / mirrored online. Let us go through the process of using a reverse text website.
Step 1 : Firstly open web browser in computer or mobile.
Step 2 : Now click on upsidedown text website to open the website.
Step 3 : Now type 3 in the text area and make sure upside down text effect is tick.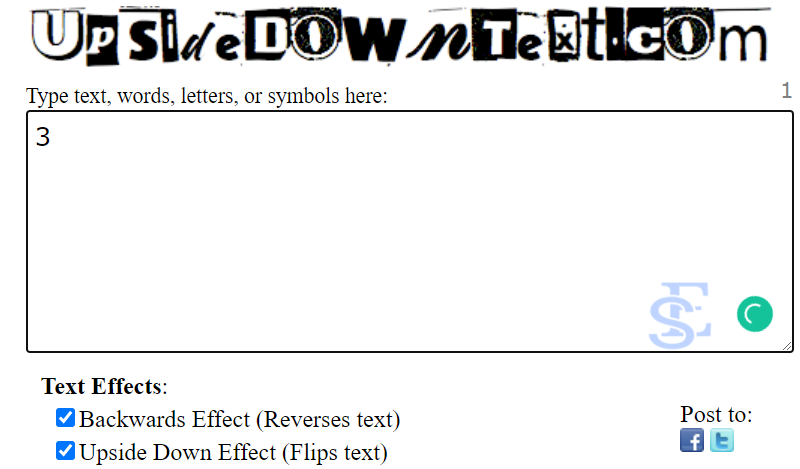 Step 4 : As you write in the text area, you will see the output in the below output text area.

In this way, you can use a flip text effect to create reverse E effect. Apart from upsidedown text website, numbers of other websites are also available like Fsymbols which will also help you to generate sign.
The procedure to use Fsymbols is also same, you need to enter text in the text area and you will get a number of symbols generated below.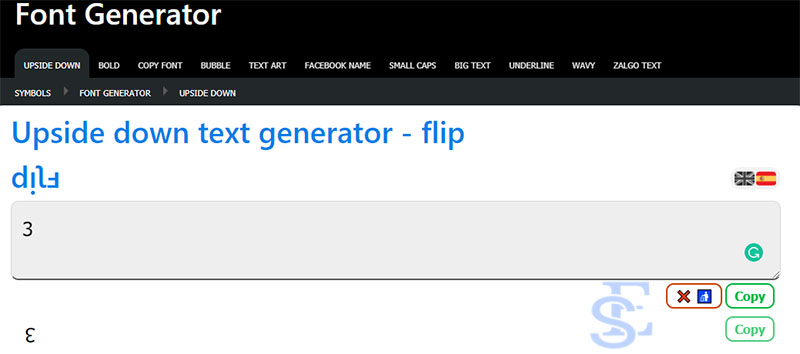 How to use flipped 3 in android phone
Above methods were on how to use symbol backwards 3 in computer, if you are using android phone and you want to type flipped 3 then here are the steps that you can follow. So without wasting more time, lets get into the tutorial.
Step 1 : Firstly unlock your android phone and open google chrome for android browser
Step 2 : Now open Fsymbols website in chrome
Step 3 : Now type "3″ oin the text generator space and it will generate the 3 flipped symbol for you.
Step 4 : Now you can copy and use it where ever you want.
In this way, you can use 3 flipped symbols on an android phone and use it.
FAQ (backwards 3 copy paste)
1. How to get backwards 3 symbol copy paste?
Ans – To use backward 3 and a symbol that looks like a backwards 3, you can use various websites such as Font generator which can help you to write reverse 3 sign.
How to write i love you backward text
Ans – Reverse e symbol is used to write I love you which makes the heart with greater than the symbol.
How to get reverse 3 sign copy paste character
Ans – Different websites are there which can provide you with the reverse 3 symbols or characters, you can open solutionexist.com or upsidedown websites.
Wrapping Up
This was the tutorial on write text backwards. This post specifically revolves around how to write backwards 3 in WhatsApp, Facebook, Instagram or any other texting space. If you are using word file then also you can use backwards 3 alt code and stand out your text from others. If you want us to cover any specific thing then feel free to use the comment section, we will post an article on it. You can join our Facebook group Android And Windows Errors Solution where we discuss about solutions and follow us on Facebook page Solution Exist to get every important update regularly.