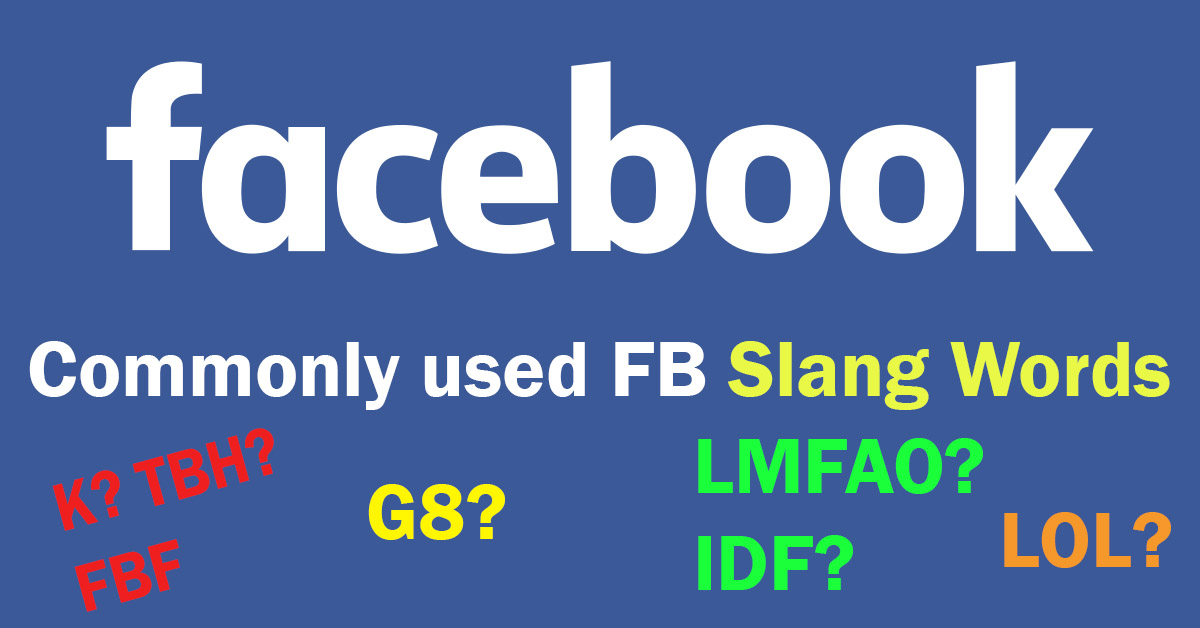 Facebook Slang words : Who else like me prefers to text rather than chat? yes, I am more comfortable while texting especially with a new person with whom i haven't talked enough. Nowadays you can find various apps for texting like WhatsApp, telegram, kik, and many more but initially, there were very limited options and most of the people prefer to chat on Facebook.
If you are new to texting on facebook you might had notice the use of word consisting of 2-3 words that completely makes no sense to you. These words are knows an internet slang words of social media slang words. If you are new to Facebook and you want to learn Facebook slang language then you are at right place. Solution Exist is providing you a list of most commonly use Facebook Slang words and there meaning.
This internet slang are mostly used on Facebook chatting. These internet slang words are also known as chat slang, which you can use on any texting platform. Not only that, but these slang words are also used to understand memes on Instagram. You can see this msg slang widely used in the meme on the internet. – Download Facebook videos without any software.
What are fb slang words | WhatsApp abbreviation
Slang words are the acronym that are informal and used while texting. These can be referred is short form of words which are used very commonly. As these words are used in informal, you should not use them while writing any literature text.
Most common use Facebook Slang words
JSK – Jai Shree Krishna
N8 – Night
Kl – Cool
K – Okay
ATM – At This Moment
E1 – Everyone
4SALE – For Sale
BBZ – Babes
Gr8 /Grt – Great
SRY – Sorry
CTA – Call To Action
G2g Or Gtg – Got To Go
IDC – I Don't Care
DM – Direct Message
LMK – Let Me Know
FBF – Flashback Friday
Plz/Pls – Please
L8 – Late
AAR8 – At Any Rate
B4 – Before
JK – Just Kidding
BFF – Best Friends Forever
ZZZ – Sleeping
<3 – Love – This love acronym is also refer as backward 3 and if you want to know how to write reverse 3 then do follow the article Backwards 3
LMK – Let Me Know
GM – Good Morning
LMFAO – Laugh My F**King Ass Off
WTH – What The Hell
ASAP– As Soon As Possible
GN – Good Night
M/F – Are You Male Or Female?
ASL – Tell Me Your Age,Sex And Location
IDK – I Don't Know
SD – Sweet Dreams
BRB – Be Right Back
JK – Just Kidding
TNX – Thanks / 10X – Thanks
BTW – By The Way
FYI – For Your Information
420 – Forgery
143 – I love You
ADD – Address
AKA – Also Known As
1432 – I love you too
TTYL – Talk To You Later
LOL – Laugh Out Loud
ROFL – Rolling On Floor Laughing
TY – Thank You
FAQ (top texting acronyms)
What does btw mean on FB?
This is a social media slang which is frequently used while chatting, btw mean on fb is by the way.
What is the lmao fullform – What does lamo means?
Fullform of lmao is laugh my ass off and lmao meaning is a reply to a funny thing.
What does tbh mean on social media?
TBH means To be Honest which is used on fb and also on WhatsApp.
What is btw mean on Facebook?
btw meaning is by the way, this acronyms is also widely used while texting.
What does hbd mean on Facebook?
Acronym of HBD is happy birthday which is used to wish birthday on Facebook. You can also find this slang on Facebook timeline and WhatsApp stories.
What does LMK slang means
LMK is a slang used on social media which means let me know.
Wrapping Up
These are the list of most common internet slang also know as Facebook slang words. If you know some more the must comment it will help others also. Share this with your friends. Share this text messaging abbreviations & shortcuts list with your friends to whom who ask you the meaning and make that person comfortable in texting. If you have any suggestions for us then feel free to use the comment section, we will surely take your suggestion. You can follow us on Facebook Solution Exist or you can join our Facebook Group – Android And Windows Errors Solution to ask any question regarding android or windows error solution.