Nomedia file is not a new concept and it is used in the android phones by various app widely. If you are tech savvy then you must be already aware with .nomedia file and uses of it but if you are not then not to worry, we are with you. This article is on how to create nomedia file extension on android.
Android system uses nomedia file to restrict apps installed in your smartphone like photo galley, photo viewer, music player or video player like mx player or any other to scan media. We had posted a tutorial on invisible text copy to send blank WhatsApp message.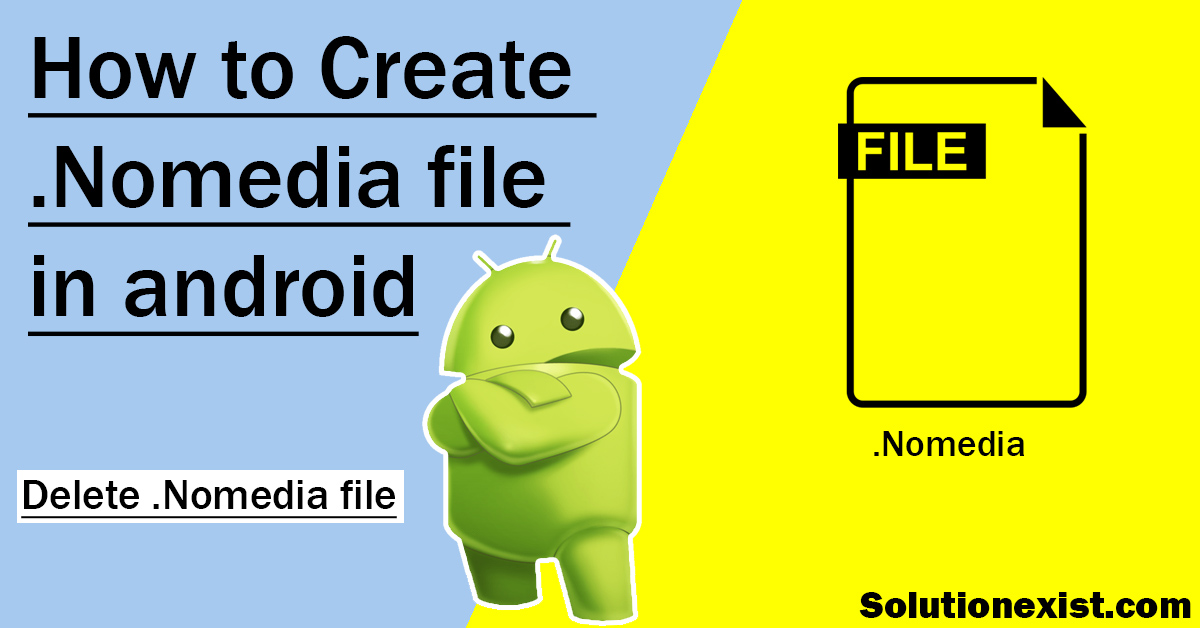 This nomedia file can help you to hide photos, videos on your android phone without installing any third-party apps. Solution Exist had posted a detailed tutorial on how to lock a folder without software in the computer so if you want to lock a file on the computer then you should check that tutorial. Coming back to the topic, Various android apps use these nomedia files to hide media like WhatsApp use to hide WhatsApp stickers, WhatsApp status files, and WhatsApp profile pictures.
What is a .nomedia file
.nomedia Android file which can also be known as a blank file that can use to hide media stored in the folder in which this file is present. . One can create .nomedia extension file and place it in the folder which he wants not to be indexed by the apps present in the smartphone and ultimately hide photos, videos, music files, and audio files.
Methods to create .nomedia file in android phone
As you had learn the meaning of file and what is the purpose of this file. If you are interested in creating this file extension in android then there are different methods which are described below. Follow the article to know in details
1. Using File manager app
In this method, we are going to use any file manager app installed in your phone to create this file. Every smartphone comes with a file manager apps, using which you can access files and folder stored in phone memory.
Steps to use File manager to create .nomedia file.
1. Unlock your android phone and open file manger installed in your phone. In this case, we are going to use Files by Google app.
2. Now click on the three horizontal line button and then click on setting.
3. Now scroll down and toggle on Show hidden file option. This will enable you to see hidden android files.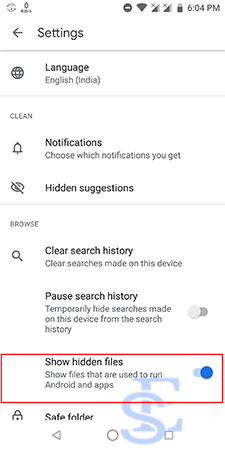 4. Now you click on search section and type .nomedia and run the search.
5. You will see a list of files, select anyone and move to the location, copy it, and paste it the folder of which you want to hide media.
If you don't want to search and if you are using WhatsApp, then you can navigate to /WhatsApp/Media/WhatsApp Video/Private and here you can find the file
6. Now copy that file and paste it in the folder from which you want to hide you media data.
In this way, you can use file manager to search for the file and use it.
2. Third party android app to create file in smartphone
If you are an android user and you don't need to follow the long procedures to create or rename files in a smartphone then this method will help you with that. We will introduce you to an app that will create files with a single click. This is a third-party app that will make file with a single click. Follow the below instruction.
1. Firstly unlock the phone and open play store and search for Nomedia. You can even click on the link to open app in play store.
2. Open app and grant all asked permission to the app.
3. As you open app, you will see a list of folders present in your smartphone. If the toggle switch is activated (i.e. blue) then nomedia file is present in the folder and those media files are hidden.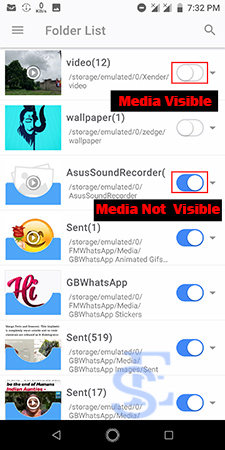 4. You can toggle on the button and this app will insert .nomedia file in the folder and helps you to hide media.
5. If you toggle the switch off, it will make the switch grey and this app will delete .nomedia file from the folder and make your pictures unhide.
In this way, you can use this android app to create or delete nonmedia extension file in android phone.
3. How to rename .nomedia files on Android
Another method rather than creating a new file is just to rename the file. Android apps create lots of files some are useful and some are useless. In this method, we will search for any text file, create a copy of it and use that. Follow the below procedure.
Firstly open file manager app in you smartphone and click on search and type .txt.
You get various file present in your smartphone with .txt format. Select any one and make a copy of it.
Now place that copy file in the folder in which you want to place it.
Open file using and file editor and delete all the written text from the file
Tap and hold for few sec on the file and select rename and rename that file as .nomedia.
In this way, you can hide media file in android phone without using any app. You can copy paste the created file to different folders also.
4. Create nomedia file by Notepad in your PC
If you don't want to use android mobile to create file or you find other ways to create .nomedia file bit complex then you can use your computer to create files. The process to make a file is described below
In your Windows computer, click on Start button > Windows Accessories here you will find Notepad. Open it. (You can even search Notepad and open it using start menu search option).
Notepad file file will be open, you don't need to type anything Just leave it blank, and click on File menu and then click on save button.
In Save as Dialog Box, select "All files (*.*)" and the bottom and enter name as .nomedia and click on Save.
You had successfully create .nomedia file in computer. Now you can transfer the file to your smartphone folder which you want to hide.
5. Download nomedia file for android phone
If you are still reading the article then you must be rewarded. This is the simplest way to have the file without following any complex steps. Solution exist had created a file for you. All you need to do is download the file and use it. Direct download link is provided
Download nomedia file extension
View and delete nomedia files – nomedia file viewer android
You might be aware about the android trick that if you hide file in android programmatically you can rename the file and put "dot" before file name and file will be hidded from the installed apps.
To view those files, we need to use the show hidden file option of the file manger. Similarly to view .nomedia file, we need to use the show hidden option. To do so, steps are described below
Open Files by google app or any other file manger app installed in your phone.
Now click on settings and tick show hidden files (This is must as you won't be able to see file).
Now navigate to the folder and you will find that file and able to delete it.
In this way, you can find hidden file in android. You can also use this method to show hidden file and folders in android. We had used this method in Download WhatsApp status videos tutorial to save whatsapp status.
FAQ – nomedia file viewer android
1. is .nomedia file a virus
No, as we had described in the introduction section, this is not a virus or malware. This file is used by the android system to hide media files.
2. nomedia file converter
We had seen people search for file converter to convert it into the readable format as they consider this file as a virus. This article had cleared you that this is not a virus file and nomedia file is a blank file. There is absolutely no meaning to convert files.
3. How to open nomedia file on computer?
You can't open nomedia file just by clicking on it. You need to rename nomedia file. To rename, firstly you need to click on the file and press F2. Now you can edit the file extension and change it to .txt. In this way, you can open nomedia file on computer.
Wrapping Up
This was the tutorial on .nomedia file, what it is and how to create, read and delete .nomedia file. If you have any confusion regarding this topic then feel free to use the comment section, we will help you to deal with it. Till then you can check other android and Widows tutorial-like Write backwards 3 in android messages. Join our Facebook Group Android And Windows Errors Solution and Follow or Facebook Page Solution Exist to be updated with Solution Exist awesome articles.