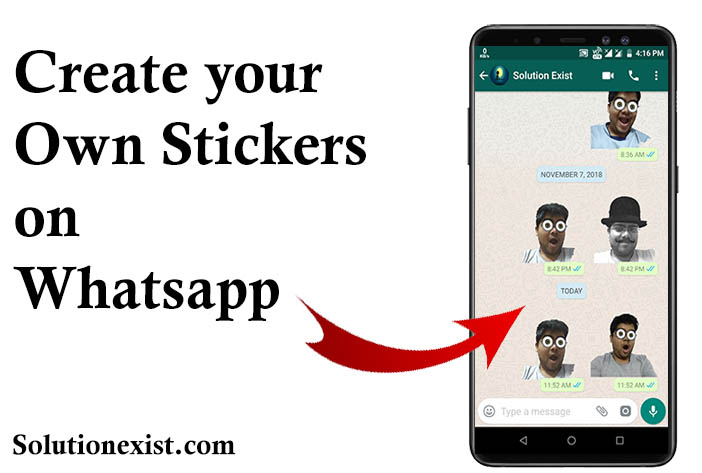 WhatsApp had launched new update and that is WhatsApp stickers. The WhatsApp stickers feature is currently in testing phase and right now it is only available to WhatsApp beta users. Let me tell you this is the second biggest update to give competition to other messaging apps like Hike messenger. This is the the unique feature of the hike messenger that it offers stickers in regional language which make the people to get attracted to download and use Hike messenger and now WhatsApp had also take a jump into the stickers feature. If you are among those who still didn't get the WhatsApp stickers then get the feature and use by reading the detailed guide on WhatsApp Stickers: How to Download and Send stickers on whatsapp.
As you know that the WhatsApp sticker feature is under testing phase so you will not see lots of sticker. You will only see some basic WhatsApp sticker but unlike Hike Messenger, WhatsApp had not restricted the stickers to its own. In WhatsApp you can also create your own WhatsApp stickers and create own WhatsApp stickers WhatsApp officially posted the tutorial on Create stickers for WhatsApp and the requirement of the stickers are described below.
To create own whatsapp stickers art, your stickers must meet the following requirements:
Each sticker is an image that has a transparent background.
Stickers must be exactly 512×512 pixels.
Each sticker must be less than 100 KB.
Read full article by WhatsApp official at – Creating stickers for WhatsApp
If you don't want to read these complex specification for creating you own Whatsapp stickers and here we are with the detailed tutorial. With the help of this tutorial you will be able to create your own photo stickers. So without wasting more time start reading the below steps and learn How to create own WhatsApp sticker.
Steps to create own WhatsApp stickers – custom sticker for WhatsApp
Click photos of own which you want to send to the WhatsApp contact, In case you want to send stickers of image downloaded from internet then download it from internet.
Now install background eraser app in android phone from Google Play store Background Eraser
Open background eraser app and import photos in the app by clicking on Load image.
Now after cropping the image, use the manual / automatic feature to erase the background of the image.
Now save the image in the gallery.
Note- To use these images as stickers in WhatsApp you need to create minimum three stickers so make sure you create 3 stickers
Now you need to download and install Personal stickers for WhatsApp from Google Play storePersonal stickers for WhatsApp
Now open the app and you will see the images edited using Background eraser app.
Here you will see the image edited from the Background image editor. Open the folder and click on
Now open WhatsApp and tap on the contact to which you want to send sticker. Tap in the Emoji icon followed by the sticker icon. On top, you will find the folder containing the stickers edited by you.

Tap on those stickers and you will be able to send those stickers to your WhatsApp contact.
Wrapping Up
This was the tutorial on How to create your own WhatsApp stickers and send stickers on Whatsapp. If you are still unaware about the WhatsApp sticker feature and you want to get WhatsApp feature in android phone then read this article WhatsApp Stickers: How to Download and Send stickers on whatsapp. If you have any doubt then feel free to use comment section and Solution Exist will help you to solve problem. Join our Facebook Group Android And Windows Errors Solution and Follow or Facebook Page Solution Exist to be updated with Solution Exist awesome articles.