Highlights :
Send stickers on the WhatsApp feature.
How to get WhatsApp sticker feature.
Method to download stickers on WhatsApp.
WhatsApp Officially Announces WhatsApp Stickers for Android, iOS Users. WhatsApp had started rolling the most awaited feature in WhatsApp in android and iOS. Now with this update in WhatsApp for Android, you can send stickers in WhatsApp as you can send in Facebook messenger. We had prepared a tutorial on create your own WhatsApp sticker so follow this post and activate the sticker feature and the follow create own customized WhatsApp sticker feature.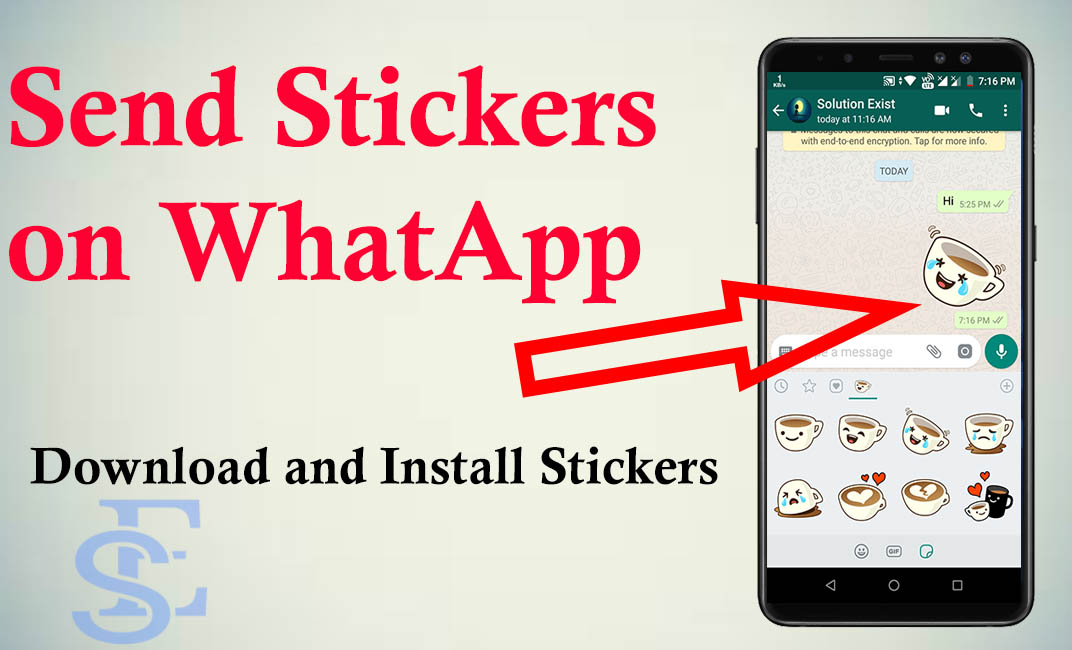 This feature can be seen in Hike messenger and Facebook messenger and now you can also send stickers on WhatsApp also. This feature will you can enhance your chatting experience with your loved ones. This was the most awaited feature and can be considered as the biggest update in WhatsApp 2018 after the WhatsApp UPI payment update. Solution Exist had regularly covered WhatsApp's new features 2021 and with this article Solution Exist will teach you how to get the WhatsApp sticker feature and send stickers on Whatsapp..!!
Currently, this WhatsApp feature is available for the beta tester people which if you had opted for beta tester for WhatsApp then you will be able to use this feature with just update WhatsApp to the latest version from play store.
If you are planning to join the beta testing for WhatsApp then wait the list for joining the beta testing program is full. If you want to use the WhatsApp stickers feature then read this feature and with the help of this article, you will be able to use stickers on WhatsApp. So without wasting more time let's jump on the article to use WhatsApp sticker android.
Steps How to send stickers on WhatsApp.
As discussed earlier if you had joined the WhatsApp beta program then you can simply update WhatsApp from Google play store and you can use the WhatsApp stickers feature directly.
Step 1 – Firstly you need to download WhatsApp beta version.
Step 2 – Now install it in your android phone. You don't need to uninstall previous version. Just download the WhatsApp beta version and replace the existing version. (With this you will not lose WhatsApp data like chats)
Step 3 – Now open and conversion/ chats on WhatsApp .
Step 4 – Now tap on Sticker Icon you will see three icon in the bottom i.e. Smile, Gif and sticker icon.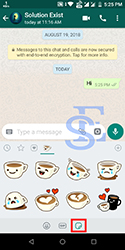 Step 5 – Click on the Sticker icon and you will be able to see the stickers. tap on the stickers to send stickers on WhatsApp.
This is how you can send stickers on WhatsApp. Yes, I know they are very less WhatsApp sticker to send. You can also download WhatsApp stickers. Read the below tutorial on download stickers on WhatsApp stickers.
How to download Stickers on WhatsApp android
Step 1 – Ensure you had downloaded WhatsApp beta version and installed in an android phone
Step 2 – Open conversion/ chat with anyone and tap on the Emoji icon.
Step 3 – Now from the bottom icon tap on the WhatsApp sticker icon.
Step 4 – Now tap on the "+" icon and you will get the list of WhatsApp icons. Download WhatsApp stickers packs and use them to send to your friends.
Step 5 – If you want additional WhatsApp stickers then you can scroll down and tap on  Get More Stickers.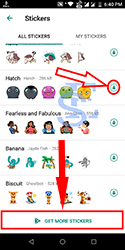 As you click on  Get More Stickers. Google Play store will be open and from that, you can download additional apps to download and send WhatsApp stickers on WhatsApp.
In this way you can download and send WhatsApp stickers on WhatsApp. In meantime, you can read WhatsApp Tricks Tips Hacks For Android & iPhone
Now it is easy to send customized stickers on WhatsApp. Now you can create a sticker of your own and send it to your contacts. Learn How to create own Whatsapp stickers.
Wrapping Up
Hope you like the tutorial on How to send stickers on WhatsApp and also How to download stickers on WhatsApp. WhatsApp feature is still under development phase and a not large variety of stickers are available right now but trust me, developers are working on WhatsApp stickers and very soon you will be able to see WhatsApp stickers in regional language also. Join our Facebook Group Android And Windows Errors Solution and Follow or Facebook Page Solution Exist to be updated with Solution Exist awesome articles.