Here In This Tutorial SolutionExist Team Giving you the Working Top Latest WhatsApp Tricks Tips Hacks For Android & iPhone Users. WhatsApp had said that 1 Billion people actively use app for Chat (Messages), Voice calls, Video calls, Sharing Documents and many more Every Day. That means WhatsApp App had retained its topmost position since it launched for messaging services.
People love WhatsApp Messenger Applications because of its reliability and simplicity. You can read all about what it is and how it is works in Here, But here we are providing some secret WhatsApp tricks and tips that you might not know about that. There are many websites that providing Whatsapp Tricks & Tips, But 1000% sure that we are providing here the best Whatsapp Tricks Tips Hacks for Android & iPhone, I hope you all like them.
Best Secret WhatsApp Tricks Tips Hacks For Android & iPhone 2023
We know all WhatsApp Tricks Tips Hacks For Android & iPhone users is a very Deep and Trending topic all the time. Do you know Some knowledge of secrets tricks & tips of Whatsapp which can take you to the higher level. We have Rounded up some top tricks and hacks for everyone's favorite instant messaging service.
Previously we had also published some Trendy Whats app Hacks like Whatsapp Plus Latest Version Apk [Anti Ban] and Nowadays most popular Two Whatsapp Account in One Android Smartphone. Here in this Tutorial, I am Showing you to most famous Secret WhatsApp Tricks Tips Hacks So far.
Top Latest WhatsApp Tricks Tips Hacks For Android & iPhone You Didn't know
So, Here SolutionExist Listed The 11 Best WhatsApp tricks you should be using on your Android Smartphone & iPhone Devices –
#1 : Send Message to a Blocked Contact on Whatsapp or Unblock Yourself from someone's WhatsApp Account
Method 1 –

Third Person Will Have to Make a Group
In this method you need someone (Third Person) to make a group with you and The one who had blocked you. Now don't worry you don't have to make a conversation in the presence of the third person. The next step will clear your query. As this trick you will also chat with that person who blocked you, And this going to be very useful.
Method 2 – Easy Steps to Unblock Yourself from someone's WhatsApp Account
Open WhatsApp Messenger and Go to the Settings.
Click on "Account"
Now hit on "Delete my account"
Enter your phone number to delete account and delete your Account.
Now Clear Data of Whatsapp Application.
Now Make an Account by same Number and same process you used before.
All set, Now you are unblocked from Someone's whats app Account. Enjoy Now.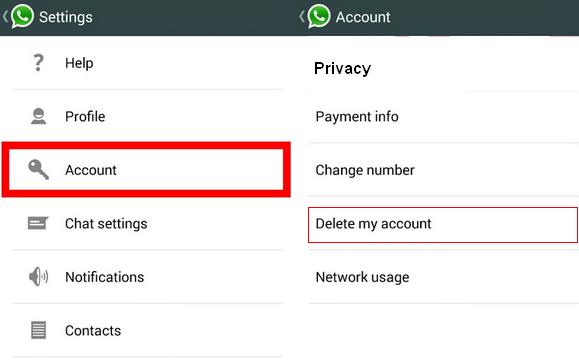 Note : Deleting your WhatsApp account will lead to forcefully leave all the groups in which you were present before.
I hope you have now unblocked yourself from your friends whatsapp account and easily able to view the last seen, WhatsApp Status and display picture of your friend. After being unblock you will be also able to send the message to your friend and it will be successfully delivered to him/her.
#2 : How to Send Blank Message in WhatsApp in Mobile
There are two methods to send empty message to WhatsApp contacts.
Using android app
Using

WhatsApp

blank character
Method 1 – Use the android app Empty
In this method, we are going to use an Android app name "Empty"
Empty is a new app allows you to surprise your WhatsApp friend by sending empty or blank messages, as we all know that we can't send empty message in Whats app but with Empty, you can do it with the easiest way just by clicking on send button and then choose your WhatsApp friend whom you want to send the blank message.
How do you type a blank text?
Step 1. First of all, You need to download and install Empty Android application on your smartphone.
Step 2. Once installed, open the app and Click on the "Send" button.
Step 3. Well, The best part of this app is you don't need to anything. Simply press the send button and then choose the contact to whom you want to send the blank messages. That's it! You are done.
Method 2 – Using whatsApp blank character.
Solution exist had posted a detailed tutorial on How to send whatsapp blank message with video tutorial – Send Blank Message In Whatsapp
#3 : How to Recover Deleted whatsapp Messages on Android & iPhone
You can follow below instructions to restore WhatsApp messages or chats from a backup:
Uninstall WhatsApp.
Open the WhatsApp database or backup folder. Decide which backup file you want to restore.
Rename that file from "msgstore-YYYY-MM-DD.1.db.crypt7" to "msgstore.db.crypt7".
Install WhatsApp.
When asked to restore, tap Restore.
You can find the WhatsApp backup files from /sdcard/WhatsApp/Databases folder, you will see that they are saved with names like "msgstore-YYYY-MM-DD.1.db.crypt7". Note that WhatsApp backup folder may be located in either your phone's internal memory or external memory.
To Read Messages from Databases follow these steps –
Connect your mobile with your PC via USB cable.
Go to folder named whatsapp/Databases
Two files are there named msgstore-yyyy..dd..db.crypt and msgstore.db.crypt
msgstore-yyyy..dd..db.crypt file contains all the messages sent or received in last 7 days.
Open it with notepad or wordpad to view and read messages.
#4 : How to Use Two Whatsapp in One Android Phone & iPhone
Method 1 – By Using Parallel Space Application
Parallel Space is an Android app that allows you to run multiple accounts of any app simultaneously on single Android phone. With parallel space, you can create the dual account of any app. Like you can install Two Whatsapp, Two Instagram, Two Facebook, Two Snapchat and Multiple Accounts of any Game.
Download and Install Parellel Spaces App from google play on your phone
Add accounts over it and run more than one Whatsapp account via it.
Method 2 – By Using Modded Whatsapp App like GbWhatsapp
To Know How to Install and Run Multiple Whatsapp Account in One Android Phone
To Know How to Install and Run Multiple Whatsapp Account in One iPhone Check HERE
#5 : Change Mobile Number Keeping The Same Account
Follow These Simple Steps to change your account phone number:
Go to Settings > Account > Change Number.
Enter your current WhatsApp phone number in the first box.
Enter your new phone number in the second box.
Tap Done to continue.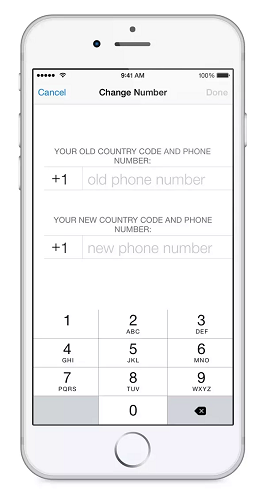 #6 : Send Bold, Italics or Strike-through Text in Whatsapp – whatsapp text tricks
Now you can format your text while sending messages on WhatsApp. You can either change the font or you can change the format of the text to make it bold or italics or strike-through any text. WhatsApp uses a very simple markup language technique to achieve that.
The new font introduced by WhatsApp is called FixedSys. To format your text in FixedSys, you just have to use grave accent (`) character 3 times before and after your text. The character can be accessed by iPhone users on their phones by long pressing on the apostrophe, while the Android keyboard features it on the second page of symbols. On Windows and macOS, you will find the character just below the Esc key.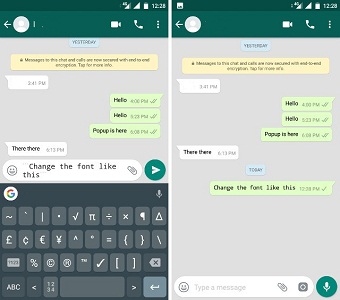 To make your text bold, just add a star (*) and for italics add an underscore(_) at the start and end of the line or word. For example, writing *bold* will make it bold and _italics_ will make it italics. You can also add ~ at the start and the end to create strike-through for a text. See the pictures for more clarity.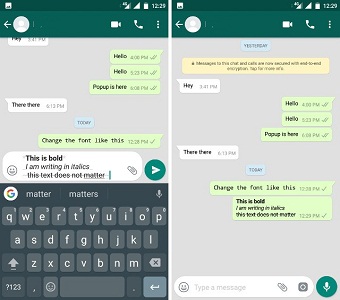 List of whatsapp font change code
Bold text on whatsapp *Solutionexist*
Strike-through text on whatsapp ~Solutionexist~
italic text on whatsapp _Solutionexist_
change the font on WhatsApp "`Solutionexist"`
#7 : How To Use Whatsapp Without Any Number
Steps To Use Whatsapp without Registering any number :-
First of all, Save your complete Whatsapp data to your phone and uninstall the existing Whatsapp account.
Now, switch your phone to Airplane Mode then Download and Install new Whatsapp on your phone.
After that, go with on-screen instructions and put your phone number there, don't it will not send the message as your phone is on flight mode.
Now, it will ask you to select an alternative method to select for verification of your number. Then you need to select Check Through SMS.
Afterwards, enter your email address and Click on Submit button. Then immediately click on Cancel button.
Now you need to install spoof messages apps for your device. If you have
iPhone then install Fake-A-Message

(For iPhone)

and if you have Android phone then install

Primo

(For Android).
After that, go to Outbox and send the detail to spoofed verifications. Use these details for that; To: +447900347295 From: Country Code, Mobile Number and Message: Your Email ID.
Now, these details will be sent to that false number and you may use that number for the verification of your Whatsapp account.
Done!
So above is all about the method for Use Whatsapp without Registering any number. By this method you can easily use whatsapp without registering any number as you can chat anonymously with your friends.
#8 : Create Fake Whatsapp Conversation On Android & iPhone – whatsapp msg tricks
For iPhone Users
Method 1 – Create Fake Whatsapp Conversation Using WhatsFake
This is one of the best apps for iPhone to create a fake conversation of WhatsApp on your iPhone. Just download and install this app on your phone and have fun with creating fake chats and fooling your friends.
Features of WhatsFake
Create fake conversation on any iOS device.
It's a freeware app.
Simple and Easy to use.
Supports multi-language in it.
Method 2 – Create a Fake Whatsapp Conversation Using WhatsPrank
Create fake chat screenshots that look real! WhatsPrank presents you the ULTIMATE PRANK for WhatsApp. Users just need to install the app on their iPhone and can have fun by creating fake conversation.
Features:
Create fake chats with anyone (even Obama)
Alter every single detail in the conversation
Send & Receive fake voice messages
Edit last seen, online, and typing statuses.
For Android Smartphones Users
Create Fake Whatsapp Conversation Using

 

WhatsMock 
It is one of the best apps to create fake conversation on android. This app is also user-friendly and has almost the same interface as WhatsApp.
Features of WhatsMock app
Create WhatsApp groups with fake conversations.
Create iPhone WhatsApp conversation.
iPhone SMS (iOS7 style) with emojis supported.
WhatsApp with emojis supported.
Create Fake Facebook Messenger chats.
Fake Facebook Status with comments and likes.
#9 Activate two-step verification on WhatsApp
If you want additional security to your WhatsApp and want to secure WhatsApp then you must activate two steps verification on Whatsapp.
Steps to activate two steps verification in WhatsApp.
To enable this, you have to open whatsapp
Navigate to Settings > Account > Two-step verification.
Now create a six digit pin for whenever you add WhatsApp to a new phone.
Don't forget to add email address, in the event you forget your PIN.
Incase you want a details steps for whatsapp two steps verification then follow enable two-step verification on Whatsapp.
#10 See who read your group message
Whatsapp group are very famous and talk about features of WhatsApp among users. One had different WhatsApp groups in which he is a part of such as Whatsapp family group, School WhatsApp group, college Whatsapp group and many more. If you had messaged on whatsapp group and as a curiosity, you want to know who read message in WhatsApp group then you can use this trick
Firstly open whatsapp group in which you had sent a message.
Long press that message to make option available.
Click on three dots and select info.
Here is the list of people and see who read your message on the WhatsApp group
#11 Mute WhatsApp group notification
Whatsapp groups are sometimes annoying when you are in the middle of something and you don't want disturbance. Active WhatsApp groups are continuously making Whatsapp notifications sound and distract you. This WhatsApp trick will help you to mute WhatsApp group notifications.
Steps to mute WhatsApp group notification
Open WhatsApp and the group whose notification you want to mute.
Now tap on the group name to open WhatsApp group options.
Toggle the mute notification, the option will pop up.
Select mute duration according to you your need.
12 – Whatsapp blocked from using
If you are unable to use whatsapp and are blocked to use then solution exist had prepared a detailed tutorial on how to unban whatsapp account.
Apart from banning, there is another issue of getting an error of You Need The Official Whatsapp To Use This Account
FAQ ( secret tricks of WhatsApp)
1. Can I put a lock on my WhatsApp app?
Yes, you can put a lock on WhatsApp and you need to verify your password/pin to open it.
2. Does WhatsApp have fingerprint?
Yes, Whatsapp allows you to add fingerprint protection to the app and you can activate it to secure it.
3. How do I enable fingerprint for WhatsApp on iPhone?
To enable fingerprint for whatsapp, you need to open whatsapp and tap on three-dot and then tap on setting. In the settings, tap on privacy and then on fingerprint and enable it.
Wrapping Up
Here in this post, we had listed all the WhatsApp Tricks Tips Hacks For Both Android & iPhone users. Hope you like all the above WhatsApp Tricks Tips Hacks, By learning and using these tricks, you can enjoy WhatsApp and utilize its tricks and hacks with full potential. Let us know in the comments what are your favorite tips and tricks for WhatsApp.