Solution Exist is back with a new Facebook Trick. Facebook although keep on updating features, Facebook users want some features that is still officially not available. Among those How To Delete All Facebook Message In Single Click is one of them. So Solution Exist is come up with a Facebook trick or solution to delete All Facebook Message In Single Click.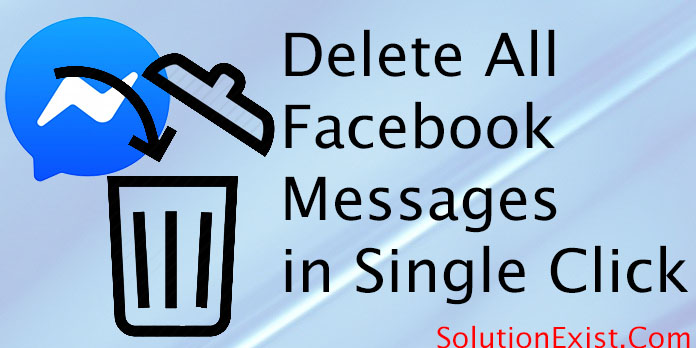 This trick will give you a button and by which you can delete all messages related to that friend without asking for any confirmation to delete it. It will save a lot of hard work for those people who are very much addicted to Facebook. Deleting messages one by one is really a tedious job.
Method to delete all Facebook message with one click
#1 Delete all Facebook message chrome extension – Delete multiple Facebook messages quickly
Firstly open Google Chrome and login into your Facebook account.
Now Link on below links and install  Delete All Messages Google chrome extension and install in Google chrome.
Delete All Messages
This Delete all message chrome extension will help us to delete multiple Facebook message
Now click on the install google chrome extension and install it
Now click on the extension and you will get an option to delete all Facebook messages.
Click on delete all Facebook message and in this way, you will be able to delete all Facebook messages.
#2 Delete multiple facebook message using Facebook Script
The requirement to get the Delete button for the Facebook message
Mozilla Firefox

Grease Monkey addon

Facebook Script
Steps To Delete All Facebook Message In Single Click (Not Working Anymore)
Step 1 – Open Mozilla Firefox. If you don't have then download it from Here
Step 2 – Now install Grease Monkey addon from Here
Step 3 –Restart Firefox after installation is complete.
Step 4 –Now login to your  Facebook Account(in firefox browser).
Step 5 –Go Here and click on "Install" to install Facebook script.
Step 6 –Now follow steps in Firefox(also shown in the image below) in your Facebook account tab
Tools->Greasemonkey->Facebook Message Delete button.
Step 6 – Open Messages and you will get a button like this at the rightmost side of your friend name:

This button will delete your chat with your friend with a single click without any confirmation. Enjoy guys!
Wrapping Up
This was the tutorial on how to Delete All Facebook Message In Single Click which will help you to bulk delete Facebook messages quickly. If you have any problem then feel free to use comment seciton., we will help you to solve your problem. Join Facebook Page Solution Exist for regular tech updates. Join aur Facebook Group Android And Windows Errors Solution to meet our community who helps other to solve computer-related problems.