Today SolutionExist Team Describing, Step by Step Method of How to Delete Facebook Account Permanently or Temporary. We all know that Facebook is an American Social networking service, Which is accessed by a large range of Android Smartphones, Laptops, Tablet and computers over the Internet and mobile networks.
Facebook CEO Zuckerberg announced that The Facebook company's data revealed to 600 million mobile users, 219 billion photo uploads, and 140 billion friend connections worldwide. I am sure that you are one of them. If you think that now you are done with your Facebook account and had enough with Facebook then this post is for you. This post is for those Who want to delete/Deactivate Facebook Account Permanently/Temporarily.
In this Tutorial, I am also describing How To Take Full Backup of My Facebook Account & How to Auto Delete Your Facebook Account After Your Death, and much more. You don't need to worry if you don't have access to your laptop, We had described the steps on How Delete Facebook account delete permanently on android device so you can complete the process from your phone also. Previously we had posted a tutorial on How To Delete Search History on Facebook using Computer You can follow that in case you need to delete Facebook search history.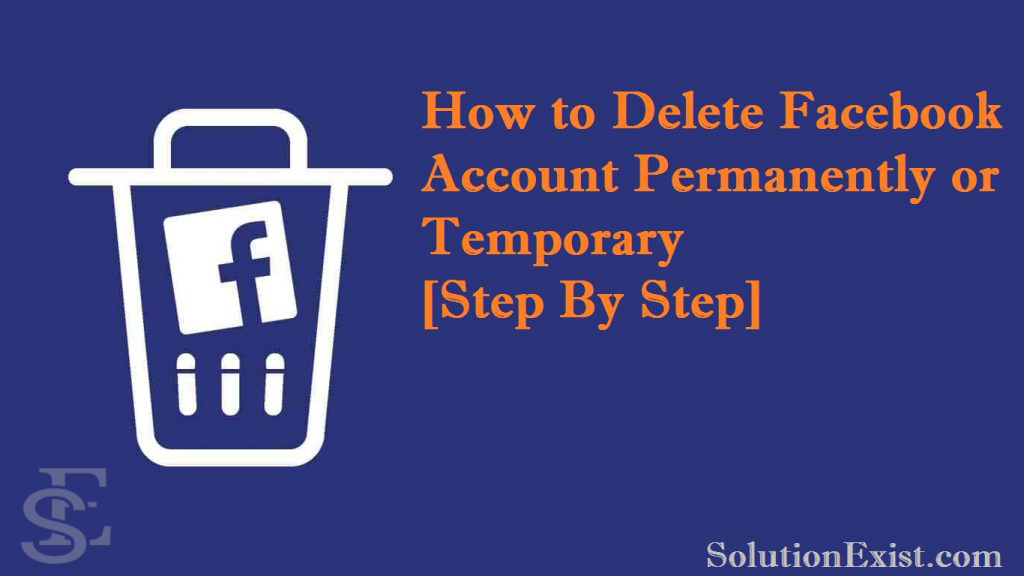 What is the difference between Deactivating and Deleting Facebook Account?
If you Deactivate Facebook profile
You can Reactivate Facebook Account whenever you want.
Some info may remain visible (example: messages that you had sent).
People can't see your timeline or search for your Facebook Profile.
If you Delete Facebook profile
You can't Regain your account Access Once It's Deleted.
It may take up to 90 days to delete data stored in backup systems. Your info isn't accessible on Facebook during this time.
Some things aren't stored in your account. For example, a friend may have messages from you after deletion.
We delay deletion a few days after it's requested. A deletion request is canceled if you log back into your Facebook account during this time.
Copies of some material (example: log records) may remain in our database but are disassociated from personal identifiers.
How To Auto Delete Your Facebook Account After Your Death
This will helps those persons who are passed away. Facebook provides you with an option to Auto Delete Your Facebook account after getting notified about your death. A friend or family members can either initiate,
A memorialization request:
https://www.facebook.com/help/contact/234739086860192
An account deletion by a special request for a deceased person's account:
https://www.facebook.com/help/contact/228813257197480
Note: A proof of death is required.
A person which is your Friends or Any family embers can select Legacy Contacts for their Facebook account. A legacy contact is someone you choose to look after your account if it's memorialized. Once your account is memorialized, your legacy contact will have the option to do things like:
Write a pinned post for your profile (example: to share a final message on your behalf or provide information about a memorial service).

Note: If your timeline and tagging settings don't allow anyone other than you to post on your timeline, your legacy contact won't be able to add a pinned post to your profile once it's memorialized

Request the removal of your account
Step to Delete Your Facebook Account Automatically After Your Death
Now, if you don't want to keep your Facebook account alive after your death, you can get it deleted automatically after you pass away. Here follow the below steps –
Step 1 – First Sign-in to your Facebook Account which you want to Auto Delete.
Step 2 – Then Go to Settings in the drop-down menu and go to General Section on the left-hand side.
Step 3 – Now Click on Manage account.
Step 4 – Then Add Your Legacy Contact (Anyone from your FriendList) and then Click to Request Account Deletion.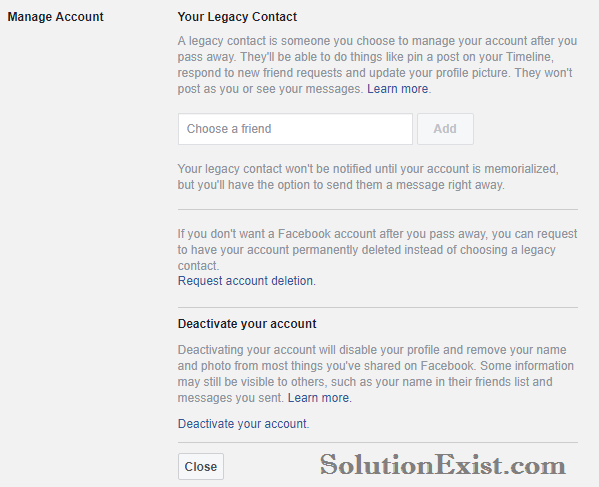 Step 5 – Then Click on Delete After Death.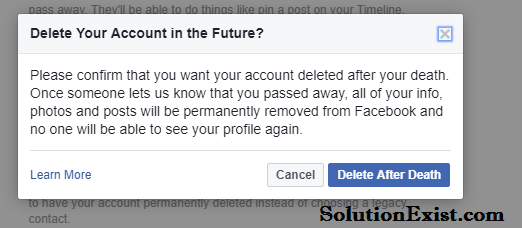 ---
Now, Facebook will delete your account including all the data present in it after someone notifies them about your death.
How to Permanently Delete Facebook Account
If you are Looking for an answer to how do I delete my Facebook account permanently? Here SolutionExist explains you to Step by Step Method. Deleting your account is a major step, So think before commit. Facebook can take up to 90 days to process account deletion requests. However, After an account has been deleted it won't be possible to reactivate your account or retrieve anything you have shared on your profile.
Step to Delete FB account permanently –
First Sign-in to your Facebook Account which you want to Delete Permanently.
Then Go to Settings.
If you want to take Backup of Your Facebook Account then, Click on the link at the bottom of the main menu says that "Download a copy of your Facebook data". [Optional]
Then you need to go to https://www.facebook.com/help/delete account and Click on "Delete my account", then follow the steps in which enter your password and Fill Security Check Captcha and Confirm.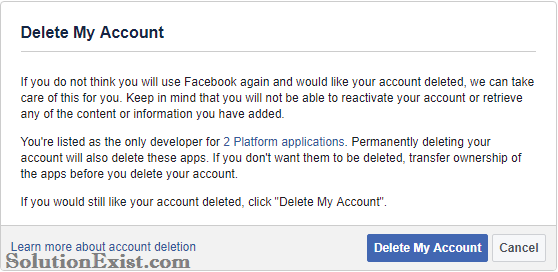 NOTE: When you delete your account, people won't be able to see it on Facebook. It may take up to 90 days from the beginning of the deletion process to delete all of the things you've posted, like your photos, status updates or other data stored in backup systems. While we are deleting this information, it is inaccessible to other people using Facebook.
Important Note: Some of the things you do on Facebook aren't stored in your account. For example, a friend may still have messages from you even after you delete your account. That information remains after you delete your account.
How to Deactivate Facebook Account
Deactivating of Facebook Account means Hiding for some time from Facebook. Deactivating your account hides your profile from friends and search, But allows you to Re-Activate your account with friends, updates and pictures with also likes and comments. If you ever decide to return, simply by entering your login information.
Step to Temporary Delete Facebook Account
Deactivating your account temporarily means you have the option to return to Facebook whenever you want.
First Sign-in to your Account which you want to Deactivate Facebook Account.
Now Click the Downward arrow at the top right of any Facebook page in your web browser.
now Go to "Settings" and Click on "Security" in the left column.
Choose "Deactivate Your Account", And then follow the steps to confirm deactivating your acc.
If you deactivate your account your profile won't be visible to other people on Facebook and people won't be able to search for you, but some information, such as messages you sent to friends, may still be visible to others.
Whenever you like to go back on Facebook, You can Reactivate your account at any time by logging in with your email and password. Your profile will be restored as it is entirety.
How to Delete Facebook account permanently on android device
Firstly unlock your android device.
Open your Favorite web browser in your Android phone (I use Google Chrome in my phone).
Login to your Facebook Account which you want to delete permanently
Once logged-in, click on/open
https://www.facebook.com/help/delete_account link in the web browser.
On the displayed page, tap the

Delete My Account

button in

Delete My Account

section.
Once done, enter your Facebook account password.
Complete captcha code by typing it in the text box area.
Lastly, tap

OK and you are done.
How I delete my old Facebook account?
If you are having multiple Facebook accounts and you want to delete old facebook account then you can do it.
1. First steps is to login into your old Facebook account and if you don't remember the password then reset it.
2. Now you can delete the Facebook account easily.
Can i delete my facebook account without deleting Instagram?
Yes, you can delete facebook account without getting your Instagram account deleted.
How to delete a Facebook account on an iPhone?
Deleting your Facebook account on your iPhone is the same as you do in android phones. All you need to do is open the Facebook app and go to setting and then account setting. Here you will find option to delete facebook account.
Wrapping Up
This was our tutorial on How to delete Facebook account. In this section, We had also included how to deactivate Facebook account and also the difference between deactivating and delete Facebook account. If you don't have access to your computer then you can also follow the steps on How to Delete Facebook account permanently on android device described in this post. If you have any doubt or you are facing any problem in following the steps then you can use comment section, We Solution Exist will help you with that.