Do you want to use Tor browser with safety? Then you must learn How To Disable JavaScript In Tor Browser. In this article, we will discuss how to turn off javascript in tor and Is enabling JavaScript safe?
Having JavaScript enabled in Tor Browser can be dangerous and leave your computer vulnerable to malicious attacks. Knowing how to disable JavaScript is critical for keeping your data secure while using Tor Browser. This article will provide step-by-step instructions on how to quickly and easily disable JavaScript in Tor Browser, including how to enable it again if necessary.
Previously we had posted various tutorials related to chrome issues such as How to Fix "Aw Snap" on Google Chrome.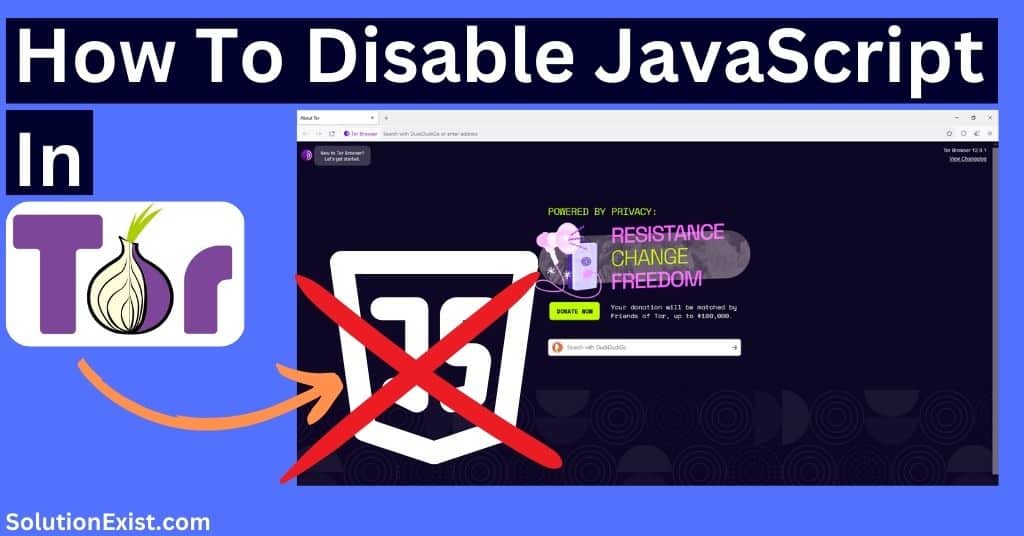 Additionally, we will discuss some of the potential risks of having JavaScript enabled or disabled in Tor Browser, as well as best practices for security when using this browser.
JavaScript is one of the most commonly used programming languages on the web today, with the majority of websites relying on it to function properly. Despite its widespread use, there may be times when disabling JavaScript might be necessary. In this article, we will discuss some of the reasons why you might want to disable JavaScript on your computer or mobile device. We will cover topics such as security issues, performance concerns and compatibility problems.
What is Tor Browser?
Tor Browser is a specialized web browser designed for anonymous browsing and communication. It was created by the Tor Project, an open-source organization with the mission of protecting user privacy and freedom online.
The Tor Browser is based on Firefox Quantum, a popular web browser from Mozilla. Unlike other browsers, it makes use of the Tor network to encrypt your connection and prevent third parties from tracking your activity online. When using the Tor Browser, all data is routed through multiple layers of encryption before reaching its destination. This means that websites you visit can't track your IP address or see what pages you've visited in the past. Additionally, all traffic passing through the Tor network is completely anonymous; even ISPs can't monitor what users are doing online.
Reasons to disable JavaScript
JavaScript is one of the most popular and widely used programming languages in the world, but it can also be a major source of security vulnerabilities. JavaScript can be used to create malicious scripts that can collect sensitive data such as passwords or credit card numbers or even open backdoors into a system. As such, many people opt to disable JavaScript on their devices and browsers for increased security.
Methods To Disable JavaScript In Tor Browser
We are going to learn 3 different methods that we can follow, you can follow any of the methods and turn off javascript in the tor browsers.
Method 1 : How To Disable JavaScript In Tor Browser
The Tor Browser is a free and open-source web browser that provides users with anonymity and privacy when browsing the internet. It can be used to access the deep web and hide your identity while online. To ensure maximum security, it is important to know how to disable JavaScript in Tor Browser. Disabling JavaScript can help prevent malicious code from being run on your computer, as well as limit ads that track your activities. Here are the steps you need to take to disable JavaScript in Tor Browser:
Step 1 : First, open up the Tor Browser and click on the "hamburger icon" in the top-right corner of the window.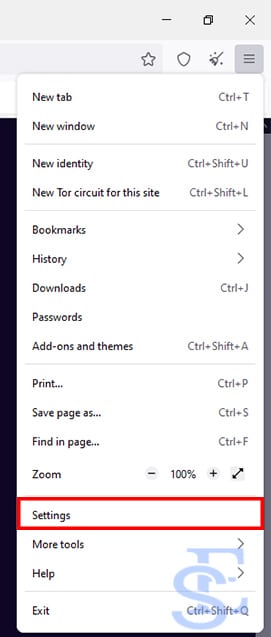 Step 2 : Now click on the Settings option and then click on privacy and security in the right side.
Step 3 : Now scroll and find the option "Security". Here you will find 3 Security Level options for controlling content settings for websites you visit using Tor Browser.
Standard
Safer
Safest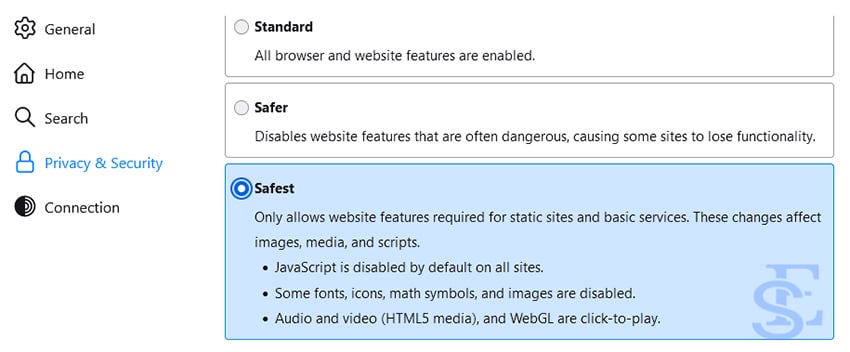 Step 4 : In these options, you need to select 3rd option safest, This option will automatically disable javascript by default on all site.
Method 2: Manually turn off JavaScript in Tor browser
Manually turning off JavaScript in Tor browser configuration is a useful tool for those who value their privacy and safety while browsing the internet. When activated, it blocks any type of code from running on your computer. This includes advertisements, tracking cookies and other malicious software that can compromise your security. However, it's important to note that disabling JavaScript may prevent some websites from functioning properly.
Step 1 : To manually turn off JavaScript in Tor browser configuration, firstly open Tor browser and then open the about:config page by typing this command into the address bar.

Step 2 : You will get a caution stating you are entering into the advance setting of the browser. Click on Accept the risk and continue button.
Step 3 : Once you're on this page, enter javascript.enabled in the search bar. If it is showing True, it indicates your javascript is enabled.

Step 4 : Next step is to toggle the reversible button placed at the right corner and make it false.

Step 5 : After making this change, restart your browser for changes to take effect and you're done!
Method 3: Disable JavaScript using the "NoScript" Extension in the Tor browser
With technology becoming ever more ubiquitous, it is important to be aware of the measures you can take to protect your online security. One of these measures is to disable JavaScript in your web browser, and for users of the Tor browser, this can be done easily with the "NoScript" Extension. NoScript is a free and open-source extension that gives its users control over their browser's security settings.
Step 1 : First open your Tor browser window. Then click on the menu icon in the top right corner, select "Add-ons" from the list, and search for "NoScript Security Suite" in the list of available extensions.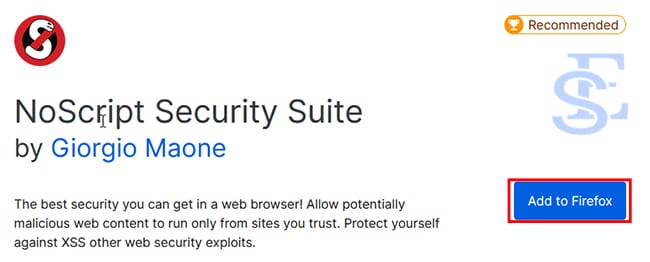 Step 2 : Once you've found it, click "install" to install it into your Tor browser.
Step 3 : After you've confirmed your installation, reload any website pages you have open so that NoScript can start working properly.
How to disable javascript tor Android
Tor browser is also available for Android phone. If you are in search of how to disable javascript in an android phone, here are the steps that you need to follow.
Step 1 : Firstly unlock your Android phone and open Tor browser.
Step 2 : As you open, you will get three options, Standard, safer and safest, tap on the safest option.
Step 3 : This will disable tor javascript.
In this way, you can disable javascript in tor android app. In case you want to enable the javascript in Tor then we have the steps for you as well.
How do I enable JavaScript in Tor browser?
Now that you had learned how to turn off tor browser javascript, now if you are facing a problem with a website that requires javascript enabled, then here are the steps that you need to follow to enable the javascript tor browser.
Step 1 : First open Tor browser and enter about:config in the address bar and hit enter.
Step 2 : Now in the search bar, enter javascript.enabled and here you will get false
Step 3 : Click on reversible button and make it true.
Step 4 : If you had installed the Noscript add-on, you can disable it.
FAQ ( Disable JavaScript In Tor Browser)
1. Should you use JavaScript on Tor?
We totally recommend you to not to use javascript on tor as Generally, JavaScript should not be used on Tor as it can compromise your anonymity. Enabling JavaScript may increase the risk of being tracked or monitored while using Tor.
2. How do I know if JavaScript is enabled in Tor?
You can check by opening about:config and then entering javascript.enabled. If it is showing true, javascript is enabled.
3. Is enabling JavaScript safe?
Yes, enabling JavaScript is generally safe. JavaScript is a programming language that helps web pages be interactive and provide a better user experience. As long as you are downloading from trusted sources and not clicking on any suspicious links, enabling JavaScript should not pose any security risks.
4. How do I disable NoScript in Tor browser?
To disable NoScript, you need to open tor browser and the option button and then click on add-ons and toggle the disable button.
5 Does Tor use JavaScript?
Yes, like any other internet browser, tor use javascript as most website use javascript.
Conclusion
Hope you like our tutorial on how to Disable JavaScript In Tor Browser. disabling JavaScript in the Tor Browser can be a useful safety measure for those who wish to protect their online privacy from malicious actors. It is important to note that disabling JavaScript in Tor Browser will sacrifice some of the convenience associated with using certain websites, though it may be necessary if you want to maintain a secure browsing experience. Additionally, disabling JavaScript while using the Tor Browser can make it difficult for malicious actors to track your web activity, as sites cannot run any scripts without user permission.