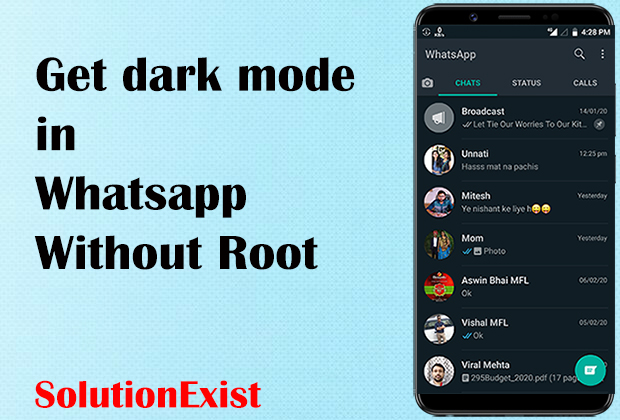 Whatsapp dark mode is one of the most awaiting feature that people are requesting from couple of years. Whatsapp is keep on evolving day by day as it is keep on adopting and integrating features like whatsapp stories and whatsapp calling. Whatsapp had given hint that they are working on whatsapp dard mode feature in september 2019. Don't forget to check out exclusive whatsapp tricks by solution exist. Whatsapp had taken a long time in introducing dard mode in whatsapp and now finally wait is over. Solution Exist in this tutorial, shows you how to enable dark mode in whatsapp in android as well as in ios.
Steps to enable dark mode in whatsapp android
Firstly you need to install whatsapp beta in android phone. Dark mode in whatsapp is currently for whatsapp beta users but you can use it. whatsapp dark mode beta apk download (any version after 2.20.14 will work).Download Whatsapp Beta
Install it in your android phone. If you had download whatsapp beta apk from Google chrome then you may need to allow Chrome to install apps. Tap Settings to get started and Toggle Allow from this source to On to continue the installation.
This whatsapp beta version will not delete or erase your whatsapp chats and data.
After installing whatsapp beta apk, click on three dot placed at top right corner
Click on settings and then tap on chats

Here you will see chat theme option, tap on it and select dark.
Here you go, you had successfully enable dark mode in whatsapp android. This is how you can enjoy dark mode whatsapp in android phone. Currently whatsapp dark mode feature is available on whatsapp beta version but it will be available to whatsapp stable version after a short span of time.
Whatsapp dark mode ios – Easy steps
In iPhones, it's pretty  easy to enable dark mode on WhatsApp, But, the device must run iOS 11 or later versions.
Steps to get whatsapp dark mode ios
Navigate to Setting >> General >> Accessibility >> Display Accommodations >> Invert Colours >> Smart Invert
In this way you can get dard mode in whatsapp in iphone. Whatsapp
Wrapping Up
This was the simplest and easy way to enable dark mode in whatsapp in android as well as ios. These whatsapp dark mode feature is currently unders testing period hence it is not available to stable version. after complete testing, it will be available to all users. Till then you can use this trick to enjoy this whatsapp feature . You can also check out – Set blank whatsapp status which can help you to have no whatsapp status. If you face any issue in getting dark mode feature enable in android phone or you get stuck at any place feel free to use comment section.