find drivers for Unknown Devices in Windows: Have an old pc and want to format it? Yes, formatting computers can be challenging if you don't have the drives to install after installing new operating software. If you are planning to format your computer and you don't have drivers then you are in trouble for sure. After a fresh install of windows, the first thing we do is install the driver. Without drivers you can't have full functionality on your computer. Your speaker will not work, network adapter will not work and many more. Most people Format their PC correctly But after they don't Have Drivers For their PC and here the search of driver started.
Unknown Device issue is a common issue people face after Windows upgrade especially upgrade to Windows 10. If you are in search of how to find all drivers for my pc is not a problem not. Don't Worry Solution Exist will teach you How to Find the Right Drivers for Unknown Hardware Devices using 3 best and free methods to find the correct drivers for unknown hardware devices.
Previously we had posted various tutorial to fix windows 10 issues such as How to fix broken registry items windows 10. So if you are insearch of windows 10 fix then this tutorial will be helpful.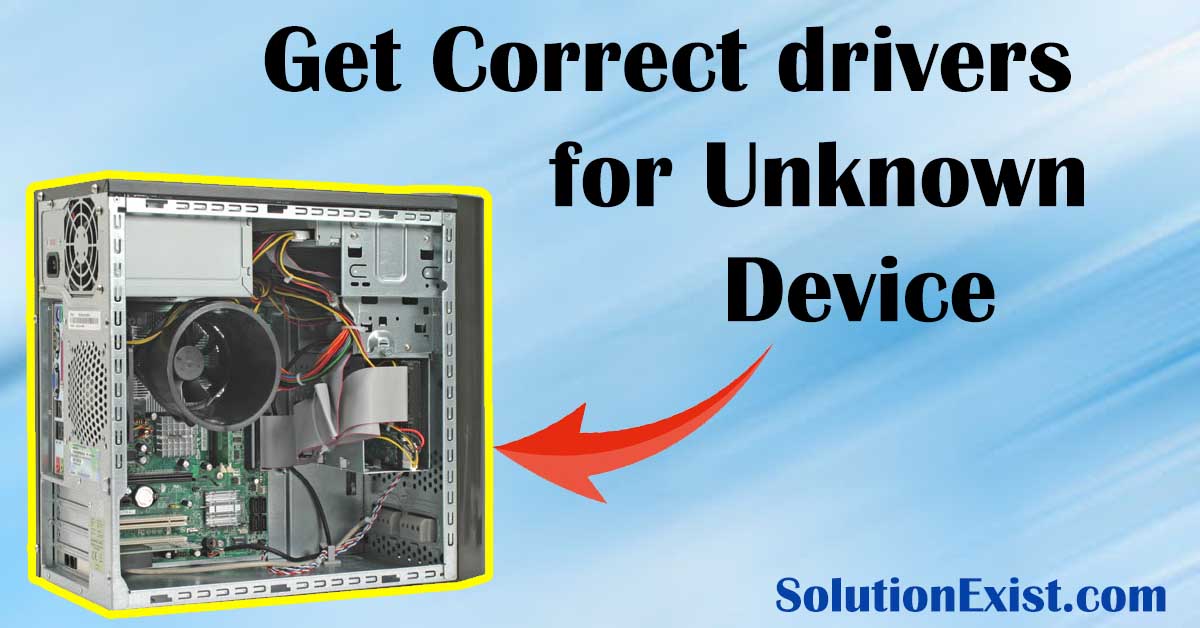 How do I find an unknown device driver?
Solution Exist, had posted 3 methods from where you can fix Unknown Device issue in Windows 10 and find the right driver for unknown hardware. To find the right drivers, we need to have hardware id which will help us to download driver. So the process starts with finding the hardware id of the unknown device and using that we will find correct drivers. So without wasting more time, let's jump into the tutorial.
Method to Find drivers for Unknown Devices in Windows – unknown device driver windows 10
Method 1 – Manually identifying device drivers
Method 2 – Using Software to find the device ID
Method 3 – Software to download and install drivers automatically.
Look in PCI Database – Manually identifying device drivers
Driver Max
Unknown Device Identifier
METHOD 1:- Manually identifying device drivers | Look in PCI Database
Starting with method 1 which is a manual method to find device id, Yes this is kind of a bit tedious method. Every hardware device has a Vendor and Device id associated with it which is used for identification. One had to find this ID which will help to find the manufacturer or vendor of the corresponding device. In Windows, it's easy to find the vendor and device id and method is described below.
Firstly Open Device Manager (Right-click My Computer>Properties>Hardware>Device Manager)
The hardware whose drivers are missing will appear as Unknown device, so it's easier to locate the device.
Right click on the unknown device and click on Properties.
Under the Properties window click on Details tab and select Device Instance Id from the drop down box.
You should see a code similar to this PCIVEN_

8086

&DEV_

27DC

&SUBSYS_30868086&REV_014&1E46F438&0&40F0
The portion of the code highlighted in

RED

is the

Vendor ID

and the portion highlighted in blue is the

DeviceID

. In this example:
Vendor ID =

8086


Device ID =

27DC

Once you have obtained both the IDs, proceed to PCI Database. There you can either search for the vendor from the vendor ID or directly get information about the device along with the vendor name by searching with the device ID
After you find out the information about the device and the manufacturer of the device, you can visit the manufacturer's website and download the corresponding device drivers. This was the manual method to identify hardware Id. If you don't want to open the computer, then go for method 2 and method 3.
Method 2 : identifying device drivers Using software
There are a couple of software available over the internet which will scan your system and give you the device id for free. Among those, 2 software names as given below.
Unknown device identifier
DriverIdentifier
Unknown Device Identifier – find compatible driver
Unknown Device Identifier enables you to identify the yellow question mark labeled Unknown Devices in Device Manager and reports you with a detailed summary for the manufacturer name, OEM name, device type, device model, and even the exact name of the unknown devices. With the collected information, you can contact your hardware manufacturer for support or search the Internet for the corresponding driver with just a simple click
Method 3 – Driver Installer software
The above two methods will help you to determine device id which you can further use to search drives and install drivers in unknow devices. In this method, you don't need to search device ID and then search for the drivers. There is software available over the internet which are known as driver installer software that will automate the process of finding right driver for PC. All you need to do is just install this software in you computer and these will scan you pc and show you the recommended driver for your pc. You need to click on the install button and installing process will be started. Using this software, you can also update drivers. Here are some list of drivers software
Here in this tutorial, we are taking drivermax software as an example and learn how to download drivers for PC.
DriverMax – driver updating software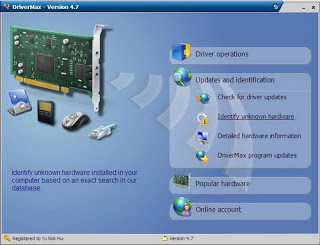 Driver Max is not just the best free Windows hardware drivers backup utility, but it can do more than just backup and restore Windows drivers. Driver Max allows you to quickly check for updates for your drivers and identify unknown hardware devices on your computer. However, to get access to these two features, driver updates and unknown hardware identification, require you to first register an account at Driver Max. Don't worry, it's free!
On the main window of Driver Max, click the "Identify Unknown Hardware" button. Driver Max will start looking for relevant drivers of the unknown hardware devices in its database and returns a list of matching drivers. You can download and install the drivers using Driver Max. Quick and easy!
Using this software you don't need to search for drivers for windows 10 or computer drivers download. Just install these softwares and you are good to go and get all drivers for your computer.
FAQ (How do I find drivers for unknown devices in Windows 10?)
How do I find a missing device driver?
Three methods are there which you can use to find missing device drivers. There are software are available on the internet which you can use that scans the system and will list out the missing drivers for the system.
How do I find drivers for unknown devices?
A common issue that one faces is Unknown Device issue. To find drivers for unknown device, we need to get Hardware Ids and search for the drivers on the internet.
Wrapping Up
These are the best and free methods to find drivers for Unknown Devices in Windows had helped you with your question How do I know which drivers to install? So, from this tutorial, you can easily Find the Right Drivers for Unknown Hardware Devices. If you have any problems then feel free to use the comment section. Also, join our Facebook Group Android And Windows Errors Solution where we discuss windows problems and android problems and their solution.