Instagram is gaining popularity and many of us face various problems and bugs while using it. Today, we are going to learn how to fix Couldn't load image tap to retry Instagram.
Instagram users must have faced an error i.e. error "Couldn't load image. Tap to retry" if yes then we are here to help you to fix why is my Instagram not loading?. Previously, we had posted a detailed tutorial on Why does my phone keep saying no internet connection? and How to fix that. That was also due to network issue.
We had posted various articles on Instagram such as How to share Instagram reel to facebook story apart from that, we had solved a major problem that users faced as the feature is not available in the Instagram app i.e. Mass Delete Instagram Posts.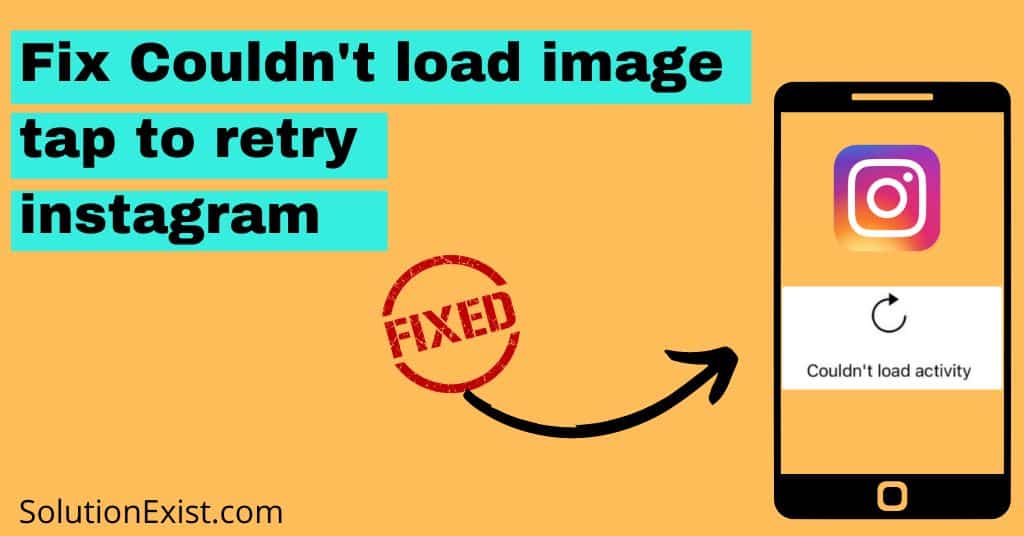 Now, before we get into the steps to fix Instagram couldn't load activity or couldn't load media Instagram let us learn what are the reason for this error. So without wasting more time, let's get into the tutorial.
Reason for couldn't load media Instagram
The primary reason why you are getting errors i.e. Instagram can't load image is unstable internet. Apart from that, there are other problems that are reported to cause Instagram tap-to-load errors such as an outdated Instagram app or network issue. Now are we have learned what is the reason, let's dive into the solution to fix this Instagram error.
How to fix "Couldn't load image. Tap to retry" on Instagram
As discussed above, there is not a single reason why you face Instagram couldn't load activity so there is no single method to fix this issue. You have to try different methods and check which method help you to fix it. Here are the methods described below.
1. Restart the device
The simples thing that you can do to once you get an error in Instagram i.e. couldn't load media Instagram is restarted your phone. Sometimes due to your device, you are getting such error and issues in apps. So try restarting your device and check if the Instagram app is working or not.
2. Try switching network
Network issues with the app is the simplest reason why you are getting error on Instagram i.e. Instagram not loading pictures. So the basic step that you can follow to check whether is issue is due to a network issue is to check by switching data mode. If you are using mobile data, then try switching it to wifi and if you are using wifi then try using mobile internet data.
You can also check if other apps are working completely fine or not i.e. youtube or Facebook. If it was a network issue then other apps should also not work.
3. Outdated Instagram App
Instagram app get updates frequently and the main purpose is to provide new features, fix bugs and improve security to the users. Sometimes, these apps after releasing updates, they drop support to the older version and this might result in instagram couldn't load image.
Android Google play store has a feature of auto-update apps on wifi but most of keep it off because whenever we are in work mode, apps starts to get update and because of that apps remains outdated. Here are the steps that you can follow to fix issue of Instagram
How to update the Instagram app in android
Step 1 : Firstly unlock the Instagram app and open the Google Play store
Step 2 : Now search for Instagram and here you will get two options, uninstall and Update. If there is no option available to update and the open option is there then your app is updated to the latest version.
Step 3 : In case, the update option is available, tap on it to download and install the Instagram updated version.
Step 4 : Now open Instagram app and check if your problem of can't load photos on Instagram is fixed or not.
If you want to turn on auto-updated then here are the methods
Turn on Auto updated apps on android
Android: Open Google Play Store >> My apps and games >> Auto-update.
Turn on Auto updated on iOS devices
iOS: Open Settings >> iTunes & App Store >> checkmark on App Updates.
If your problem is not fixed, from the above solution, then start following the other solution.
4. Clear cache and Clear Data
If you had followed the above step then we can say that you are to the updated Instagram app. Sometimes the app's cache and app data also creates a problem and be the reason for Instagram couldn't refresh activity issue. In such case you can try clearing cache of the app. Here are the steps that you can follow in android phone
How to clear cache of Instagram app
Step 1 : Firstly open the setting and then go to apps.
Step 2 : Now search for Instagram and open and then tap on Storage.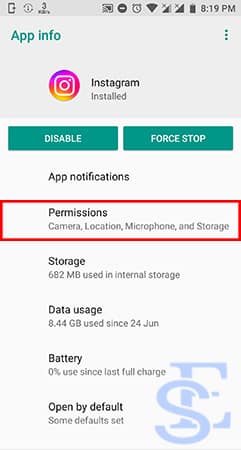 Step 3 : Here you will find apps data, open it and you will see the Clear data option.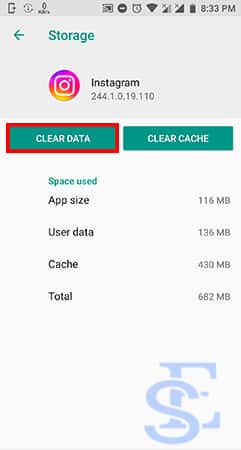 Step 4 : Tap on it and confirm it to clear. This will delete all the apps data.
Step 5 : Now open the Instagram app, as you had deleted apps data, you are logged out.
Login to your Instagram apps and check if your problem of Instagram not working is fixed or not.
5. Logging to a different platform
Instagram like other apps such as WhatsApp, it allows users to log in and use Instagram in web versions i.e. computers or laptop. You can ch I personally had faced this issues and mine was fixed by logging my Instagram account into the computer web version. So give it a shot and check is there any problem with your Instagram account of its and issue of the device.
6. Use VPN apps | Couldn't load image tap to retry instagram
It might happen that Instagram is not down worldwide and just down for particular shift. In such case you can try for any VPN apps that will allow you to bypass this country restriction.
There are various free VPN apps available on the google play store but those have a privacy concerns. In that case, we only recommend you to go with paid and trusted VPN apps.
7. Check if Instagram is down
Sometimes it's not your fault but its of Instagram. Recently we had seen that many big websites such as Facebook which is a part of meta and it also owns Instagram also face downtime. So if you had tried all the above methods to fix your Instagram loading issue then you can check Twitter whether Instagram is down or what.
How to check if Instagram is down?
There are the number of services available on the internet which will help you to detect if Instagram is down or not.
DownForEveryoneOrJustMe
You can check official Instagram Twitter account
These are the solution that one can try to fix Instagram Couldn't load image tap to retry.
FAQ (Could not load the image, Tap to retry)
1. Why is my Instagram not loading?
If your Instagram in not loading then you can try different methods to check such as switching networks, clearing app data, updating the app, and many more.
2. How to fix the couldn't load videos try again later on Instagram?
Numbers of factor can be responsible for this error but the most common reason is network issue. You can try switching to you another mode of internet such as wifi of mobile data and check.
3. How to open Instagram in Chrome?
To open Instagram in chrome, you need to open the chrome browser on computer and enter instagram.com in the address bar. Now login to your accounts using login credentials. In this way, you can use Instagram on a computer
Wrapping Up
There is the solutions that you can try to fix Couldn't load image tap to retry Instagram. Tap to retry in Instagram. If you have any other problems, do comment down below. If you have any other solutions then also share them with others in the comment section and share with the readers. If you want us to cover any other topic, do connect with us on Facebook page – Solution Exist.