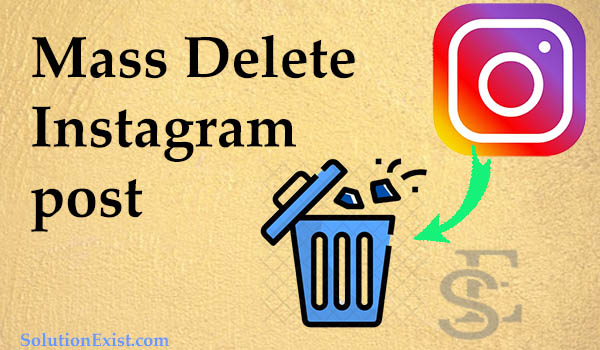 Instagram does not allow you to Mass Delete Instagram Posts, you must had notices this when you had tried to delete photos in instagram. Yes officially instagram doesn't had this feature. In case you want to delete multiple photos in instagram, it will be a tedious job as you had to open all post in instagram individually and delete the post.
If you are the person who is in search of how to delete multiple post in instagram then this post is for you. Here you will learn the fastest method to delete instagram posts. Download Gbinstagram to enjoy different instagram features
Officially there is not method to delete multiple instagram posts but there are apps developers who had developed apps which allows you to break these restriction. So follow this post and learn to delete instagram post in fastest way.
Prior to jump to the fastest method, let us have a glimpse on the traditional way to delete instagram photos in android phone and ios.
How to delete instagram photos – Traditional way
Firstly open instagram app.
Now click on profile button present at the bottom last side
open instagram post/ instagram photos.
Now click on three dots and select Delete from the menu.
Now again tap on Delete to confirm delete of instagram post.
This is the traditional way of deleting instagram photos. This method is easy if you wish to delete single photos. In case for larger number of photos, follow the below steps.
Learn How To Download Instagram Photos On Android
Mass Delete Instagram Posts
#App 1 – Cleaner for Instagram – Unfollow, Block, and Delete
This is a third party app which is a instagram account manager provides you the feature that are instagram is failing to provide. Using this app you can do multiple task in account. Read the below steps.
First Download & Install app on your Android device.
Download Cleaner for Instagram apk
Open app and Log in using Instagram Username and password.
Tap on 'Media' from the bottom bar and select the photos/videos that you want to delete. You can use multiple photos.
After selection, one 'lightining/Flash' floating icon will get appear, Tap on it and go with 'Delete' icon.
Done..!! You has delete all instagram photos at once.
Also read – Read Instagram messages without seen
Features of Cleaner for instagram
Here are all the app features:
Mass unfollow
Mass block and unblock
Mass delete posts
Mass download posts for backup
Mass unlike posts
Quick selection tools
Pending Actions Service (app continues to work in background)
Cloud Service (app can be closed, our servers work for you)
Whitelist Manager (avoid accidental unfollows or blocks)
Support for filters, multiple accounts
Activity log with undo option
Activity statistics
Help Center
Note: Free version this app allow you to only '50' Photo deletion or other operations. You can purchase its Pro or Cloud Version for $3-$5 for unlimited use.
---
App No. 2
[Recommended]
How To Delete Multiple Photos in Instagram -Mass Delete Instagram Photos
There are couple of apps available over internet which we are gonna use and learn to mass delete instagram post.
Firstly download IG cleaner app. (Initially this app was on Google play store but not it is removes) You can click on below download button to download IG Cleaner app
Now install IG Clearnier app in you android phone.
IG Clearnier app
Login with your instagram credentials.
Tap on Posts icon in the app.
Select multiple instagram post that you want to delete.
Click on delete and confirm delete.
In this ways you can mass delete instagram photos
We recommend you to use IG cleaner app as this app has no restriction and you can use premium features for free and for lifetime.
Don't forget to check – How to create instagram stickers for instagram stories
Features of  Instant Cleaner- for Instagram
Key feature:
– Bulk unfollow users.
– Bulk unlike photos and videos.
– Bulk block followers.
– Bulk delete your posts.
– Convenient selection tools.
Hence you can use this app for multiple purpose such as bulk unfollow instagram, bulk unlike photos on instagram and many more.
Wrapping Up
This was the tutorial on how to Delete Multiple Photos In Instagram / mass delete instagram posts. If you had any problem in following the article how to delete all saved photos on instagram then feel free to use comment section, we will help you to deal with it. If you like our work then do follow us on instagram @soltution_exist. In Meantime you can read In Meantime you can read Whatsapp tricks and tips.  If you had some other problem than you can asked us on our Facebook page – Android And Windows Errors Solution.