If you are a google pay user and facing or-ccseh-05 error on Google Pay or [OR-CCSEH-26] then this post will help you to fix Google Play payment error. i.e how to fix or-ccseh-05 error on Google Pay
Are you facing "transaction declined: invalid payment method. [or-ccseh-05]" then we are providing you the solution to fix this issues.
Google pay is becoming a big name in payments app and in UPI transactions and its market keeps on increasing because of the facilities this apps is offering. This app is by google and hence people have trust in it and it is also secure. Whatsapp is also rolling this WhatsApp UPI payment feature to its users.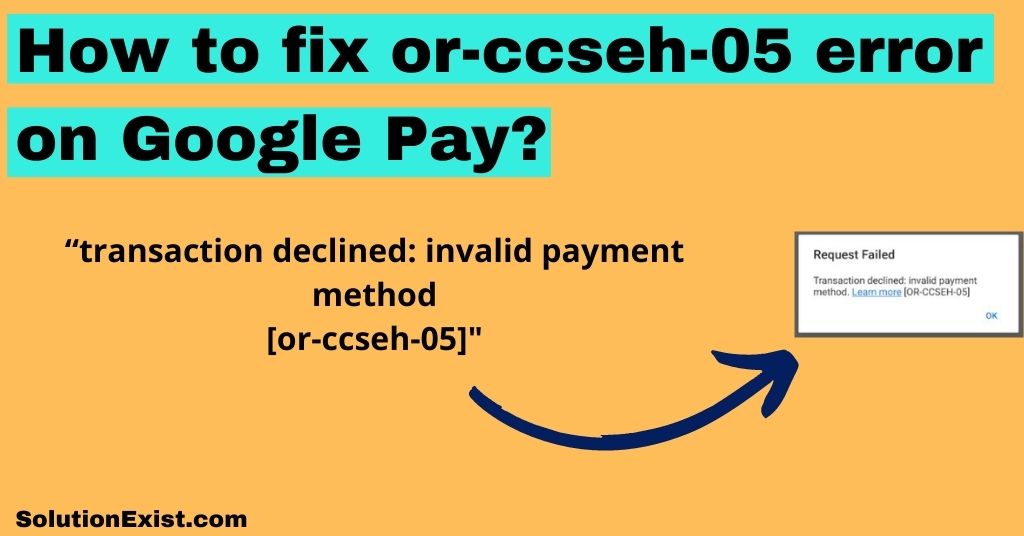 It has started as a UPI payment app that allows users to pay by scanning the QR code for shopping. Along with time, it has added various features like pay utility bills, send money to other bank accounts using bank details and many more.
Some users reported that they had faced various google pay payment decline errors such as or-ccseh-05 error. This is more frustrating as there is no direct problem description and the cause of the error. Hence if you are facing such error then this post will help you to fix the error. Prior to get into the methods to fix this issue, we will check the cause of or-ccseh-05 error in google pay.
Reason for or-ccseh-05 error or OR-CCSEH-26
Google pay user face or-ccseh-05 error while using and this error is realated to your bank account and you google pay account. The primary reason is not on the updated version of Google pay app or you had entered wrong or incorrect information about bank details.
Methods to fix or-ccseh-05 error on Google Pay
If you are facing a payment decline error while sending or paying at the store then read these possible solutions to fix the issue and it will help you to use it. So without wasting more time, lets get started with the solutions.
Method 1 : Update to the latest version of Google Pay
If you are using Google pay and you don't update apps frequently then this must be the problem. These payment apps are updated frequently to introduce improved security in the app and as the update is released, they drop the functionality of the older version.
So the first solution to fix the payment decline or-ccseh-05 error is to update google pay app and try to do the transaction. This might have fixed this issue.
Method 2 : Check for correct details entered
Details entered in the Gpay should be correct in order to transfer money from one account to another. As you open Gpay, you are asked to enter your mobile number which will be verified by the app and then you are allowed you to choose the bank in which you account is there and then comes the section where you need to enter your debit card details.
UPI transaction is linked with your debit card. If you enter wrong details in the app such as debit card number or CVV number the get error while transferring money or doing bill payment is for sure. So make sure you enter every detail currently.
Method 3 : Verify Google pay account
If your google pay account is not verified then this can cause several google pay error such as payment decline error in google pay. So to avoid any google pay error while providing for money transfers or paying bills then make sure you are having your google pay account verified. In case you don't have your Gpay account verified, here are the below steps to get your Gpay account verified
Step 1 : Firstly open Google pay app in your smartphone.
Step 2 : Now At the bottom, tap on Insights.
Step 3: Tap Money in Google Pay.
Step 4 : Tap Complete Verification.
Step 5 : Confirm your personal information:
Name
Address
Date of birth
Social Security number
In this way, you can verify your Gpay account and after following the above process, try to initiate the payment and check whether you issue is fixed or not.
Method 4 : Contact to your bank
If you are still reading then it can be possible that above methods had not worked for you. Another reason you are facing the payment error in google pay is that you have some issues with your bank. UPI payments are processed through debit cards, so do check after login in the bank app or internet banking app whether your debit card is set to enable for online transaction or not. There is a possibility that bank had blocked you to use upi facility. In such a case, you need to contact to your bank support and ask the executive to check about the problem.
For every bank, the contact system is a bit similar. You need to contact to back toll-free support number and ask them to review your problem. After contacting, follow the steps and then check whether your problem is fixed or not.
Method 5 : By contacting google pay support
This is the last possible solution if you are facing transaction error in google pay. If bank has not blocked your account to use upi feature then this might be issue of Gpay. To verify it, you can also try to use any other upi payment app such as phonepe or amazon pay and check you are able to perform upi transaction or not.
There are several ways to contact Gpay such us toll free number 1-800-419-0157
You can also reach to the support team Google Pay Support
FAQ (Google pay transaction declined invalid payment method)
1. Why is Google Pay rejecting my card?
If you are entering wrong debit card number then google pay will reject your card. Apart from that, if you card is expired, then also your card will be reject.
2. How to fix Google pay transaction declined invalid payment method
There can be many reasons why are getting transaction declined error in google pay. Here are some of the fix that you can try to fix google pay error. update app, check entered card details, Verify Google pay account and by contacting to your back.
3. How to fix [OR-CCSEH-26] error code in Google pay
If you are facing error i.e. [OR-CCSEH-26] while adding debit card in google pay then remove the debit card and try adding it again.
Wrapping Up
This was the tutorial on how to fix google pay payment error i.e. fix or-ccseh-05 error on Google Pay. if you have any problems then feel free to use comment section, we will help you to fix it and in case you have any other solutions then share that will us in the comment section. Follow us on Solution Exist facebook page to stay connected.