Google maps help us to get navigation but we get annoyed when we get an error google maps can't connect and because of that Google maps not working on android. Today in this post, we are going to address this maps error in smartphones and will see how to fix them. Google maps need no introduction as it is Google Maps had made travel so convenient as it helps us to get the direction to the destination and we don't need to ask anyone and especially when we are traveling to a non-tourist place and the population is very less. Google maps navigation is extremely helpful on lonely roads to get in the direction.
Solution Exist had posted various article related to google products such as google chrome for android and had fixed issues such as Unfortunately Google Play Services has stopped which can be cause due to system files got corrupt. These service are interlinked so if you have error in google play service, it can reflect and cause error in google maps as well.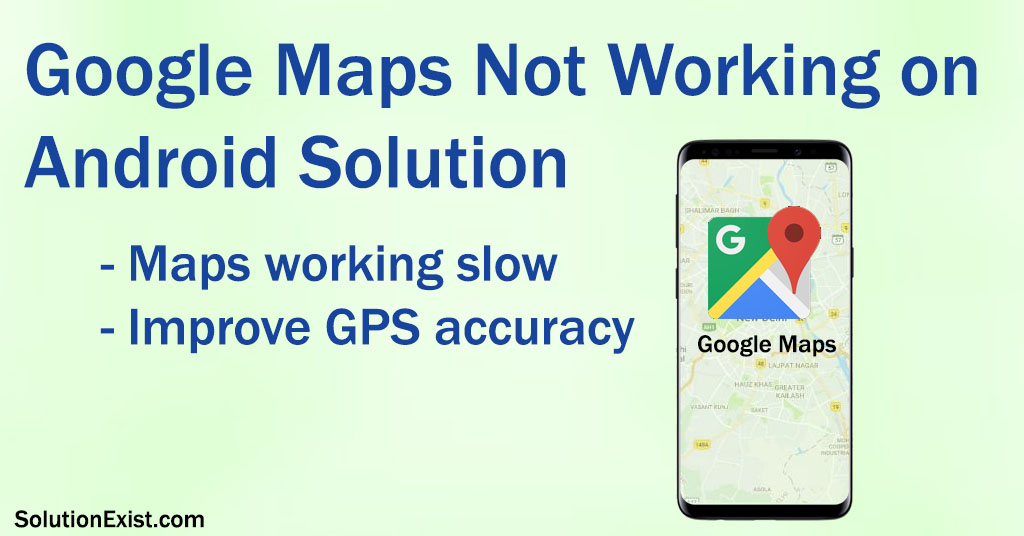 It is really annoying when we are heading towards any place and we are in need to Google maps to get direction and we face Google maps not working. Today in this post, we will see different methods to fix it.
Why is google maps not working?
There can be a number of reasons why Google maps not working, but sometimes people confuse if the maps app is not working or is working slow. Prior to getting into the methods to fix this issue, the user needs to know what exactly the problem is. Diagnosing the problem is the first step. So the first step is to check whether you are getting google maps can't connect problem or google maps extremely slow or app is not opening in the smartphone.
Google Maps Not Working on Android Solution
Now you know whether your google maps is working slow or it not working, we can work accordingly. There are numbers of reasons which can cause these error in android phone. We had listed all the possible reasons along with the solution. So without wasting more time, let us jump into the reasons and solution to fix maps app.
Weak Internet connection / Wifi Signal
The first and foremost thing that is required for Google maps is an active Internet connection. Maps require Good and high-speed data connection. If you are in an area with a weak data network coverage then you will face google maps extremely slow error. In this case, here are some of the steps that you can follow to tweak your network
Pull down the notification bar and Toggle ON and OFF Airplane mode to refresh the mobile network and check if you are getting a proper internet connection.
If you have an active data pack in another sim slot and try switching network.
You can toggle the wifi option in mobile to refresh the wifi connection.
You can use the internet meter option or internet speed checker to check if your internet speed is fast or slow.
If trying about data, you can conclude whether you internet connection is stable or not. If your internet connection is not weak then proceed to next solution.
Is Google maps still down?
Not every time its you, sometimes google maps is down and hence you are not able to access the app. Server down problems can be of any website and even the giant tech website such as Twitter, Facebook, Instagram and WhatsApp had also reported downtime several times. So if you are facing a problem is accessing google maps, then do check if Google maps is down or not.
To check server status or up time status, there are various tools and websites are available. Among those, you can try
Which I actually us to check website up time. Server down problem is always temporary and last for couple of minutes. You can wait for sometime and again try. I
Restart the device
In many sitution it is observed that some of the phone service get stopped while using phone and that cause error to user while opening apps. The simple solution you can try is restart your phone. As you restart your phone, all the phone system services get restart and it is observed that maps not opening error is also fixed.
So long press your phone power button and try rebooting/restarting your phone and check if your problem is fixed or not.
Turn on Location permission for Google Play Services.
Google maps required location permission to work properly. As you open Google maps, it will ask you to grant location service permission. Check whether you had Allow maps app to use your location service i.e. GPS and to do so check if your GPS is on or not. You can follow the below steps to grant permission to the android app.
Steps to enable GPS in android phone.
Unlock your phone and go to the phone setting and then tap on apps.
Now scroll and search and open Google maps.
Now open the permission option to see all the permission required for the app.
Now grant permission to Maps to access your GPS service.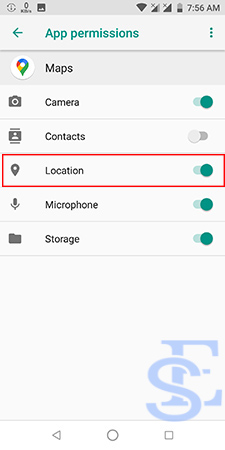 Note – There is an alternative way also in which you don't need to navigate to the particular app's information to check permission. You can check all the apps that can access your phone location service.
Steps to check App-level permission
Unlock your phone and go to phone setting and then tap on Security & Location
Now open the Location option under the privacy section.
Then click on App-level permissions to view list of apps that have location service permission.
Scroll and search for Maps and make sure, permission is granted.
Turn on High Accuracy Mode
There are basically three modes of GPS that determine the accuracy of GPS and it is also found to be a working method to fix google maps error. Steps to enable High accuracy mode are given below.
Open phone setting apps and navigate to Security & Location.
now tap on Location under the privacy section.
Now tap on mode and select High Accuracy Mode.
Now toggle on and off the GPS/location option from the notification bar.
In this way, you can change location mode in android phone. Now check if your problem is fixed or not.
Clear data and cache of Google Maps app
Android apps save data while the user is using the app which is helpful for the apps. In some cases, these saved data and cache are responsible to cause errors like slow app performance and freezing of apps. So we need to clear data of the android app to fix that. Instruction to clear data is described below.
Steps to clear cache and data
Firstly unlock your phone and go to settings.
Now scroll down and search for apps or apps manager.
Now scroll and search for Google Maps / Maps and open it and then tap on Storage.
Now click on Clear cache and relaunch the Maps app and check if your problem is fixed.
If the problem still persists then click Clear data and check if your Maps is working fine.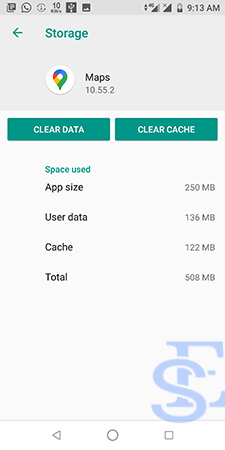 Remove Google account and relogin
Google apps require a google account to work and if there is some problem occurred with google account, this can occur problem in Google maps as well. It has been observed that relogin had fixed the problem and to relogin, we need to remove google account from android apps.
Steps to remove Google account from Android
Firstly open the settings app and then open the account.
Here you will find all the accounts logged in to the device.
Find Google account and open it.
Now click on Remove Account and you are done.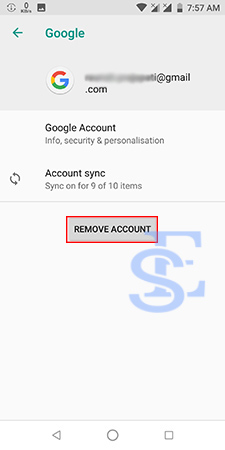 In this way, you can remove your google account from your mobile. Now open Maps and it will ask you to log in to your Google account. After login, check if your problem is fixed or not.
Update Maps app to fix google maps navigation not working
The maps app is a product of Google and it comes pre-installed in all android phones. Google is constantly pushing updates to improve the maps app and sometimes it discontinues older versions. It is always preferred to have updated apps to have the latest features on the app and updated also improves the stability of the app. If you have an older version of the android app then there is a probability that this is causing the problem. Here are the steps to update the app on an android phone.
Open Google play store on your android phone.
Now tap on the search bar and search for Maps and open it
Here you will option to update. Tap on it and update it.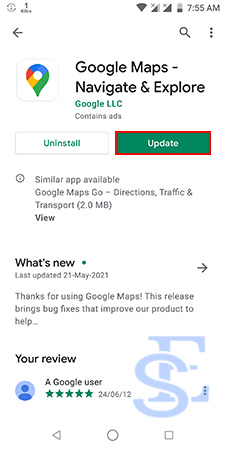 Now open maps and check if your problem is fix or not. If not then proceed with the below steps.
Factory reset your Android phone
This is the last step which you can follow if none of the above methods are ineffective in fixing the error. If all the above methods had not fixed your problem then there may be some error occurred in the system file which can fix other than factory reset the android phone. Instruction to factory reset android phone is listed below.
Steps to reset android phone
Firslty unlock your phone and go to settings.
Now open backup and reset
Now select reset android phone, click on allow and enter password
Wait for couple of minutes and allow the process to get completed.
Note – Every mobile user interface is different and you won't find the exact option but the process will be nearby the same.
FAQ (google maps navigation not working on android)
Why my google maps on android not working
There are several reason that can be behind this error. Try reseting your mobile and check your internet connectivity. These are the most common reason for this error.
Why is google maps so slow
Cache can be the reason behind slow working of your app. You can clear app cache and additionally, you can clear ram on android phone.
How to improve your location's accuracy
Different modes are available in android phone for GPS. You can turn on High Accuracy Mode to improve your location's accuracy.
Wrapping Up
This was the detailed tutorial on how to fix google maps not working on Android phones. Make sure you follow all the steps in sequence as sticking to this pattern will help you to fix the issue with less effort. If you have a problem following the article or you are stuck with any step and facing google maps problems on android then feel free to use the comment section, we will help you to fix your issues. Join our Facebook group, Android And Windows Errors Solution where we discuss problems related to windows and android apps and also follow our Facebook page Solution Exist.