Whatsapp keeps on updating but there are some features still remain to be added which are almost like a basic feature like how to hide chat in WhatsApp. Hide WhatsApp conversation is the most common question that remains in the mind of WhatsApp users and WhatsApp is still lacking behind in providing how to lock Whatsapp chat.
There are other android messaging apps available over Google play store that allows you to hide particular contact messages. Among those apps, I had use Hike messaging app. Hike messaging app allows you to create secret locker where you can add the contact and whenever that contact sends you a message, they will not be seen in the app's main chat screen, instead, it will appear in your secret locker. By this, you can have privacy.
But no need to worry, Yes! WhatsApp has a feature to archive Whatsapp chat but that is not a solid way to hide your private chat. Many of you are in search of hide WhatsApp chat in android.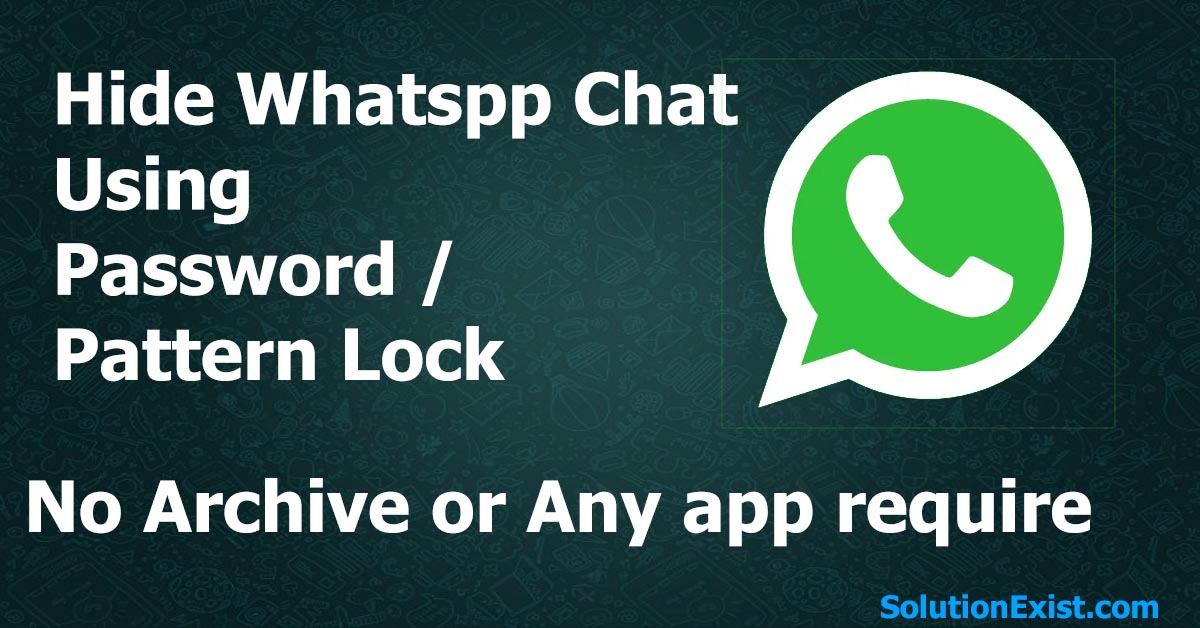 Well, there is a method to hide WhatsApp chat using archive but that is not I am fond of. Everyone knows this archive WhatsApp message methods and we don't have that level of security also. Today in this tutorial we are going to see both the method, whatsapp archive chat method, and the secret method also i.e. hide WhatsApp chat with password. This method is of hiding WhatsApp chat without archive and also hide WhatsApp chat without application. By using this method you can easily hide your WhatsApp personal chat with password or lock whatsapp chats with apassword. Solution Exist had posted various WhatsApp tricks like How to Set Blank WhatsApp Status So without wasting more time start reading the steps and enjoy hiding whatsapp chats.
Steps to hide WhatsApp chat without archive
Step 1 – Firstly you need to download GbWhatsapp in your android phone –
This GbWhatsappp will allow you to have two WhatsApp account in your android phone.
Step 2 – After installing Gbwhatsapp on your android smartphone you need to set up your account by verifying your number and had to do all steps that you do after installing Whatsapp. Also Read – WhatsApp Plus Apk Latest Version [Anti Ban]
Step 3 – Now long press on the WhatsApp chat that you need to hide. You will see three dots on the top right corner.
Step 4 – Click on those dots and you will get some options. Click on hide [See the screenshots for reference]. As you click on the Hide option you will get pattern lock screen. Setup password, this you will need to unhide WhatsApp chat and also to see messages from that contact that you will hide.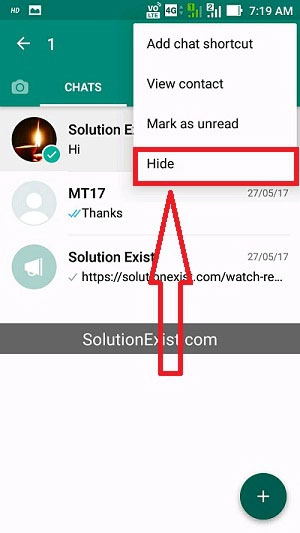 Also Check – How to Set Blank WhatsApp Status

Step 5 – After you setup pattern lock your chat will be hidden. Click on the Whatsapp Text placed at top right side. You will see pattern lock. Enter the correct pattern that you had enter while setting up the lock and then you can see the Hidden/ locked WhatsApp chat.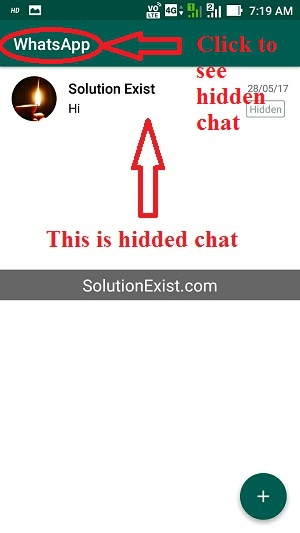 Step 6 – Done..!! In this way, you can easily hide WhatsApp chat without any application / Lock WhatsApp chat with password. This WhatsApp hide chat option is really awesome and I personally use this feature.
In case you are using Whatsapp then the above method won't work. So for those, there is another method to hide chat in WhatsApp.
How to hide chat in WhatsApp – How to hide chat in WhatsApp
Open WhatsApp on your phone. You can use android as well as iPhone as this trick works in both
Scroll to the WhatsApp chat to whom you want to hide
Now tap and hold that chat for few seconds till, options at top appears
Now click on the Archive button
Done..!! You had successfully hide chat in WhatsApp.
This manual method to archive method is tiresome, what if you want to archive all WhatsApp chats? Here are the steps to archive all WhatsApp messages in one single click.
Archive all chats on Android
Step 1 –Open WhatsApp in your android phone and tap on the Three-dot button.
Step 2 –Now tap on Settings by tapping.
Step 3 –Now tap on Chat and then tap on Chat History
Step 4 –Here you will find the option to Archive all chats, in this way you can archive all chats on android.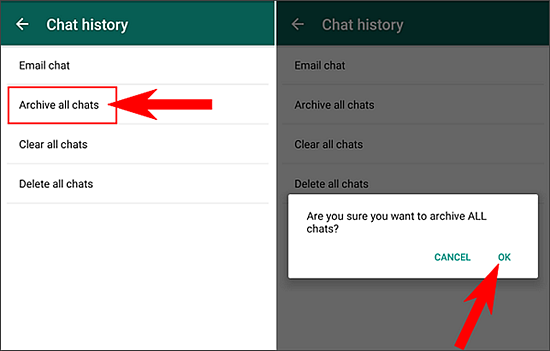 Hide WhatsApp chat in iPhone | archive Whatsapp chat on iPhone.
We there is one method which works in iPhone as well and allows iPhone users to hide WhatsApp chats in iPhone,
Open Your WhatsApp app in iPhone
In the Main Chat screen, slide a finger over the chat that you want to hide.
Now tap the Archive icon.
In this way, you can hide WhatsApp chat in iPhone. This method is not that reliable and you need to pay special attention to the note written below.
Note – Archive chat feature:
1. Archiving WhatsApp chat does not delete the chat and chat will still be available on the phone and can be accessed at any stage.
2. Archive chats will not be included in backup in local or google drive. You need to unarchive chat inorder to take WhatsApp chat backup.
Can we hide a chat in WhatsApp?
Officially, there is no option to hide a chat in whatsapp, but there are some methods avaliable which can help you to serve this purpose easily.
Whatsapp message hider app
Official, whatsapp doesn't allow feature to hide chat or to have whatsapp secret chat, but you can use Gbwhatsapp which allows you to do this.
What happens if you archive a chat on WhatsApp?
Whatsapp allows you to archive chat on whastapp which basically means that thoese whatsapp conversation will be hide from the main menu. You can unarchrive them lateron and wheneven you needed.
How to hide messages on iphone
Like android, iphone version of whatsapp also doesn't have option to hide whatsapp message on iphone. iPhone user can archrive whatsapp chat. Long press on the chat you want to hide, then click on archive.
How can I hide someone on WhatsApp without blocking them?
To hide someone, you can either archive the chat or you can delete the contact number so that you won't see that contact on whatsapp.
Wrapping Up
This is the simplest way to hide Whatsapp chat without archive and also hide WhatsApp chat without any application. I totally recommend this to you as I personally use this feature to hide my personal chats on Whatsapp. In the meantime, you can read How to use Two Whatsapp Account in One Android Phone [Dual Whatsapp]. If you face any problems during the procedure feel free to comment below. Solution Exist will be happy to help you. Join our Facebook Group Android And Windows Errors Solution and Follow or Facebook Page Solution Exist to be updated with Solution Exist awesome articles.