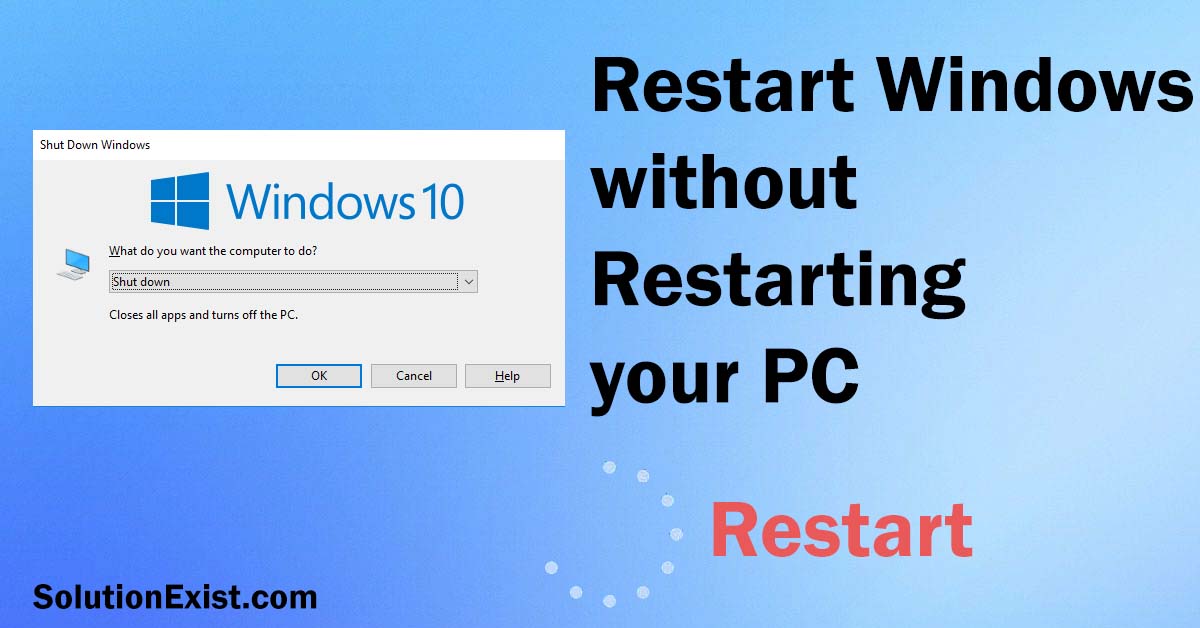 Some software needs your computer to restart after installing it or uninstalling it. If you are in hurry and don't want to wait for a restart of  computer the this article will help you. Solution Exist will teach you How to Restart Windows without Restarting your PC which can also be consider as Restart windows without rebooting it. You can also say how to do hot reboot you computer. This article is specifically for windows XP users and it will not work in windows 7 or upgraded windows OS. Also read- Change virtual memory to Speedup PC.This tricks of Hot Restart windows is mostly useful while you had to install antivirus in your computer. That installation of computer need restart to run and scan you computer, at that time this is a Time Saver. To learn Restart Windows without Restarting your computer all you need to do is just read and follow the below steps.
Reboot Windows 10 without restarting computer – restart computer from task manager windows 10
If you are a windows 10 user then we have a tutorial for you to Restart Windows 10 Without Restarting Your PC. Basically the thing in these method which we are going to do is, we will restart the windows explorer. Restarting windows explorer need to restart PC, so to save time, we will kill windows explorer and this will resule in restart windows without restarting pc. So without wasting more time, lets get to the steps
To start withe the procedure, we need to open task manager. You can either Right click the Start menu and search for task manger and open it or press CTRL + Alt + Delete which is a shortcut way to open task manger in windows.
Now list of open process will be shown, scroll down and search for Windows Explorer
Now Right-click on the task and select Restart.
In this way, you can Restart Windows 10 Without Rebooting i.e. restart computer from task manager windows 10. This tutorial is also helpful if you want to restart windows explorer. In case you are not using windows 10, you can read the tutorial to do this in windows 7,8 and XP
Steps to Restart Windows without Restarting your PC – Windows XP
When you click on the SHUTDOWN button, make sure to simultaneous press SHIFT Button.
If you hold the Shift key down while clicking on SHUTDOWN button, you computer would restart without restarting the Computer.
This is equivalent to term "HOT REBOOT".
Wrapping Up
This was the simple tutorial on Restart Windows without Restarting your PC. This tutorial is also helpful if you are searching for how to restart windows explorer. Hope you likes out tutorial. I personally used this many times. In meantime you can read Hidden Programs In Windows XP you can also read exclusive tricks to use WhatsApp in PC. If you have any doubt while following the tuturial then feel free to use comment section, we will help you with that.