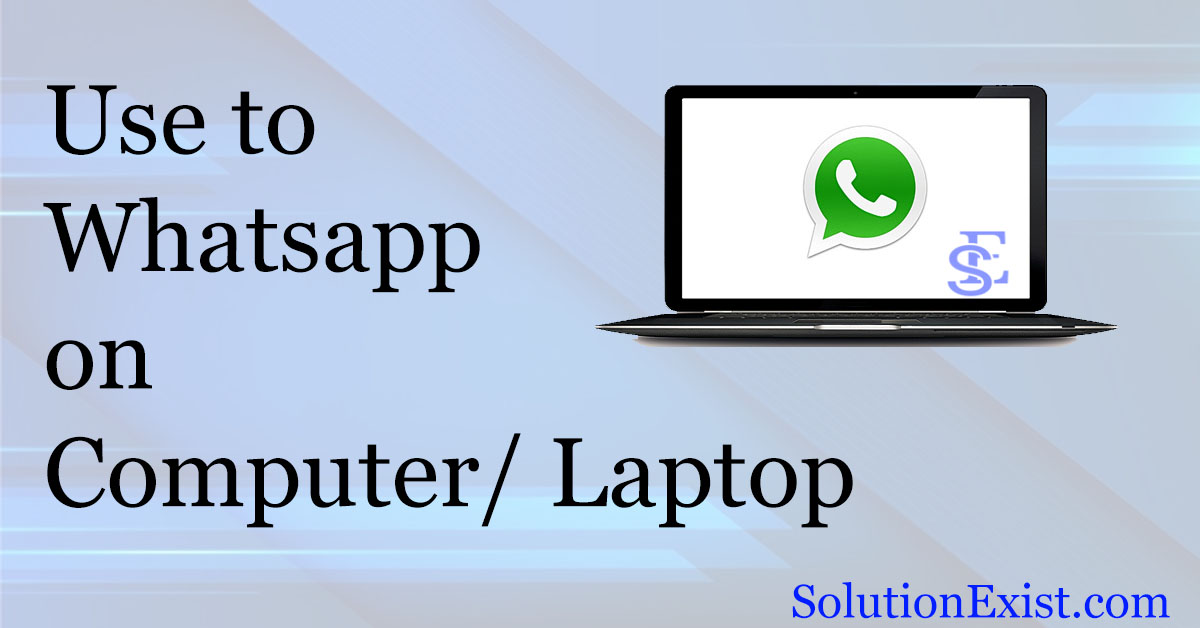 Hello, solution exist readers, WhatsApp is the most popular mobile messaging application nowadays on all mobile platforms, even on Symbian. We are using WhatsApp now it is now becoming more popular after the android phone market has increased. You might be thinking when we can use WhatsApp in phone or whatsapp in smartphone then why we are making a tutorial on how to run Whatsapp in pc. The reason behind posting this tutorial on how to run WhatsApp in computer is sometimes it may happen that you don't have smartphone near you and you are in need to use whatsapp at that time this new WhatsApp tricks on how to use WhatsApp in pc will help you to open whatsapp in pc. Check out all  WhatsApp Tricks Tips Hacks For Android & iPhone. Solution Exist will teach you how to use WhatsApp in PC. To use WhatsApp in PC we are going to use a software name bluestack. Now without wasting more time start reading the steps to use WhatsApp in laptop.
Whatsapp for PC how it works?
Yes, WhatsApp for windows does exist which enables you to install WhatsApp for PC free download in your windows computer and allows you to use whatsapp in windows PC. There are other methods too which will serve the purpose so without waiting, start reading the methods and use whatsapp for PC windows.
Methods to Steps for running WhatsApp In PC
Use WhatsApp using android emulators
Use WhatsApp using WhatsApp software in MAC and windows
---
# Method 1 – Whatsapp on PC Using Android Emulators like BlueStacks – BlueStacks whatsapp
BlueStacks,  a free application for Windows that can run applications such as WhatsApp for Android on Windows and that too, providing user with a much better interface than android emulator. It can be used to download any application available on the Google Play Store.
So, before we start, download BlueStacks on your computer (link below):
Download: BlueStacks (257 MB)
Step 1. Install BlueStacks
Once BlueStacks is downloaded, install it on your PC. This is how it looks once you are done:
Step 2. Download and Install WhatsApp in Computer
At the center of the application, you can find a search bar. Type "WhatsApp" and click the Find button. Click on WhatsApp and wait for a while until the download is completed. It will be automatically installed after the completion of the download.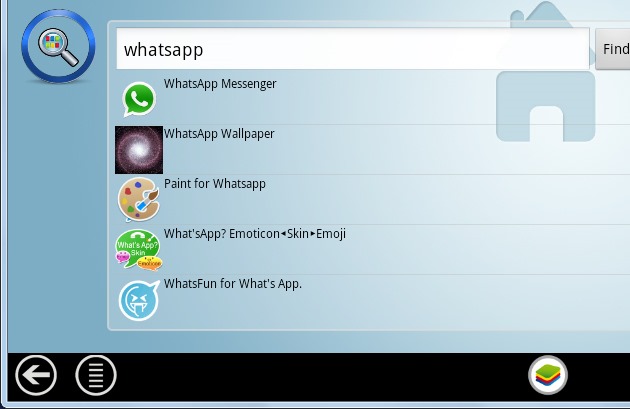 Now, open WhatsApp. Then, click on Agree and Continue button.
Don't forget to read – Two Whatsapp Account in One Android Phone [Dual Whatsapp]
Step 3. Activating WhatsApp in Computer
In WhatsApp, your mobile number is your unique identity with which people can contact you on WhatsApp. Choose your country and enter your mobile number. As of now, WhatsApp thinks that you're using a mobile phone and will send an SMS to your number from its web server. Upon receiving the SMS in your inbox, your mobile number would be verified. (Click on image to see in original quality)
Wait a second!! How are you even going to receive an SMS on a computer? HAHA now, here comes the tricky part. We'll take an alternative route, to be called – 'voice verification'. WhatsApp will wait for 5 minutes expecting the verification SMS to arrive on your computer and then prompt for an alternate way for verification. Wait for those 5 minutes to get over. (Click on image to see in original quality)
Step 5. Fooling WhatsApp
After 5 minutes, WhatsApp will prompt for voice verification. Click on Call Me button. WhatsApp will dial your phone and you will hear an automated message with a 3-digit verification code, note it down and enter it on WhatsApp. Your number will now be verified,!! Congrats!! (Click on image to see in original quality)
Now, Just enter your Name and hit enter. Wait Wait..!!  Now, we've got one final problem to deal with – Adding contacts.
Step 6. Adding Contacts
For adding new contacts, hit the menu button present in lower right corner and choose Contacts.
Now, Just enter your Name and hit enter. Now Adding contacts is the last option to do.
Enter the name and mobile number (WhatsApp) of your friend who is also using on WhatsApp. (Click on image to see in original quality)
And you are done…!!! This was the tutorial on WhatsApp for PC using Whatsapp on pc using bluestacks
Method 2 – Run WhatsApp In Windows PC using whatsapp software download – Install whatsapp in PC
Whatsapp for attracting WhatsApp users had launched WhatsApp software for Windows/MAC Systems. To use WhatsApp in computer all you need to do is download WhatsApp for PC software from WhatsApp official website.
Whatsapp software for PC is available for both windows and mac users.
You might have noticed that the minimum requirement for using WhatsApp for PC is windows 8 32 bit but not to worry, you don't need any special WhatsApp for PC windows 7 software or WhatsApp for PC windows 10. Simply download WhatsApp for windows and it will work for sure in all windows version. I personally had tested In this on Windows 7 and it is working completely fine
Firstly download WhatsApp software and install it in you windows
After downloading open this software and you will see QR code.
Open WhatsApp in smartphone and click on setting and tab on WhatsApp web
scanning the QR Code box will be open, which is similar to use WhatsApp web in internet browser
Scan the QR code and WhatsApp will be open in WhatsApp software.
Note- Make sure you keep data in your smartphone on to use WhatsApp in computer
Wrapping Up
We are done!! hope you had learned how to download WhatsApp for PC for free and had Enjoy Whatsapp on PC.  These methods are not limited to install WhatsApp in PC, You can also use these methods to run whatsapp in laptop. Let us know your views in the comment section. You can use this method to run WhatsApp in computer and this will help to have WhatsApp when you don't have your mobile and you need WhatsApp. You can also read the tutorial on – How to use Multiple WhatsApp accounts on Computer. In the meantime, you can check How to Set Blank WhatsApp Status. Hope you like our work, share this with your friends to appreciate us and to make them aware of this method.