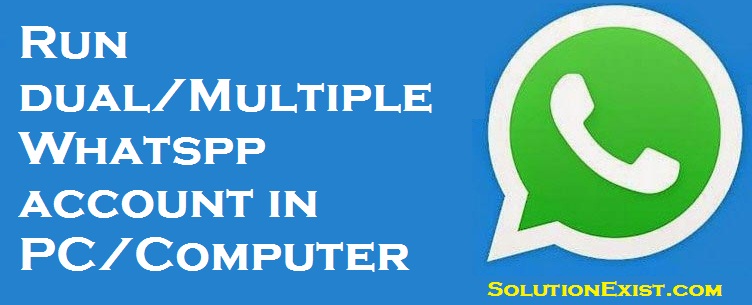 Solution Exist has provided you dual whatsapp in android phone and now are up with How to use Multiple WhatsApp accounts on Computer. If you have dual WhatsApp in android phone and you want to use multiple WhatsApp in your computer then you can use WhatsApp account using web.whatsapp.com but you can't use dual WhatsApp in Pc. So in this tutorial Solution Exist will help you to have multiple whatsapp in pc.
Solution Exist, in the previous post had posted how to use Two Whatsapp On iPhone Without JailBreak  not only this we had posted various Whatsapp tips and tricks like Hide whatsapp chat without Any App. So without wasting more time lets jump on the steps to use 2 WhatsApp in 1 computer.
What is Whatsapp Web?
Whatsapp web is a service by WhatsApp which will help you to use Whatsapp in pc or WhatsApp in a computer. As Whatsapp is growing because of the users and also the peoples are using dual sim phone they are having multiple WhatsApp account. The reason for finding 2 WhatsApp in android or 2 whatsapp in 1 ios devices is that people are using 1 number for work and 1 for personal use. Solution exist has previously provided the solution to use multiple WhatsApp in android and multiple WhatsApp in ios but people request us to post 2 whatsapp web in pc. So Solution Exist is posting dual WhatsApp account in pc.
Steps to use Multiple WhatsApp accounts on Computer
Firstly you need to open web.whatsapp.com in your internet browser. This web.whatsapp.com will help you to use whatsapp in computer.
Now scan barcode and your WhatsApp acount will be open in your web browser. (Click on Image to see Full size)
Now to open new whatsapp account in Pc then you need to click on three-dots (In Google chrome) on Right side top corner and click on New incognito Window and new tab will be open.

Open 

web.whatsapp.com

 and scan the barcode of another WhatsApp account in that tab
Done..!! In this way, you can use two WhatsApp in Pc.
Note- Dual whatsapp in Pc in Google Chrome will be save but in WhatsApp account in incognito will not be saved as it disables browsing history and the web cache.
Wrapping Up
This was the tutorial on How to use Multiple WhatsApp accounts on Computer/laptop / PC. Hope you are clear with the topic how to use dual WhatsApp accounts on a computer. this is how you can use two different whatsapp web accounts in same browser and can use more than 6 Whatsapp account by using browsers like Mozilla Firefox, Google Chrome, Opera, and others. If you still face any problem in using dual WhatsApp in pc then feel free to use the comment section We solution Exist will fix your problem.