The messaging platform WhatsApp has revolutionized the way we communicate. In an effort to provide users with even greater convenience, WhatsApp recently announced the introduction of a new feature: the WhatsApp Proxy. In this article, we are going to learn how to use WhatsApp proxy in android and iOS devices.
This new feature is a powerful tool that allows users to stay connected with their contacts while maintaining their privacy and security. It gives users the ability to make calls, send messages, and access other services without revealing their identities or locations.
It also allows use to bypass any restricts if country is imposing on the use of whatsapp.
We had posted various WhatsApp tricks for android and iphone so if you are in search of exploring trick of whatsapp, do read that post.
Prior to get into the tutorial, lets learn what is the meaning of proxy and what are the need of this feature in Whatsapp. So without wasting more time, lets continue with the article.
What is a proxy and how does it work?
A proxy is a server that acts as an intermediary between you and the internet. It can be used to protect your online privacy, mask your IP address, and bypass regional restrictions. Understanding how a proxy works is important for those who are interested in staying secure online or accessing content from abroad.
What is a proxy in WhatsApp?
A WhatsApp proxy is a specific type of proxy that has been optimized for use with the popular chat application. By connecting through a WhatsApp proxy, users can access all of their favorite chat features while enjoying increased privacy and security.
The WhatsApp proxy uses sophisticated encryption technology to make sure that only authorized users have access to messages sent over the platform. Additionally, it prevents malicious actors from accessing user information and data stored on the app's servers.
How to use WhatsApp proxy on Android smartphone
Using a WhatsApp proxy feature on your Android smartphone can be an invaluable tool for staying in touch with family and friends. It is especially useful if you are living in a location with restricted internet access, such as China.
A proxy can help you to bypass these restrictions while still maintaining a connection to the outside world. Here's how to set up and use this useful feature on your Android device
Step 1: Proxy feature is a recent additional feature, so to start with, person should update WhatsApp app to the latest version.
Step 2: Now open WhatsApp and tap on the three dot button and then tap on settings.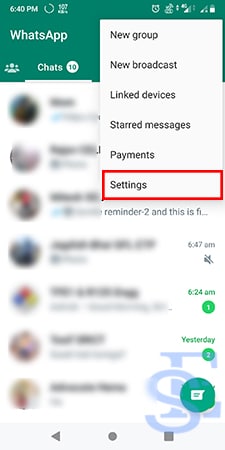 Step 3: Now scroll and then Tap on Storage and Data and then go to the Proxy option setting.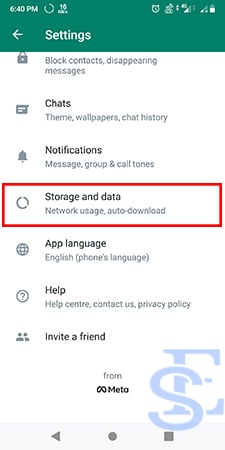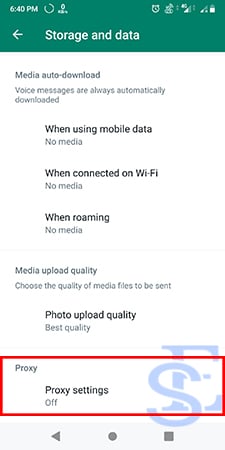 Step 4: Tap on proxy settings and then toggle to on Use Proxy.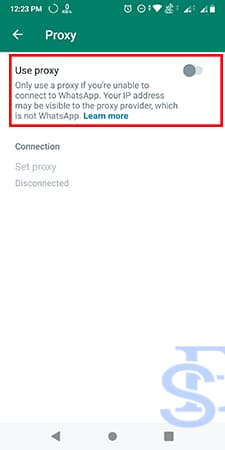 Step 5: Tap Set Proxy option and enter the proxy address.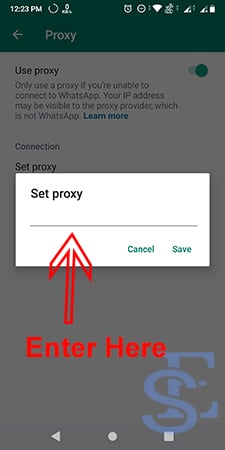 Step 6:  Now after entering proxy address, Tap Save.
Step 7: A check mark will show if the connection is successful.
In this way, one can use WhatsApp proxy feature in android phone. If you use iphone or any iOS device, we got the detatiled tutorial for you as well. Keep reading.
How to connect to WhatsApp proxy on iPhone
In above tutorial, we learned the steps to use WhatsApp proxy in android. Now if you are a iphone user then you can use this whatsapp proxy feature in iOS devices as well. Here are the steps that you need to follow.
Step 1: Unlock your iphone and Open to WhatsApp Settings> Storage and Data > Proxy.
Step 2: Now you need to Tap on use Proxy.
Step 3: Here you need to Enter the proxy address and tap save to connect.
In this way, you can use WhatsApp proxy in iPhone or iOS device. There are a number of advantages of using a proxy in WhatsApp but it also comes with some disadvantages. Keep reading to learn all of them.
What are the disadvantages of using a proxy?
When using a proxy server to access content on the internet, there are certain limitations that must be taken into account. For example, Whatsapp proxy is a type of proxy service used to gain access to the popular messaging app. However, there are some disadvantages associated with this type of usage.
One of the main drawbacks of relying on a proxy for accessing Whatsapp is security. While it can provide anonymous browsing and data encryption, proxies can also be vulnerable to cyber attacks if they are not properly secured.
Speed may suffer due to increased latency when using a proxy server as well as potential bandwidth throttling from ISP's due to increased usage from their networks.
FAQ (How to use WhatsApp proxy feature)
1. WhatsApp not working on proxy server solution?
Ans – Whatsapp Users may not be able to send or receive WhatsApp messages using a proxy, which may mean the proxy has been blocked. One may long-press the blocked address and select the Delete option to completely remove it, while also entering a different one to attempt to send messages.
2. How to find proxy server address on android
There are website that provides you proxy for your whatsapp at a very nominal cost. You can use that and remove all the restrictions.
3. How do I use WhatsApp as a proxy on my iPhone?
Whatsapp had a proxy featue introduce in whtsapp for iphone. Now you don't need to download any VPN for your iphone and you can do it within the app by accessing the path WhatsApp Settings> Storage and Data > Proxy.
Conclusion
This was the tutorial WhatsApp new feature WhatsApp proxy in android and iOS device. Hope the tutorial on how to use whatsapp proxy in android and iPhone. Before you use the proxy, do read the disadvantages of using a proxy. If you have any problem following the steps, feel free to use comment section or you can connect with us on Facebook Solution Exist.