In this world of tech, USB Transfer speed is very important as we transfer data a lot. If you are having pendrive with low transfer speed then this post is for you, Today we are posing a guide on increase USB transfer speed. We are always busy with Computer related transfer and sharing stuff. Even the Gamers Programmers and Movieholic persons are busy with data transfer work.
Previously we had posted various tutorials related to USB drives such as how to Use PenDrive As Ram in Windows 10, 8 & 7 in which with the help of Flash drive, we increase computer memory.
Data transfer becomes common and it becomes easier with the help of Pendrives. The things which sometimes kills the mood is Low Transfer Rate. Sometimes no matter whatever be the reasons i.e. The Pendrive's low transfer rate or any other we have to suffer from the waste of time because of low Transfer Rate/Speed.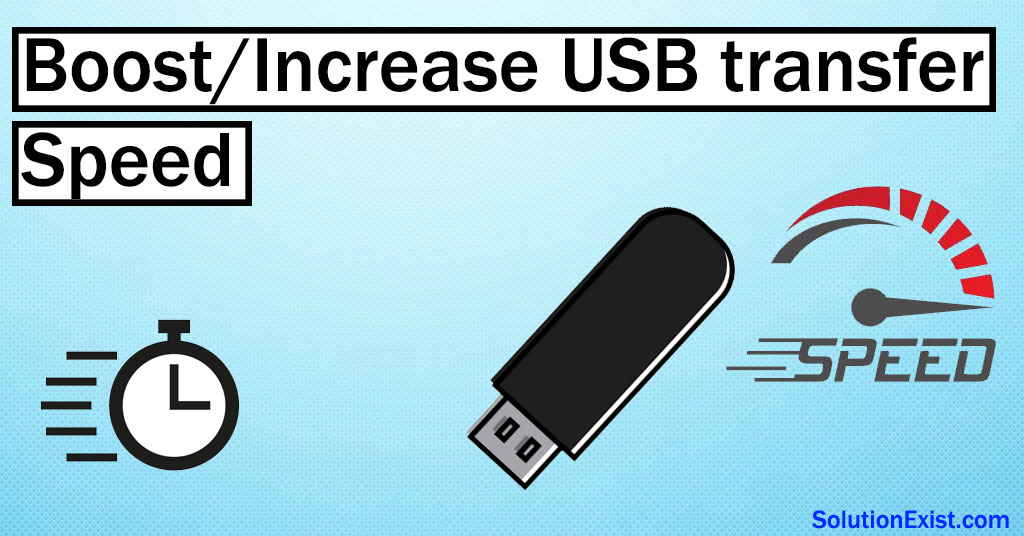 So, as you know that Solution Exist is Describing your problem means that they also have the Solution. Yea, you are right we are here with the solution and you know our Quotes that "We Don't Believe In Hardware restrictions", This tutorial will make your transfer rate/Speed of pen-drive 2 Times. This is personally tested by us so don't worry it will not cause any problem to your dear Pendrive
Methods to Fix Slow USB Transfer Speed
There are several methods which can be apply to improve data transfer speed and those are listed below.
Convert USB system from FAT32 to NTFS system.
Optimize USB Performance
Buy USB 3.0 and USB 3.1 drives.
Convert USB system from FAT32 to NTFS system
Windows system has two file systems i.e. FAT32 and NTFS. By default, USB drives are formatted using the FAT32 system as it is widely supported, but to have better transfer, NTFS is preferred. So in this step, we will convert the USB system from FAT32 to the NTFS system.
Firstly Open My Computer >> Right Click USB >> Properties
Then on the Hardware tab select the connected USB >> Properties >> Policies.
Now select "Optimize for Performance" option instead of "Optimize for Quick Removal".
Format the USB with NTFS System.
Done.
This was the simple tweak on how to improve transfer speed of USB. This was the one methods to improve read write speed of USB. Now proceed with the another following method to improve speed of pendrive in windows.
Optimize USB Performance | Increase USB Transfer speed
Windows operating system provides an option to optimize USB performance. By default, this option is not activated, so you need to activate it. Here are the steps to activate optimize USB performance option.
Firstly insert your USB drive into the USB port of your system. Now click on search option beside start button and search for Device Manager and open it.
Now Expand "Disk drives" in Device Manager, search USB device that you had inserted and then, right-click on your USB device and click on "Properties".
Now navigate to the "Policies" tab, check "Better performance", and under Write-caching policy, check Enable write caching on the device. Now click "OK" to confirm that you want to optimize and improve your USB transfer speed.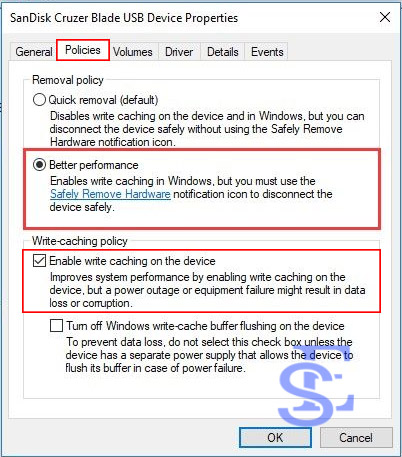 Buy USB 3.0 and 3.1 drive
Nowadays, USB 3.0 supported pendrive are also available in market which can help you to have better transfer speed in USB. So if you are planning to buy a new pendrive then this USB 3.0 can be the perfect option for you.
FAQ (How to improve speed in slow USB flash drives)
How can I speed up my USB transfer speed?
The speed of USB can be increase by two methods i.e. one depends on software and optimization and other depends on hardware. If your USB version is USB 3.0 or 3.1 and you are using it by inserting in USB 2.0 port, you will get lower speed.
How can I increase my USB 3.0 speed?
To increase USB 3.0 speed, firstly you need to insert it in USB 3.0 port and the other methods is to select a better performance from the policy setting.
Wrapping Up
This is personally tested by Solution Exist and i totally recommend you so Don't worry and start following the steps. It will be helpful to them By doing this small tweak you can increase USB transfer speed by 2X. So without wasting your time start with the process and enjoy your Pendrive with amazing transfer speed. You can follow us on Facebook Solution Exist which will help you to be updated with the latest solution exist update.