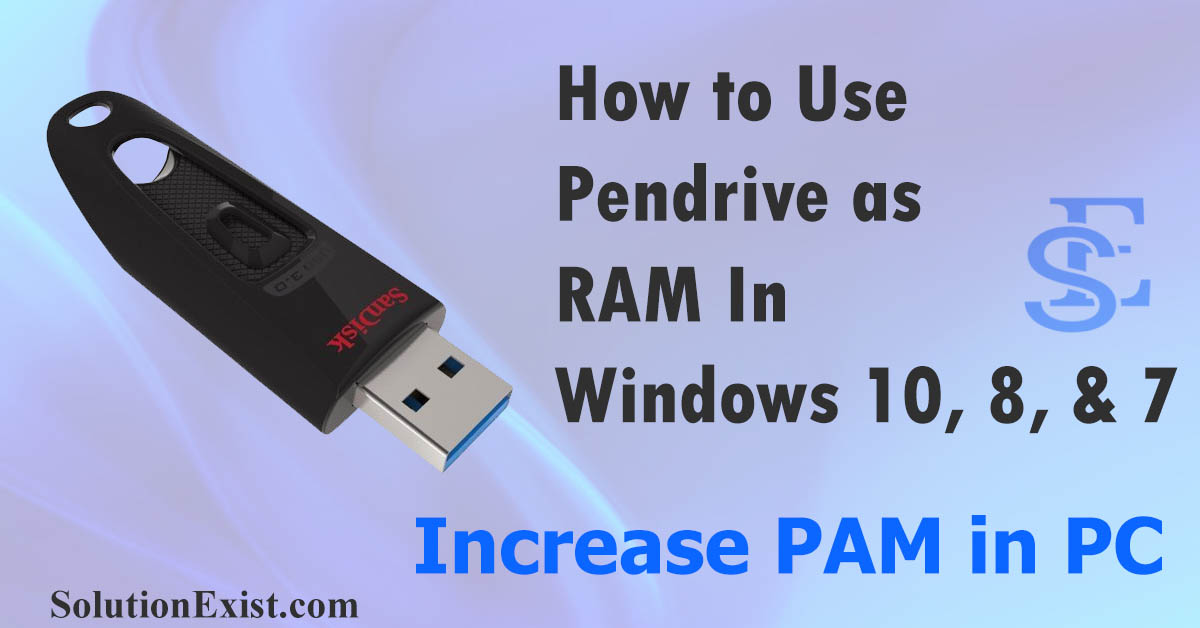 RAM plays an important role when it comes to computer performance. If your computer is having low RAM then its obvious that it is slow. If you are struggling with the problem of
 computer running slow
 then we are providing you the solution to fix slow running windows 10, 8, & 7. Solution Exist is introducing you with a concept of
Virtual memory
. This means that you can
increase RAM by using pendrive as virtual Ram
. So to increase RAM you don't need to purchase costly RAM from the market. You can use your
pendrive
to increase RAM and can boost you computer
speed
. You can also read our tutorial on
Boost/Increase USB transfer Rate/Speed
. Yes you heard it right, You can use USB/ pendrive as Ram in Windows 7, 8, 10. and for that also you don't need any additional software. This process of
increasing ram in laptop using usb
or increasing ram in computer using usb will increase Paging memory and some other functioning and hence your overall performance become good and some application also easily start running without any not responding issue. So without wasting more time jump to the steps and follow them.
Steps to Use Pendrive As Ram In Windows 10, 8, & 7.
 First Go To Control Panel from my computer or startup
Then click on System And Security and then System.
 Now click on "Advance System Settings" at left side
 Click on Settings and then go-to Advanced Tab and then Settings > Advanced
Now, you can see Virtual Memory, just click on Change
Here you have to uncheck "Automatically manage paging file size"
Now, click on your pen drive, and set the custom size.
 Ex. In 4 GB pen drive, 700 is the initial size and 3000 is the maximum size
Don't miss – How to recover deleted files from Computer hard disk
Note:- Use 10 mb less from the total available space of your pendrive. Example in 4Gb pendive,current space available is 3700 Mb then it is recommended to use 3690 minimum approx or even less as you can  to make your device safe and for better performance.
Recommended Points
You must use safely eject your Pendrive. Direct removal may leads to device damage.
In Virtual Memory method, If you want to convert back your Pendrive into Normal. Then again open Virtual Settings and remove custom memory value and choose Default settings by checking "Automatically Manage Paging Size".
Don't forget to read – Recover hidden files from virus infected usb pen drive Windows 10, 8, 7 and XP
In case you still need to purchase RAM then it is necessary to know RAM type in pc as different types of rams are available over the internet and you need to chose the right one. prior to purchase RAM, you can read the tutorial on Know RAM type in PC.
Wrapping Up
This was the guide on use pendrive as RAM and boost you computer performance so basically with this method you can increase ram on laptop for free. By this you can easily increase RAM in windows 10, 8 and 7. I am personally using this in to increase ram in windows 10 and also recommend you if your computer running slow windows. Read and follow the Recommended Point carefully to avoid any damage to your Pendrive.  If you face any problem in the process you can comment below we will help you.