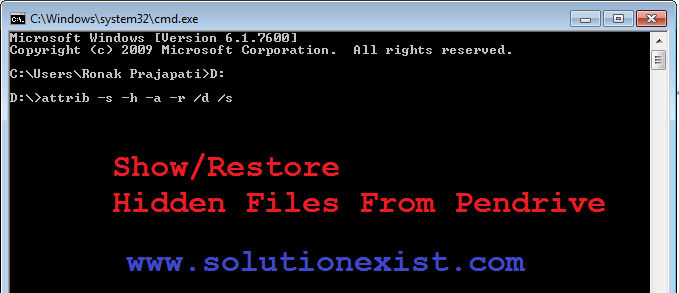 You all might had face various issue because of virus. Sometimes it creates problem to our data and files also as it hide all the files of Pendrive. You might had experience that you  take files from one computer and when enter in your computer is shows blank. This problem is very common. This method to show hidden file using command prompt will help you. Don't forget to check – How to recover deleted files from Pendrive / Computer hard disk. Solution Exist in this tutorial will help you to have hidden files and folder in your Pendrive using command prompt (CMD).
If you are facing this issue then don't worry today Solutionexist will provide you the solution how to to deal with this problem and get your data back. This process to show hidden file using command prompt is very easy just you need to read the steps carefully and this will make you successful in getting your data back. So stop wasting you time and start reading the below steps.
Steps To recover hidden files from virus infected usb
Click on start and Type

Cmd

in search.
Right click on it and select

Run as Administrator.

To view the hidden file, go to your drive first, type letter then colon (eg D: )

Like If your pendrive drive is D then type

D:

 

[Click on Image for Reference]

After that type attrib -s -h -a -r /d /s
That is it. Now you will get all the hidden files and folder as general files and you can use it.
Note:- If you are facing any issue then must check you are running CMD as administrator.
---
Don't miss the helpful tutorial on – How to Resize Disk Partition without Formatting
---
Wrapping Up
I personally use this method very frequently to recover hidden files from virus infected usb pendrive and this method is very effective when every your pendrive is got affected by virus and all files become hidden. You can use this method to show hidden files of pendrive and SD card also. Also read also read steps to Remove Virus Form Pendrive This is the easiest to show hidden file using command prompt. If you still face any problem then comment here we will help you.