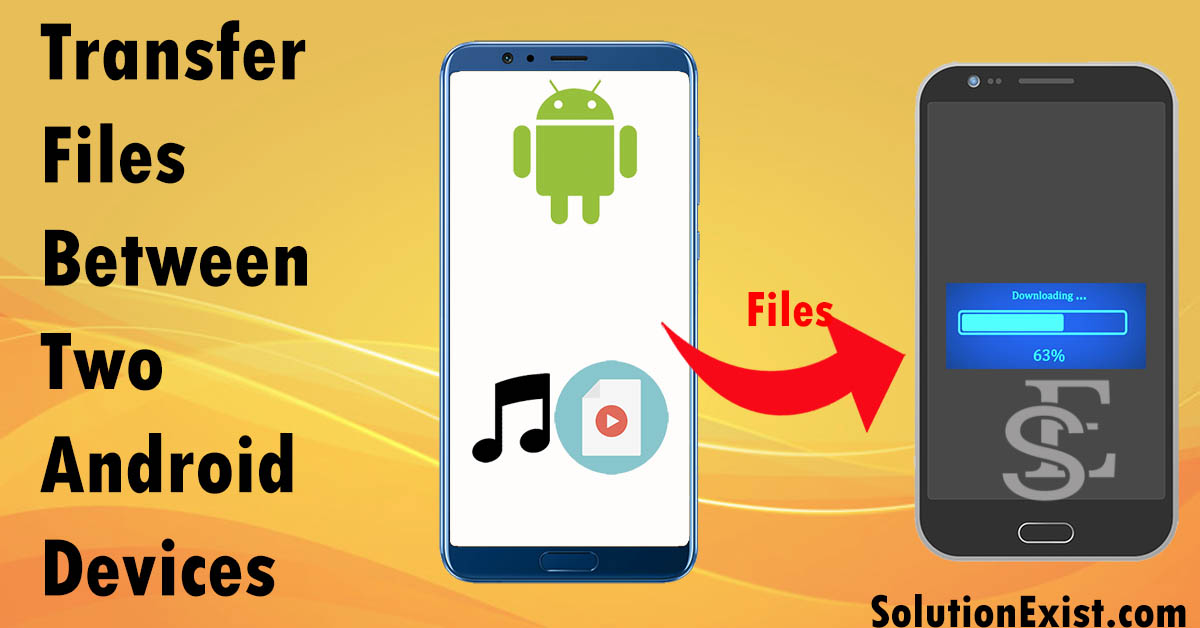 The sharing of files between the mobile phone is very old. previously sharing of files was done using Bluetooth.  Using Bluetooth in Java and Symbian phone we use to sharing music files, videos and other files. Now as technology is updating Android phone has now changed the market and transferring of files also changed from Bluetooth to WiFi.
On Google play store you will find a number of apps available that allow you to transfer data From Android To Android and these apps use WiFi. What basically these apps do is it makes one android device as Hotspot by turning in Wifi threatening / portable hotspot and it turns on other phones wifi. Apps connect both android devices with each other and hence we are able to transfer data from one Android to another.
As you know if you search for file transferring apps on Google play store you will get hundreds of app to download. So Today Solution Exist is sharing best Apps to Share Large Files Between Two Android Devices which will clear all the confusion which apps to download. This list of android apps also includes the apps that will share files between android and iPhone. So without wasting more time, let's jump into the article.
Best App To Transfer Files Between Android Devices
1. Xender: File Transfer, Sharing
Xender is an app that is avaliable for both android and IOS users. I personally use Xender to transer apps and file to another android mobile. This app will give you the fast and simple way to connect with your friend's mobile and help you to exchange files. Transfer speed will be between 4-5 M/S. So it is preety good speed. This android app will give you 200 times Bluetooth transfer speed. and Absolutely without mobile data usage.
2. SHAREit: File Transfer,Sharing
Shareit android app is another recommended app to transfer large files to another mobile. This SHAREit app is Top 1 downloaded App on Google Play in 15 countries and regions. Transfer files with flash speed Imagine sending your party video to friends in seconds! The highest speed can reach 10M/S but i had never seen more than 5 M/S.
3. SuperBeam | WiFi Direct Share
SuperBeam 4.0 is the easiest and fastest way to share large files between your devices using WiFi direct. Devices can be paired using QR codes (with the included QR code scanner) , NFC or manual sharing key (PRO). I had used this app before and it is preety good but this app is not common among people you to use this firsly you had to give this app to your friend before transfering files.
4. Zapya – File Sharing, Transfer
Zaypa will allow you to transfer files from Androids, iPhones, iPads, Windows Phones, Tizen, PCs, and Mac computers in an instant. It's not only about the speed, but it is also that there is no cost to the user. Zapya is super easy to use and supports multiple languages! File transfers have never been simpler. I personally using this app along with Xender. I mostly use this app to transfer files in Iphone 
5. Mesh it up! File Transfer
The simple, quick solution for secure file transfer and sharing, within seconds, without Internet – all for FREE!. Mesh It Up is the best file transfer tool to send large files. It uses the Wi-Fi hotspot technology to connect two or more devices for instant sharing. Send music, photos and videos through Wi-Fi sharing via hotspot; this doesn't require an Internet plan so you save data and money. The ultimate, quick file sharing application that will simplify your life. No use of your data plan, faster than Bluetooth, no cables, and you don't need cell phone service! Transfer between Android to iPhone at lightning speed!
Wrapping Up
These listed android apps are Top 5 Best App To Transfer Files Between Android Devices. I personally use Xender and Zapya. Although I use these two apps but personally I had used all the apps mention above and let me tell you frankly all apps are Best Apps To Share Files Between Two Android. These apps are also useful to transfer files between iPhone and Android. You can even use Xender app to transfer files between android and pc. In meantime you can check out – create direct download link from google drive. You can even follow us on Facebook – Solution Exist if you have any doubt.