Instagram post says preparing issue? This tutorial will help you to fix instagram reel stuck on sending or Instagram video stuck on sending on instagram.
The social world is incomplete without Instagram I guess and you might also agree to this. Instagram is an app the mostly used by the youth to share photos and videos about whats happing in their life.
Not only we like to share thing, but we also follow our famous celebrities and check what they are doing on daily basis. These celebrities influence and also encourage us to post photos and videos of our life as well.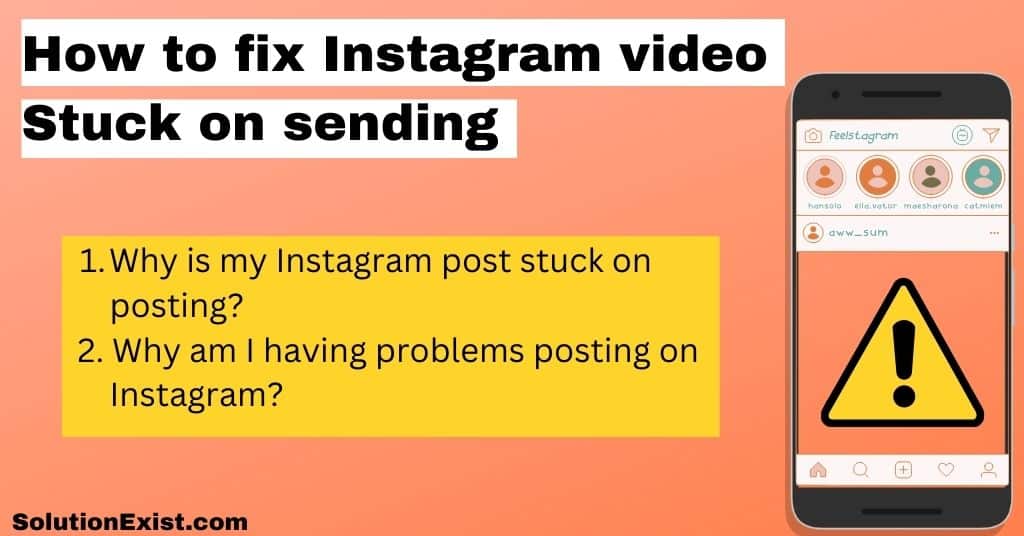 Instagram is now owned by Facebook and there are lots of incidences where Instagram users had reported various issues such as Instagram Not Posting Photos and vidoes or reels, Instagram message not sending messages and Couldn't load image tap to retry instagram.
Among those issues, today we are going to learn what are the ways to Fix Instagram video stuck on sending. Proir to get into the tutorial, lets us understand Instagram Won't Let Me Post! Why? Here are the reasons why you are facing posting issue in Instagram.
Reasons for Fix Instagram Reels stuck on sending
Poor internet connectivity
Incorrect date and time
Outdated Instagram app
Violate Instagram policies
Now, as we had learned what are the reasons for Instagram reels stuck on processing, let's dive into the ways to fix unable to post on the Instagram issue.
Ways to Fix Instagram video stuck on sending
Multiple reasons can be behind why Instagram videos are stuck on sending and we had learned above. Here we had provided the solution.
1. Check Internet connectivity | internet connection
Internet issue is the most basic and primary issues that can cause Instagram uploading issues. So the first step that youneed to take if your video is stuck while uploading on Instagram is to check you internet connectivity. If you have a poor data connectivity then it is obvious that you will face this error.
Try to put phone on airplane mode and then disable it and switch on data
Switch to WiFi if you are using mobile data or vise versa
2. Check Policy violation
Instagram app has some strict policies for the content i.e videos, instagram reels or photos that you upload. If you are uploading a instagram reel, photo or video that are not fulfilling instagram content policy then you might face reel not uploading on instagram issue.
So before you post any content on instagram, check if those are allowed as per instagram policy.
2. Restart Phone
This is a basic troubleshoot advise that anyone can give if you face any problem in phone. Surprisingly it works also in both iPhone and android phone.
Try restarting you phone and check if you problem is fixed or not. If not, then proceed with the solution described below.
3. Correct Date and time of your phone
Now all the apps whether its android or iOS app, all check date and time of the phone. If your phone date and time is not set, the apps might not work. A similar type of error can be seen in WhatsApp, Whatsapp users who don't update WhatsApp face errors while using the app. So here is the method to correct the date and time in an android phone.
4. Clear the Instagram app cache
It is observed that most of the instagram app error including instagram story stuck uploading got fixed after clearing app cache. Here are the steps that you need to follow to clear instagram app cache.
Step 1 : Open setting app in your phone and tap on Apps
Step 2 : Search for Instagram and open it
Step 3 : Now tap on clear cache to clear it
Step 4 : Now restart instagram app and check if your problem is fixed or not.
5. Check in another device
If you are facing this issue then you can check whether its your device problem or not. You can try login your Instagram account in other device and check if the problem is because of the device or not.
Try any other android phone or use computer to upload videos or Instagram reels and check in another device you are facing posting problems or not.
6. Update Instagram App
Android app developers keep on updating the apps for various reasons such as adding new features, fixing bugs and improving user experience. Some apps, after releasing new update, drop the support of the app and hense some of the features in the older app stopped working. In this case also, if your facing Instagram processing stuck issue then outdated app might be the issue. Here are the steps that you can follow to update Instagram app in you smartphone.
How to update Instagram app on android phone
Step 1 : Firstly unlock your android phone and open Google play store
Step 2 : Now search for Instagram in the search menu
Step 3 : Here you will see two options, uninstall or update.
Step 4 : Tap on update and your app will be updated to the latest version.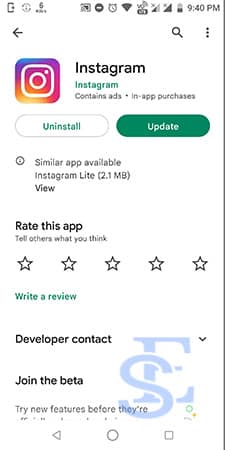 After updating Instagram app, open the app and check if your problem of Instagram video upload taking forever is fixed or not.
7. Reinstall Instagram App
If none of the above solutions works for you and still your problem is not fixed then the last step you can do is to reinstall Instagram app in your smartphone by clearing data as well. Here are the steps that you can follow.
Step 1 : Firstly open setting apps in your android phone and search for the apps option and open it.
Step 2 : Now scroll and search for Instagram and open it.
Step 3 : Now tap on uninstall to remove it from your android phone.
Step 4 : Now open the Google play store and search of Instagram
Step 5 : Now tap on install and as it gets installed, open and login to your account.
Step 6 : Now check if your problem of instagram posts stuck is fixed or not.
8. Contact Instagram Support
If after reinstalling also you are still left with the error in posting on Instagram, you need to try contacting Instagram support. Here are the steps you need to contact the support team of Instagram and report the problem that you are facing in your account.
Step 1 : Open instagram app in your smartphone.
Step 2 : Now tap on profile button and then tap on handburger icon.
Step 3 : Now tap on settings and then on Help.
Step 4 : From the options, tap on Report a problem.
In this way, you can contact instagram support team.
FAQ (Instagram video stuck on sending)
1. What to do when Instagram stuck on sending?
Ans – If you are facing video or reels stuck while uploading, here are the things that you can do to fix this Instagram issue.
1. Check Internet connectivity
2. Clear cookies
3. Try login to different platform or mobile
4. Update Instagram app.
5. Reinstall app.
6. Contact to the customer support
2. Why is my Instagram reel stuck on posting?
Ans – There can be multiple reasons why instagram reels are stuck on posting, the primary reason for this issue can be a poor internet connectivity issue.
3. Why do my reels get stuck?
Ans – If your reels got stuck while playing then this is because you have poor data connectivity. Try to get a better data signal or switch to wifi.
Wrapping Up
Hope you like the tutorial on how to fix Instagram video stuck on sending problems with the solution provided into the post. If you have any problem following those steps, feel free to use the comment section. In case you have any other solution that had worked for you then do share with us in the comment section which can help others as well.