Are you facing a problem in login to IRCTC? This might be because your IRCTC account suspended. This tutorial will help you to activate my IRCTC login ID.
Many of you had faced a issue while booking ticket online i.e. booking not allowed as your account has been suspended. In this tutorial, we are going to see what are the reasons for IRCTC account suspension and how to activate suspended IRCTC account.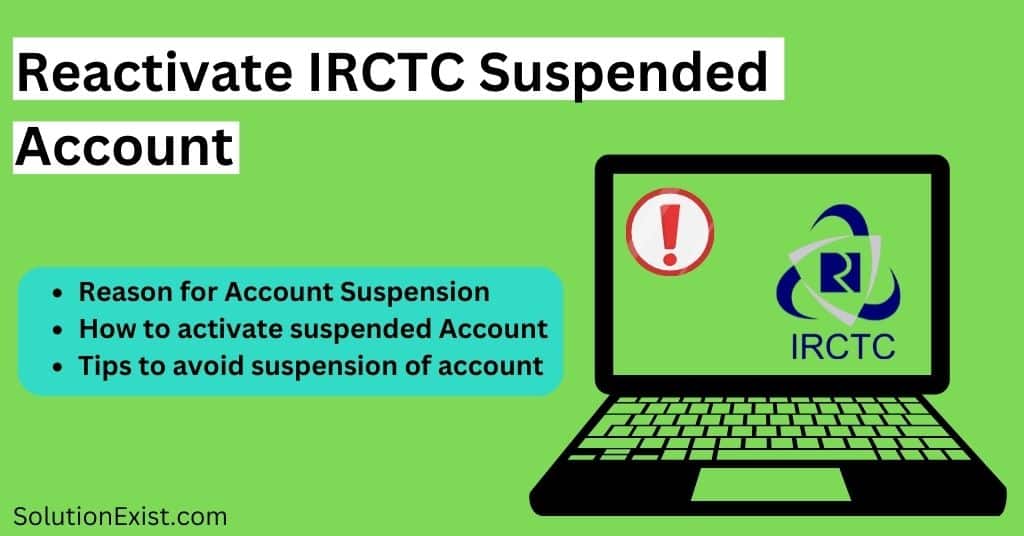 If you've been trying to book a train ticket on the Indian Railway Catering and Tourism Corporation (IRCTC) website and found that your account has been suspended, don't worry, you're not alone. Thousands of other users have been affected by the same problem. We had posted a tutorial on how to check train status on WhatsApp which will be helpful for you incase you travel a lot.
IRCTC has not yet given a clear explanation for why this is happening, but there are some theories. One possibility is that the suspensions are part of a crackdown on users who are violating the terms of service, such as using automated software to book tickets.
IRCTC Account suspended – Reasons
There can be multiple reasons for your irctc account being suspended. Here are all the reasons along with the process to activate IRCTC account. So without wasting more time, lets start with the process.
1. Incorrect or Unverifiable information
IRCTC website takes users information very seriously and any wrong information which can't be verified can leads to disable of your account. It is not that you purposfully entered wrong information in your irctc account, this may be result of typo error. So if your account is disable, then there is possibility that your entered infromation is not correct.
2. Using login script or Autofill Scripts
Booking railway tickets in india can be a tedious jobs as trains and seats are very limited in the train and we have to book tickets in advance. last moment seat booking can be done through tatkal seat booking and for that, your need to be very fast for entering passagner data.
To make this problem fix, there are lots of autofill scripts and chrome extensions like Magic Autofill are there which allows you to enter data in the apps and during seat booking, it autofills the data. Use of autofill extension is not recommended by the IRCTC account and hence your irctc account can be disable.
3. Frequently hitting on website
IRCTC is the only website in india which allows you to book train seats in india and hence the site experience huge traffic. Apart from the users, some hacker use bot and script to send fake traffic in bulk and attack website and make them down.
If you keep on visiting the website frequently and multiple time, there is a possiblity that the security system consider your activity as suspicious and deactivate or suspend your irctc account.
4. Fraudulent Activities
Lots of fraudulent activities had been seen during the years such as booking too many tickets and for different train for different persons, multiple canceling of booked tickets, multiple login credentials using from same IP address falls under fraudulent activities which can also result in su
5. No account Activity for a Very Long Time
If you had an IRCTC account and you are not using from a long time then IRCTC may disable your account. It is not necessarty to book rail ticket just to make your account active, you can login to your account also to keep your account safe from getting deactivate.
How to activate IRCTC suspended account
These are the reasons why your IRCTC account suspended. Now if you want to reactivate your account, we have a solution for this.we had learn what can be the reasons behind why your are Unable to book tickets online. Now let us get into the steps on how to reactivate a suspended IRCTC account.
Step 1 : Type an email consist of your IRCTC account username and password, email address and registered mobile number and ask them to reactivate it
Step 2 : Send that email to [email protected] 
Step 3 : Wait for atleast 4-7 working days.
Now incase you didn't receive any update on your email, then you can use the below steps.
You need to call IRCTC IRCTC Customer Support at 0755-6610661 or 0755-4090600, which is available 24*7 and ask them to reactivate your irctc account. If your account was disabled because of system glich, they will reactivate it within a week.
Tips to avoid an IRCTC account suspension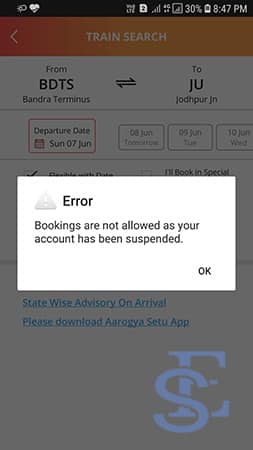 Hope the above tips had helped you to activate IRCTC Account, now to avoid irctc account suspended situation, here are some tips that you can follow.
IRCTC allows only six railway reservation with 6 members at a maximum in a month. If you want to book tickets for more then 6 in a calendar month, use a different IRCTC account as booking more than 6 rail reservations can be consider as fraud activity and your account can be suspended.
Don't use a chrome auto-fill extension or script. IRCTC system is efficient in detecting the use of extensions, so book tatkal tickets by following legal methods only.
Do verify all the details you enter in your IRCTC account. Don't enter any inforamtion which can't be verified. Double check while entering information, such as your email address, mobile number, and your AADHAR card address.
Remember to log in your account frequently or at least once in a month. No login for a long time can deactivate your account. Also, don't reset irctc account password frequently. Do note your irctc account login credentials at a safe and secure location.
FAQ (Irctc Account Suspended)
1. How do I reopen my suspended IRCTC account?
To reactivate suspended irctc account, you need to email to IRCTC support email address [email protected] or you can alos call IRCTC support helpline at at 0755-6610661 or 0755-4090600.
2. How to Recover Your IRCTC User ID & Password
Forgot IRCTC user ID and password? You can recover it with the below methods.
1. Check your email account and serach for the booked ticket or mail from irctc. It contains your user ID. But for password recovery, you need to follow below method.
2. To recover your user id and pasword, you need to open password recovery page and enter your user id, mobile number or email address. and proceed with the instruction.
3. Why is my IRCTC account disabled?
There is not specific reason for getting your IRCTC accountdisabled, here are all the reasons why your IRCTC account got suspended.
1. Incorrect or Unverifiable information
2. Using login script or Autofill Scripts
3. Frequently hitting on website
4. Fraudulent Activities
5. No account Activity for a Very Long Time
How to activate IRCTC account
To activate IRCTC account, you need to login to your account. Enter all the information such as email address and mobile number, you will get an account activation link in your email account. Open it for activation.
Wrapping Up
This was the tutorial on how to activate IRCTC suspended account and how to avoid getting your IRCTC Account suspended. If you have any problems in following the tutorial or facing any issues with your IRCTC account then feel free to drop a comment.