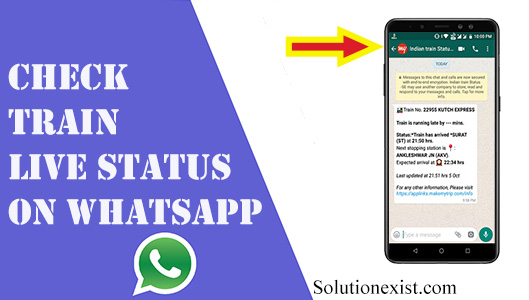 ChCheck train live status on WhatsApp: WhatsApp a messaging app is constantly updating itself and even the entrepreneurs are working to promote business on WhatsApp and providing service to the customers on WhatsApp.
To get customers easy touch WhatsApp had launched WhatsApp Business which is very popular among businessmen and company to provide better service to their customer. Not only the company is providing customer support as additional support on WhatsApp, it is the people who are liking this initiative to get service on WhatsApp.
Learn How to use two Whatsapp in one android phone WhatsApp keep on updating to provide a various feature which is making people to do every possible work on WhatsApp and the famous example of the WhatsApp is WhatsApp UPI payments. If you are unaware of how to activate the WhatsApp UPI feature in Android / iOS then follow our article How To Enable WhatsApp Payment Option – Activate UPI Payments in WhatsApp and get WhatsApp UPI to invite link.
If you travel a lot via Indian railway or you travel because your working place is in another place then must be knowing the value of time because just for couple of seconds you missed the train and because of this additionally 1-2 Hrs get wasted. So this tutorial on How to check train status on WhatsApp will help you to track you train timing and without using or installing any other android app you can Check train live status on WhatsApp. So without wasting more time
How to check train status on WhatsApp / PNR Status on Whatsapp
Fist;y update to the latest version of WhatsApp on your Android/iPhone
Now Save number 7349389104 to your phone address book / Save in contacts
Now open whatsapp and send either a train number or PNR to inquire about its status to the save number on whatsapp
As with all WhatsApp messages, the message will only be answered once the sender sees two blue ticks to confirm the receipt of the message, which, in this case will mean that it has been received by the IRCTC server
You will Receive an update within 5-10 seconds (Depends on Server of IRCTC)
Note– This is not Indian railway WhatsApp number for live status but this service is from MakeeMyTrip.
This will work to check IRCTC Train Running Status on WhatsApp hence this is for Indian users only
Video Tutorial on How to Check train live status on Whatsapp Message / PNR Status on WhatApp
Wrapping Up
Solution Exist keep on posting WhatsApp tips and tricks actively and hope you like our post on how to check train status on WhatsApp / PNR Status on WhatsApp or this also can be considered as Indian railway WhatsApp number for live status to get trains details on WhatsApp. Don't forget to check How to Set Blank WhatsApp Status. If you have any problem using this feature then may sure you make us hear via the comment section. Join our Facebook Group Android And Windows Errors Solution and Follow or Facebook Page Solution Exist to be updated with Solution Exist awesome articles.