As the use of the Internet is increasing, scams are also hiking. In this tutorial, we are going to learn what are latest WhatsApp scams and how to identify WhatsApp scam messages and report them.
WhatsApp scams are on the rise as the popular messaging app becomes a target for scammers. WhatsApp users are being targeted with fake offers, warnings and even threats. Scammers are using the app to trick people into giving them money or personal information. Some of the most common WhatsApp scams include WhatsApp scam job offer. fake offers, fake warnings, fake threats fake lotteries, fake charity donations, and phishing attacks.
WhatsApp is one of the most used messaging app. But recently there has been a rise in the number of people who get involved in WhatsApp scams. This leads to a loss of money and time of people. Today in this post, we are going to learn what are WhatsApp scam messages and how to avoid them. Previously we had posted various tutorials related to WhatsApp such as latest whatsapp tricks where we had posted differnent tricks that you can do on WhatsApp.
WhatsApp is a messaging app is although secure still not immune to scams. In this article, we'll take a look at some of the most common types of WhatsApp scam messages and how to deal with them.
This guide will teach you how to avoid Whatsapp scams. It includes everything from how to set up your Whatsapp account to avoid being a victim of a scammer, to how to check whether a message is legit or not, to how to report scammers.
What is WhatsApp scams? | Whatsapp frauds
Whatsapp scam is the newest form of phishing. In this type of scam, the criminals pretend to be the company and send messages or ask you to call them. If you click on the link or phone number of the scammer, you can lose your personal information, bank account, credit card and any money you sent to the scammer.
Why do scammers use WhatsApp?
We know that WhatsApp is one of the most popular messaging apps in the world. This is mainly because it offers free calls and texts within a certain country. Due to the huge number of people using WhatsApp, criminals choose to use WhatsApp to scam people. Criminals can easily find and use someone's WhatsApp account, it's easier for them to get all of their personal information. As it is easier for people to get WhatsApp numbers online by getting into the website's database where people use numbers to signup on to the website, scammers use WhatsApp to scam people on WhatsApp.
Now, we had learned what is WhatsApp scams and Why do scammers use WhatsApp, lets dive into the latest WhatsApp scams and how you can avoid being scammed on WhatsApp.
What are the latest WhatsApp scams 2022
Whatsapp scams are getting more and more common these days. WhatsApp is the most popular messaging app in the world. It's no surprise that scammers are targeting WhatsApp users with various scams. Here are some of the latest WhatsApp scams to be aware of in 2022.
1. Whatsapp phishing
WhatsApp, the popular messaging app, is being used by scammers to trick users into giving up their personal information. The scam, which is known as phishing, involves scammers sending fake messages that appear to be from WhatsApp. These messages often include a link that takes the user to a fake website that looks like the real WhatsApp website. The user is then asked to enter their personal information, such as their name and phone number.
2. Whatsapp dating scams | WhatsApp Romance Scams
A WhatsApp dating scam is when a scammer sends you messages pretending to be from a certain girl that you are chatting with. These messages will contain links to what appear to be other girls' social media accounts. The user is then tricked into believing that the other girls they are chatting with are actually interested in them. The scammer will then ask you to share your contact information, including your phone number. Once you provide the scammers with your phone number, they will have access to all of your contacts. This is why it is important to never share your phone number or any other information to strangers on the internet.
This scam really becomes serious when the scammer do WhatsApp video call where the girl is nude and they screen recording which they use to make you blackmail by saying to make that video viral and to delete that video, they ask you the money
3. Whatsapp crypto scams
In recent months, there has been a surge in crypto scams being circulated on the popular messaging app Whatsapp. These scams typically take the form of fake giveaways or promises of high returns on investments, and they often dupe unsuspecting users into sending cryptocurrency to anonymous wallets.
4. You've Won" Whatsapp Scams
You've Won is the most common scam that one should be aware of. Whatsapp scams is targeting users by promising them a free iPhone if they click on a link. This scam usually comes in the form of a message from a contact that you know i.e by your family member, friends or relatives, saying that you've won a prize in a contest that you never entered. The message will often include a link to claim your prize.
The link that message contains redirect you to the fake delivery page which as you to enter your personal details and ask you to just pay for the delivery charge. This is a scam where you didn't win anything and ended up losing money.
5. Whatsapp business account scam
WhatsApp Business accounts are being used by scammers to defraud people. The scammers set up fake WhatsApp Business accounts using the name and logo of a legitimate business. They then contact people on WhatsApp and offer them goods or services at a discount. The scammer will ask for payment upfront, but once the money is paid, it will disappear.
If you are contacted by someone on WhatsApp offering goods or services at a discount, be wary. Check to see if the WhatsApp Business account is verified. You can do this by looking for a green checkmark next to the account name. If you're still not sure, contact the company directly to inquire about the offer. Don't give out your personal information or financial information to anyone on WhatsApp unless you are absolutely sure they are who they say they are.
6. WhatsApp job offer scam
Another problem that scammer exploit is the unemployment. We have witnessed an alarming increase in WhatsApp job offer scams. In this scam, scammer target desperate job seekers who are in dire need of employment, making them vulnerable to falling victim.
These scams typically involve fraudsters posing as legitimate employers who promise attractive job opportunities with high salaries and benefits. The scammers may ask for personal information or require upfront fees for processing their application or visa documents. Once the victims comply with these requests, they never hear from the supposed employer again.
How to identify a scammer on WhatsApp
Scammers often pretend to be someone they aren't and they can even get us to send money to them or take our personal data to get into our debit card number. Here are some tips on how to identify a scammer on WhatsApp and avoid getting scammed.
1. Forwarded messages
Scammers will send out mass messages to people in an attempt to get them to forward the message to their contacts. The message may contain false information or a link to a phishing website. If you receive any messages from an unknown number do check if it is tagged as forwarded. If yet then it might be a scammer.
2. The message contains suspicious links
The main motive of the scammer is to redirect you to a fake website and for that, they share suspicious links. If the message contains links that redirect you to the website asking for personal information or bank details, it is a scam message.
3. Specific tone or wordings
Whatsapp scam messages have a specific tone that will not feel personal and is more on the robotic tone side. If you receive a message with such a tone then be aware of that message.
These are the thing that you should remember and will help you to identify a scammer on WhatsApp
How to block and report messages as spam on Whatsapp
If you have received a WhatsApp scam message then you should immediately take steps against WhatsApp scammer. Here is the answer to the question on what to do if you get a suspicious message from someone and how to report a WhatsApp scammer.
Step 1: Open the WhatsApp app on your phone and open the WhatsApp scam message chat.
Step 2: Now take a screenshot of the chat which will be later to send to WhatsApp.
Step 3: Now, Tap on the three dots at the top right corner and select "More" from the dropdown menu.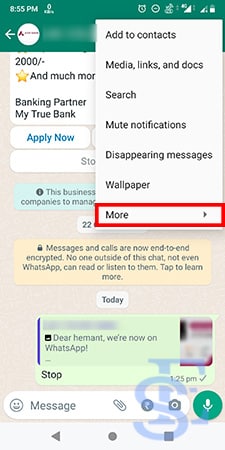 Step 4: Tap on "Report Scam".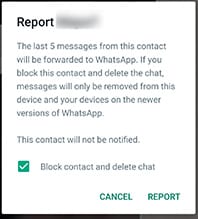 Step 5: An option will pop up to ask you permission the last 5 messages will be forwarded to WhatsApp and you will have two options. Cancel or Report.
Step 6: Tap on the report and your message will be deleted and reported to WhatsApp
This was the tutorial on How to block and report messages as spam on WhatsApp.
Tips for Avoiding the Whatsapp Scam
Here are some things you can do to avoid becoming a victim of a WhatsApp scam. Whatsapp security is essential for you as well as for your contacts. Sometimes scammers hack your WhatsApp account and use your account to scam your contacts.
1: Be suspicious
if someone contacts you over WhatsApp or calls you saying that there is a problem with your account
There is a high chance that if someone contacts you through WhatsApp or calls you saying that there is a problem with your account, you are being targeted by a scammer. You should never send money to someone you don't know.
2: Never give out your phone number to unknown
Scammers will use your phone number to confirm that the scam is legitimate. This means that scammers can use your number to send messages and make calls that are indistinguishable from those made by the real person you are communicating with. You should always check the authenticity of a caller before providing any information.
3. Sharing verification codes to anyone should be avoided
A verification code is required as you know to open WhatsApp in mobile or on a computer. If you receive a WhatsApp verification code as a text on your mobile, then it is an indication that someone is trying to login WhatsApp account. So be cautious if you receive any WhatsApp OTP and if someone as you to give a verification code, don't give it.
3: Avoid sending money to people you don't know
In recent times, it is observed that scammer hack into someone's WhatsApp account and using that account, text the contacts of the WhatsApp account asking them to send money as there is an emergency. People get fooled as they thought their know person is in an emergency and needs money and they transfer money to the scammer.
So in case you receive any money request from your contact, do call them and ask where they had texted you to ask for money.
4: Don't send money if the person asks for your bank details
Don't provide your bank details or your card details to anyone you don't know. This will make you susceptible to scammers, and they will be able to steal your money if you fall for their tricks.
5. Enable two-step verification on WhatsApp
Another way to secure your WhatsApp from getting hacked is by enabling two-factor verification. WhatsApp's two-factor verification, adds an extra layer of security to your account.
When you enable two-factor verification, you'll be asked to provide a six-digit PIN code whenever you register your phone number with WhatsApp. This PIN code is used in addition to your normal WhatsApp password, so even if someone knows your password, they won't be able to access your account unless they also have your PIN code. We had created a detailed tutorial on how to enable two-step verification on whatsapp with pictures.
6. Keep your WhatsApp updated to the latest version
WhatsApp app has come under fire in recent years for its lack of security, with various exploits allowing hackers to access users' chats and even spy on their conversations. Thankfully, WhatsApp has taken steps to improve its security in recent months, and it's now urging all users to update their app to the latest version in order to enjoy the benefits of these new features.
It is always recommended to keep your WhatsApp updated as WhatsApp with every update, rolls a security patch that can help your account safe from hacking attempts
FAQ (latest WhatsApp scams)
1. How do I report a scammer on WhatsApp business?
Ans – Whatsapp business scam is the latest scam where the scammer act as a business account like amazon/ flipkart executive or bank executive and they scam you by asking infromation like your credit card or debit card number.
2. Can i be scammed on WhatsApp?
Ans – Yes, whatsapp scams are increasing day by day and it is very much possible that you recive a whatsapp scam message. It is recommeded no to share any private information on whatsapp with anyone.
3. What to do if you get a suspicious message from someone?
Ans – If you get a whastapp messgage and you think it is fake, do report to whatsapp. Open the contact
4. How can I stop fake messages on WhatsApp?
Ans – The best way you can stop fake message on whatsapp is stop sigining up to non trusted website from which your number can be leaked. Don't give your number to even shopping malls or on any shops.
5. Can I send message to a blocked contact on WhatsApp
Ans – No, you can't send messages to a blocked contact on WhatsApp. You need to first unblock that contact.
Wrapping Up
This was a detailed article on what are the latest WhatsApp scams and how to identify WhatsApp scam messages. Be cautious and don't trust messages that you receive on WhatsApp and especially don't share any personal information or bank and credit card details. Do check Tips to prevent Whatsapp Scam and also How to identify a scammer on WhatsApp and after that make sure you block and report messages as spam on Whatsapp.